John Pasalis in Toronto Real Estate News
The Toronto Real Estate Board published their monthly sales figures today, below is a copy of their press release.
You can see our monthly charts on our Toronto Real Estate Statistics page.
********************
Greater Toronto REALTORS® reported 9,041 existing home sales throughthe TorontoMLS® system in April 2011.
This result was down 17 per cent compared April 2010 when sales spiked to a new record of 10,898.While off last year's record result, April 2011 sales were in line with the average April sales level reportedover the previous five years.
"Existing home sales have been strong from a historic perspective through the first four months of 2011.Expect the pace of sales to remain robust through the spring, as the economy expands and home buyerscontinue to benefit from affordable home ownership opportunities," said Toronto Real Estate Board(TREB) President Bill Johnston.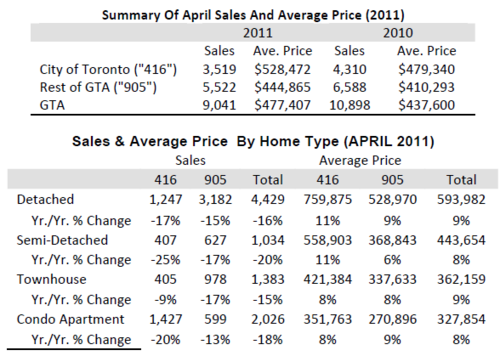 Market conditions tightened markedly over the last year. April 2011 sales accounted for 62 per cent ofnew listings during the month – up substantially from 53 per cent in April 2010. Tighter conditionsresulted in the average April selling price growing by nine per cent annually to $477,407.
"The number of listings has been below expectations so far this year. Increased competition betweenhome buyers has led to an accelerating annual rate of price growth," said Jason Mercer, TREB's SeniorManager of Market Analysis. "The strong price growth experienced in April should result in more listingsand more balanced market conditions."
John Pasalis is the Broker Owner of Realosophy Realty Inc in Toronto. Realosophy focuses on researching Toronto neighbourhoods to help their clients make smarter real estate decisions. Email John
Share This Article