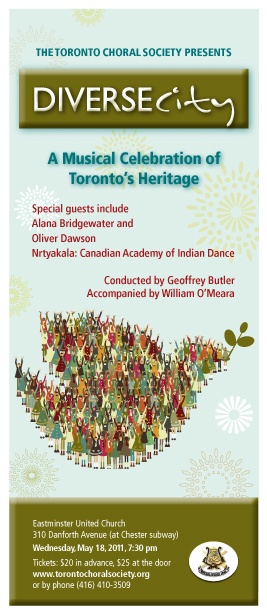 We're happy to promote a great neighbourhood event in Riverdale tonight.
The Toronto Choral Society is presenting DiverseCity, a musical celebration of Toronto's heritage (read more).
The 130-voice choir and special guests, conducted by Geoffrey Butler and accompanied by William O'Meara, will present selections that are meaningful to the peoples that make up Toronto. The programme includes the Choral movement from Beethoven's 9th Symphony and Va, pensiero from Verdi's Nabucco (sometimes called the 'unofficial Italian anthem') and folk music representing Croatia, Ireland, Spain, China, France, England, Africa, First Nations and Japan. (I dare say a follow-up concert or two may be required to fully cover Toronto's vast mosaic!)
The concert will be held at Eastminister United Church (310 Danforth Avenue @ Chester subway station) at 7:30pm. Tickets are $25 at the door. (Advance tickets are available online for $20.)
If you haven't enjoyed live music in one of the Danforth's beautiful churches, this is an experience that you will relish. Come out and support this exciting ensemble!
Urmi Desai is editor of the Move Smartly blog and is responsible for Realosophy's business strategy and marketing. Realosophy Realty Inc. Brokerage focuses on researching Toronto neighbourhoods to help their clients make smarter real estate decisions. Email Urmi
Share This Article