John Pasalis in Real Estate Roundup
A New Battle Over MLS Listings
The Globe and Mail reported that a new battle is brewing between the real estate industry and low cost flat fee brokerages.
Home sellers need to hire a real estate agent to post their listing to the MLS, but since the industry is regulated provincially an agent registered in Ontario isn't qualified to sell real estate in any other province. A flat fee brokerage based in Ottawa is being fined by the Quebec regulator for posting listings for properties in Quebec.
The Globe's Steve Ladurantaye summarizes the key issue very well:
"At the centre of the fight is a deceptively complex question – are flat-fee agents trading in real estate, or simply posting a listing to an online forum?"
Flat fee brokerages are arguing that they don't need to be registered in every province because what they are doing is no different than posting an ad on Craigslist.
This issue is a very slippery one for the real estate industry. If the competition bureau sides with the flat fee brokerages and agrees that they don't need to be registered to post listing on the MLS in other provinces it raises the question; why would they need to be registered in their own province?
Competition Bureau asked to settle new fight over MLS listings (Globe and Mail)
Turf war rages over discount real estate (Toronto Star)
Toronto Real Estate Startups
BlogTO featured two Toronto real estate startups that are helping make the home buying process a bit easier for Toronto buyers.
BuzzBuzzHome is a lot like the MLS but for new condos, townhomes and homes across Canada. They have a slick website, a great discussion forum and a killer blog.
Ratehub helps buyers find the right type of mortgage and the best rate available.
Toronto startups make the home-buying process easier (BlogTO)
2011 PUG Awards
Voting for the 2011 PUG Awards opened this week.
"The annual Pug Awards debuted in 2004 and celebrate the best in Toronto architecture and planning. Founded by Anna Simone, principal of design firm Cecconi Simone, and Gary Berman, president of real estate financier Tricon Capital Group, the awards invite the public to vote on the best, the middling and worst of Toronto's newest real estate developments. The goal is to inform the public about design excellence and ultimately contribute to the growth and prosperity of Toronto."
There are a number of great buildings on this list including 130 Bloor Street West, the Thompson Hotel, the Archives of Ontario and the Bloor/Gladstone Library.
There are unfortunately quite a few terrible buildings on this list that are going to battle it out for worst project of the year.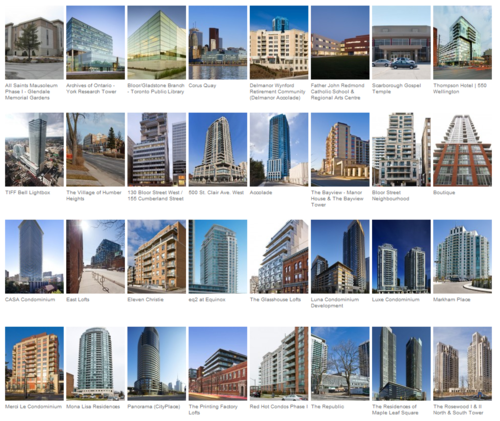 Pug Awards Nominees (Pug Awards)
2011 PUG Awards likely to be a tight affair (BlogTO)
Seventh Annual Pug Awards Underway (BuzzBuzzHome)
Jane's Walk This Weekend
"Jane's Walk celebrates the ideas and legacy of urbanist Jane Jacobs by getting people out exploring their neighbourhoods and meeting their neighbours. Free walking tours held on the first weekend of May each year are led by locals who want to create a space for residents to talk about what matters to them in the places they live and work."
10 Jane's Walks worth checking out in 2011 (BlogTO)
Other Real Estate and Neighbourhood News
Canadian building permits up in March (Toronto Star)
Fewer sales help drive home prices up in Toronto (Toronto Star)
Rule changes make mortgages a moving target (Globe and Mail)
Mortgages changes you need to know (Globe and Mail)
The $600,000 question (CTV)
Albertans struggling with mortgage payments (CBC)
Real estate: long flip versus quick flip (Globe and Mail)
Don Campbell takes your home-buying questions (Globe and Mail)
A cure for the common rectangle (Globe and Mail)
How to play the low interest-rate game (Globe and Mail)
A guilty conscience stifles good urban design (Globe and Mail)
Richard Witt on Toronto's Tall Buildings Report (BuzzBuzzHome)
BIXI bike-sharing officially launches in Toronto (BlogTO)
Battle brewing over separated bike lanes (National Post)
Ford's sale of city's waterfront real estate begins (Globe and Mail)
John Pasalis is the Broker Owner of Realosophy Realty Inc in Toronto. Realosophy focuses on researching Toronto neighbourhoods to help their clients make smarter real estate decisions. Email John
Share This Article