Urmi Desai in Leslieville, Realosophy News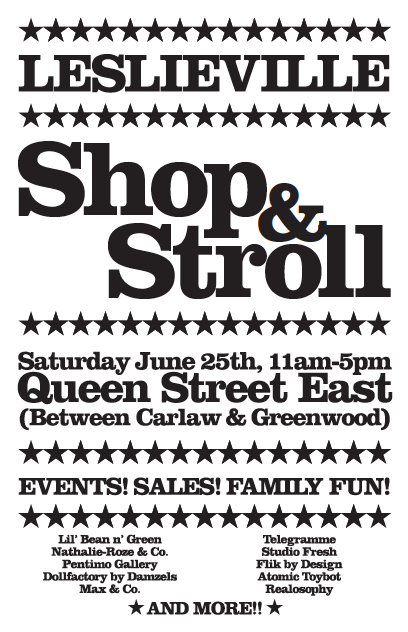 Leslieville's indie shops, restaurants and offices want to thank you for your incredible support. This Sat June 25th, there will be BBQs, lemonade and great clothing sales along the Queen East strip (between Carlaw & Greenwood) for you and your family to enjoy.
The Realosophy team at 1152 Queen East @ Jones will be outside with our Neighbourhood Match + lemonade booth. Think of it as eHarmony for Toronto neighbourhoods - tell us what your needs are (schools, walkability, even coffee) and you'll get a personalized report of the best Toronto neighbourhoods for you (learn more). With over 170 neighbourhoods in TO, you may be surprised by the results! It's all powered by Realosophy Analytics, our industry-leading data technology. We hope to see you this Sat!
Urgent appeal: In today's world, you're nobody till facebook likes you. So if you enjoy reading the Move Smartly blog, please scroll to the top of the blog and click on the facebook "like" button just under the Relaosophy logo on the right (under the subscribers box). And thanks for the love!

Urmi Desai is editor of the Move Smartly blog and is responsible for Realosophy's strategy and marketing. Realosophy Realty Inc. Brokerage researches Toronto neighbourhoods to help our clients make smarter real estate decisions. Email Urmi
Share This Article