John Pasalis in Toronto Real Estate News
An increase in the demand for homes and a decline in the number of houses available for sale pushed prices up 10% in June when compared to the same month last year.
The number of properties sold in June jumped by 21% over the same month last year to 10,230. This is the second consecutive month where we've seen a year over year increase in sales. Between May 2010 and April 2011 monthly sales figures were actually down compared to the same month in the previous year.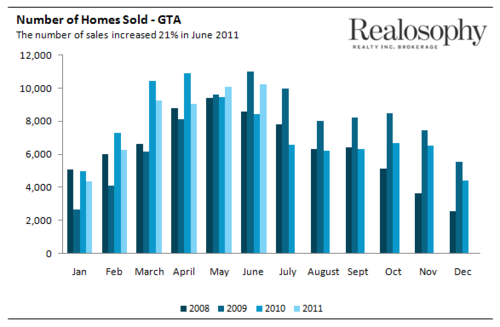 The number of homes available for sale continues to decline over the previous year. In June there were 18,171 homes available for sale, a 24% decline over the roughly 24,000 homes available in June 2010. Monthly inventory levels have been declining by 24% or more since April of this year.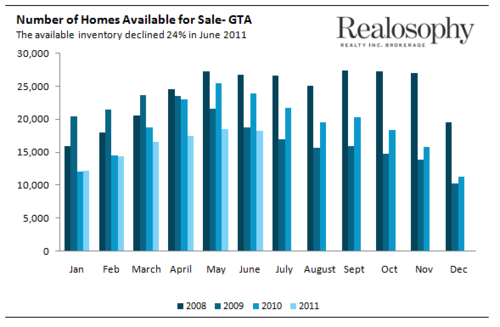 This imbalance between supply and demand pushed the sales-to-inventory ratio up to 56%, even deeper into seller's market territory.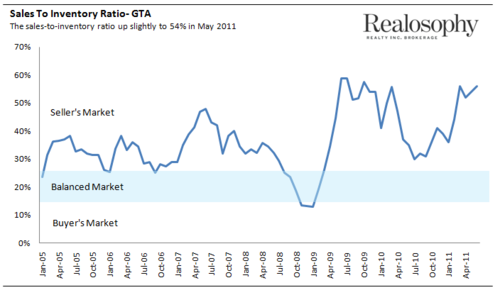 The following chart shows the relationship between the sales-to-inventory ratio and changes in average price over the past 10 years. The left axis shows the sales-to-inventory ratio (dark blue line) and the right access shows the percent change in average price (light blue line). When the sales-to-inventory ratio is at 25% demand and supply are balanced resulting in little change in the average price. As the sales-to-inventory ratio rises above 25% we see the average price for a home increase. The higher the ratio climbs the higher the change in average prices.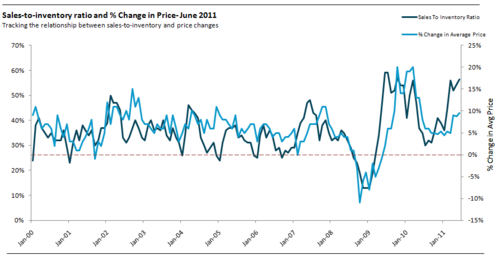 This makes sense because a rising sales-to-inventory ratio means that the demand for houses is exceeding the supply of homes coming on the market. Over the next few months I expect to see the sales-to-inventory ratio decline slightly as demand begins to soften and as more properties come on the market.
Editor's appeal: In today's world, you're nobody till facebook likes you. So if you enjoy reading the Move Smartly blog, please scroll to the top of the blog and click on the facebook "like" button just under the Relaosophy logo on the right (under the subscribers box). And thanks for the love!
John Pasalis is the Broker Owner of Realosophy Realty Inc in Toronto. Realosophy focuses on researching Toronto neighbourhoods to help their clients make smarter real estate decisions. Email John
Share This Article