John Pasalis and Urmi Desai in Real Estate Trends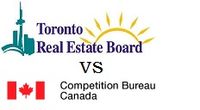 If you thought Round One was interesting, Round Two will blow you away.
After reaching a settlement with the Canadian Real Estate Association (CREA) to allow flat fee/For Sale By Owner (FSBO) brokerage listings on realtor.ca, ushering in DIY home selling to Canada, the Competition Bureau now wants the Toronto Real Estate Board (TREB) to allow brokerages to publish detailed listing info on their own websites.
We find that most consumers don't understand what this means for them, so here's some background.
The Multiple Listing Service (MLS) is a database that real estate agents use to market homes for sale and research historical sales of properties. Most people think realtor.ca is the MLS, but the MLS database has a lot more information about properties currently available for sale along with all historical sales info which allows agents to research the market value of a particular property. This info is currently unavailable on realtor.ca.
You may be surprised to learn that today Realosophy (a brokerage) can't publish all detailed Toronto listing info on our website (the rich MLS database stuff). If our clients want access to this info, they need to come down to our office where we can log them into TREB's password protected website.
Now imagine we could give our clients and website visitors a username and password to log into our Realosophy website where they can browse all the same information that agents have access to. More importantly, we could help consumers find the info they want in a smart, fun way – the Realosophy way.
If Competition Commissioner Melanie Aitken has her way, this is exactly what Toronto's real estate industry is going to look like soon.
Just over a month ago the Competition Bureau filed an application with the Competition Tribunal alleging that TREB's MLS policies are anti-competitive and restrict innovation.
In response, TREB has released a new set of MLS policies aimed at appeasing the litigious Competition Commissioner. TREB's new policies would effectively allow every member of TREB (brokerages and agents) to download all available homes for sale and post these listings on their own password protected websites. These "virtual office websites" (VOW's) would have almost all information about a particular listing including information that is not publically available on realtor.ca today.
This is a big deal. When similar data sharing policies were introduced in 2003 in the US, a few brokerages went the extra step and built innovative real estate search websites mashing together real estate listings with a lot of additional data like school and demographic information and produced real alternatives to realtor.com (the US version of Canada's realtor.ca). A few progressive brokerages went even further – since the buyer now had access to all the available listings and could search and find houses themselves, why not kick back a portion of the buyer agent commission to the purchaser? Enter online discount brokerages like Redfin.com and Ziprealty.com.
Now the traditional industry doesn't like to see this happen for one reason – lower agent commissions. To fight back, the U.S. industry introduced new data sharing rules in 2005 that would have effectively put these new online brokerages out of business by restricting their access to listings data. The U.S. Department of Justice sued the American National Association of Realtors arguing that these new rules were anti-competitive and restricted innovation. The DOJ won the battle when the two parties settled in 2008. The Virtual Office Website policy that formed a part of the DOJ and NAR settlement is effectively a carbon copy of the policy introduced by TREB a few weeks ago. This policy, if implemented, would allow Toronto brokerages to build their own alternatives to realtor.ca.
(Note that this development is different from the news that the large real estate brokerages have reached agreement with CREA to give realtor.ca data to brokerages to display on their own websites. It is uncertain what, if any, rich MLS database info will be part of this initiative.)
The story might have ended there, but our Commissioner smells blood. In their Amended Notice of Application the Competition Commissioner argues that TREB's new policies don't go far enough - the Commissioner wants brokerages to be able to download and display all historical sales on their websites.
Wowza.
If the Commissioner wins this battle, this will be a game changing development in the real estate industry here in Toronto. How will the real estate industry fare when every consumer has access to the exact same information they do? Will consumers turn to DIY buying? Will commissions lower? Will there be fewer agents operating in 5 years time?
TREB has stated that they are going to "hold firm in order to protect consumers." TREB's arguing that publishing sold data online violates consumer privacy laws. While technically true, we don't think TREB's going to win over consumers with that argument. This is the same group that's been sending out "Just Sold" post cards advertising the sale price of properties they listed, and until recently, without their client's express permission.
While the new policy proposed by TREB is good, the Commission's aggressive response suggests that it's too little too late. Could TREB have prevented this had it been more proactive about adopting policies that promote competition? In the US, the DOJ only sued the NAR when they tried to change their own rules to restrict competition – and they did not sue NAR to make all sold data publically available. Our Competition Commissioner has put a hefty price tag on TREB's decision to effectively restrict competition for eight years by not introducing these policies back in 2003. TREB's executive cannot be very pleased with themselves.
While we at Realosophy have been pushing to see brokerages get access to MLS listings to build their own alternatives to realtor.ca, we never thought we would see the day when brokerages would be able to publish sold data on their website. This is big. We're really excited – and who are we kidding, a lot of this is nervous energy. When we built Realosophy, our mission was to think up new ways to do real estate better for today's consumer. Not because we had to, but because we felt today's consumers wanted more. We've introduced a comprehensive selling service at lower commission and we've focused on adding real value to our services like our innovative Neighbourhood Match technology. Now that the entire industry is being forced to change, our already exciting adventure just revved up a notch. Stay tuned, Toronto, it's going to be a fun ride.
Editor's appeal: In today's world, you're nobody till facebook likes you. So if you enjoy reading the Move Smartly blog, please scroll to the top of the blog and click on the facebook "like" button just under the Relaosophy logo on the right (under the subscribers box). And thanks for the love!
John Pasalis is the Broker Owner of Realosophy Realty Inc in Toronto. Realosphy's ground-breaking 1.5% Home Selling Blitz offers today's home sellers comprehensive marketing and full agent services at a discount. Email John
Urmi Desai is editor of the Move Smartly blog and is responsible for Realosophy's strategy and marketing. Realosophy researches Toronto neighbourhoods to help today's home buyers make smarter decisions. Try our innovative Neighbourhood Match tool to find the best Toronto neighbourhoods for you . Email Urmi
Subscribe to the Move Smartly blog by email
Related Posts
Watch Now - Realosophy's John Pasalis on TVO's The Agenda with Steve Paikin Video
Competition in the Real Estate Industry – This Entrepreneur's Perspective
Competition Bureau vs. CREA: Battling Over Canada's Real Estate Industry
Share This Article