John Pasalis in Toronto Real Estate News
Below is a copy of the Toronto Real Estate Board's press release with their sales figures for August 2011. The key facts:
Sales - up 21%
Prices - up 10%
New Listings - up 19%
Sales-to-inventory ratio - 44%
I'll follow up with a more detailed look at the numbers next week.
________________________
Greater Toronto REALTORS® reported 7,542 sales through theTorontoMLS® system in August – a 24 per cent increase over 6,083 sales in August 2010. New listings,at 12,509, were up by 20 per cent compared to August 2010. Market conditions remained tight as salesgrowth outstripped growth in new listings."Home sales in the GTA have stood up well despite a less certain economic outlook," said Toronto RealEstate Board President Richard Silver.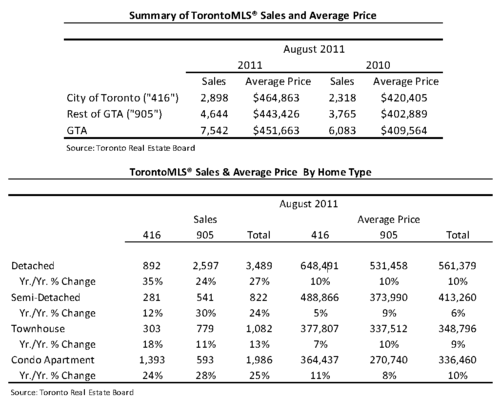 "Home sales will be bolstered by low mortgage rates movingforward. The Bank of Canada is expected to be on the sidelines until the second half of 2012 or even into2013. However, home ownership affordability in the City of Toronto could be further improved with theremoval of the City's land transfer tax. This tax currently represents a substantial upfront cost for homebuyers.
"With market conditions remaining tight in the GTA, the average selling price continued to grow strongly inAugust – up by more than 10 per cent year-over-year to $451,663."We remain on pace for the second best year on record for sales. Approximately 90,000 transactions areexpected by the end of December," said TREB's Senior Manager of Market Analysis Jason Mercer."Major home ownership costs, including the average monthly mortgage payment, remain affordabledespite the strong price growth experienced so far this year."
Editor's appeal: In today's world, you're nobody till facebook likes you. So if you enjoy reading the Move Smartly blog, please scroll to the right column of this blog and click on the facebook "like" button just under the the subscribers box. And thanks for the love!
John Pasalis is the Broker Owner of Realosophy Realty Inc in Toronto. Realosophy focuses on researching Toronto neighbourhoods to help their clients make smarter real estate decisions. Email John
Subscribe to the Move Smartly blog by email
Share This Article