John Pasalis in Toronto Real Estate News
Since June of this year Toronto's real estate market slowly started to move away from being a strong sellers market to one that is becoming a bit more balanced. But only recently have I started to see the effects of this shift more consistently across the market.
The most obvious sign of this change is that fewer houses are getting multiple offers. When a house is listed for sale in Toronto the listing agent will typically set an offer date roughly one week after the property has been listed for sale. The goal of setting an offer date of course is to try to generate multiple offers for your client.
In many cases agents will underprice their client's house - list a house that is really worth around $530K for $499K - as a "strategy" to generate a bidding war. The idea is that you'll get more buyers competing for the hosue because many will see it as a bargain relative to other properly priced homes in the neighbourhood. While this approach might work well when we're in a strong sellers market, the strategy can backfire as the market cools down.
Over the past few weeks I've seen this strategy backfire on many sellers when their offer date comes and they find that there are no buyers willing to make an offer. So what is a seller suppose to do now that they listed their $530K house for $499K and got no offers on their offer date?
We are actually starting to see many sellers increase their list price after their offer date. In the above example the seller would likely have to increase their list price to around $540K if they want to end up with $530K.
Under pricing houses is a lazy strategy in the best of times and a foolish one when the market slows down. The average Toronto buyer does not understand why sellers increase their price after they don't get any offers on their offer date. They don't understand why they should pay $530K for a house when the house didn't get a single offer when it was originally listed for $499K.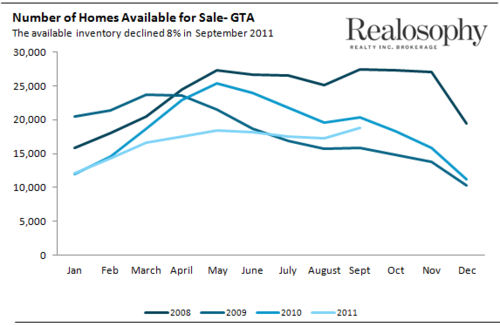 One of the main reasons the market is becoming more balanced has to do with the increase in new listings coming on the market which is adding some much needed inventory. While the number of homes available for sale is still down 8% compared to last year, this is a significant improvement from May 2011 when there were 27% fewer homes availabe for sale compared to the same month last year.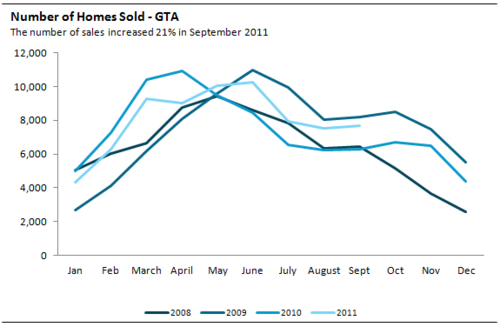 For the past four months sales have been up 21% over the same month last year.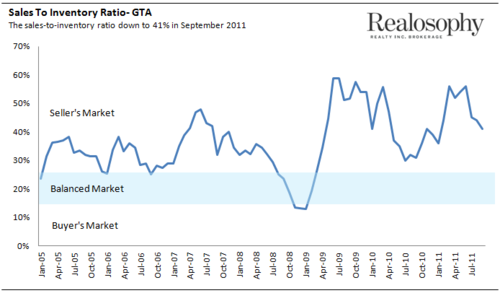 We can see the market balancing out by looking at the sales-to-inventory ratio which measures the balance between supply and demand. The ratio peaked in June at 56% but has declined to 41% in September and I suspect it might even decline further once October's sales figures are published.
Editor's appeal: In today's world, you're nobody till facebook likes you. So if you enjoy reading the Move Smartly blog, please scroll to the right column of this blog and click on the facebook "like" button just under the the subscribers box. And thanks for the love!
John Pasalis is the Broker Owner of Realosophy Realty Inc in Toronto. Realosophy focuses on researching Toronto neighbourhoods to help their clients make smarter real estate decisions. Email John
Share This Article