David Larock in Mortgages and Finance, Home Buying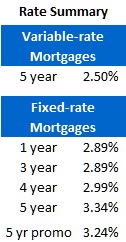 You may not have heard of Julie Dickson, but when she speaks, Canadian banks and lenders listen very carefully. Mrs. Dickson is the chief regulator at the Office of the Superintendent of Financial Institutions (OSFI for short), and it's her job to ensure that financial institutions follow the rules and to crack the whip when they don't.
In her speech last Monday, Mrs. Dickson said that OSFI is now paying special attention to home equity lines of credit (HELOCs), also known as readvanceable mortgages. While her primary warning was that lenders must not loosen HELOC standards beyond current levels, there may be more to it than that because when OSFI hones in on a specific area, change often follows.
For the uninitiated, HELOCS are available to anyone who has a mortgage that is less than 80% of the current value of their home. They are interest-only mortgages; they come with floating rates a little above prime; and most importantly, they can be re-borrowed in full at any time with the flick of your pen or the click of your mouse button.
That's the part that has Mrs. Dickson worried. HELOCs can be used by borrowers as a buffer, or financial shock absorber, during tough times (such as a job loss), which is why borrowers like them. But from a lender's perspective, giving customers the right to re-borrow the paid-down portion of their HELOC means the risk profile on these loans can change very quickly.
If we experience any kind of economic slowdown, I think lenders will tighten up their current HELOC underwriting standards in the first wave of their inevitable rule changes. (Remember the old adage that a banker lends you an umbrella when it's sunny and then asks for it back as soon as it starts to rain.) As such, if you've got substantial equity in your home and are considering a HELOC, best get one while the getting is still good.
Five-year Government of Canada bond yields had a relatively calm week, finishing four basis points higher on Friday. Lenders held standard fixed rates firm, but a few new promotions were added by various lenders to make four and five-year fixed-rate mortgages more attractive in the short term.
Lenders reduced their variable-rate discounts again last week as they continue to try to steer borrowers into their more profitable fixed-rate mortgages. You can still find a variable rate of prime minus .50% at a couple of lenders who also offer good terms and conditions, but given the recent trend, if you're considering a variable rate you should lock it down with a pre-approval while you still can.
The bottom line: Here's an important tip if you're considering a HELOC - not all are created equal. Several banks reserve the right to increase your HELOC rate premium, or "adjustment factor" without your consent (as last happened in 2009). Other lenders guarantee your HELOC rate for the length of your term. If you're getting mortgage advice about a HELOC, be sure to ask whether the lender in question can arbitrarily raise your rate.
Editor's appeal: In today's world, you're nobody till facebook likes you. So if you enjoy reading the Move Smartly blog, please scroll to the right column of this blog and click on the facebook "like" button just under the the subscribers box. And thanks for the love!
David Larock is an independent mortgage planner and industry insider specializing in helping clients purchase, refinance or renew their mortgages. David's posts appear weekly on this blog (movesmartly.com) and on his own blog integratedmortgageplanners.com/blog). Email Dave
Share This Article