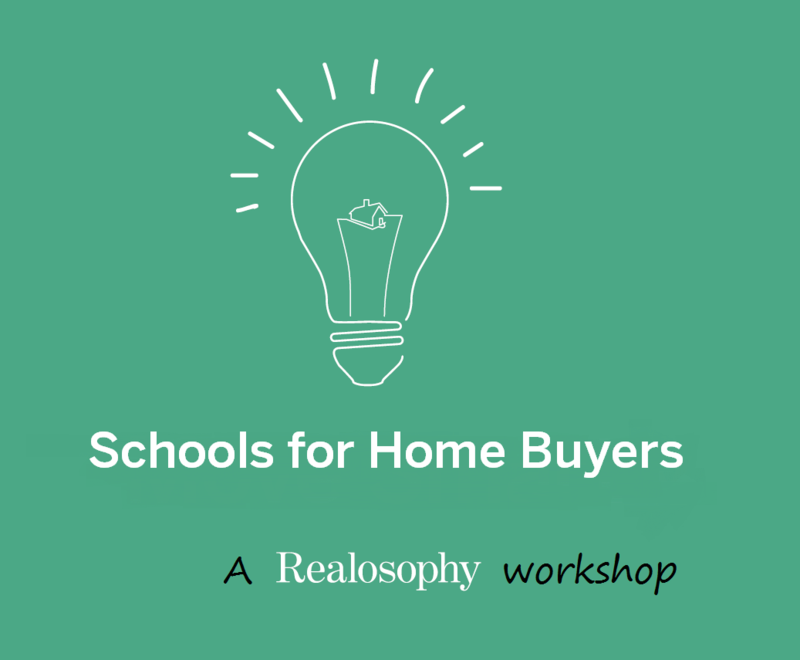 Worried about buying in the right school district for your family?
Worried you can't afford to?!
Realosophy's popular Schools for Home Buyers Workshops are held on the first Saturday each month. Grab a spot before the session fills up – and strategize before you hit open houses this spring! Next Session this Sat March 2nd 2013 - Sign Up Now!

Our free, no obligation workshop will empower you to make the right school-related home buying decisions in Toronto.
The 1-hour session, designed and delivered in Realosophy's trademark style – fresh, data-driven and frank – will address your key questions including:
How does school quality impact my house value?
How can I compete for houses in good school districts when there are so many crazy bidding wars?
Will I be able to sell my house if I buy into a school district that is not that great today?
Which school district is most likely to improve in the future?
Where are Toronto's best schools located?
What are some more affordable school districts in the city?
Are there any affordable neighbourhoods that have a disproportionate number of good quality schools?
What Toronto neighbourhoods best fit all of my needs including school quality?
Old-fashioned real estate brokerages have been telling home buyers the same story for decades ("you should always buy in the best school districts" is an oldie but a goodie) because they don't have the information and data to offer buyers concrete advice.
Realosophy is today's real estate brokerage – for today's home buyer. We know that today's consumers want to base their home buying decisions on something more than old wives' tales about the importance of schools – and we deliver.
How We Do It
Our analysis of the effects of school quality on house values is based on concrete data.
Since 2008, Realosophy Analytics has been developing and advancing our proprietary technology to publish neighbourhood level real estate statistics for the Globe and Mail, Toronto Life and other media outlets.
Using this same technology, we're taking our analysis a step further – analyzing real estate statistics by Toronto school districts. Our technology allows us to track house price changes by school district and compare these price changes to changes in school quality as measured by a school's EQAO score, over a three to four year time period.
The result is concrete data and facts about the relationship between school quality and house prices that every home buyer should know.
Read more about our spotlight on the relationship between schools and real estate here at Move Smartly.
Sign up for Realosophy's Schools for Home Buyers Workshop
Realosophy
Realty Inc. Brokerage is an innovative residential real estate brokerage in Toronto. A leader in real estate analytics and
pro-consumer advice, Realosophy helps clients buy or sell a home the
right way. Email Realosophy
Share This Article