John Pasalis in Toronto Real Estate News
Below is the Toronto Real Estate Board's sales figures for the first two weeks of March:
During the first 14 days of March, Greater Toronto REALTORS® reported 4,215 transactions through the TorontoMLS system, representing a seven per cent increase compared to the same period in 2011. The number of new listings was down by two per cent year-over-year to 6,970.
"Home buyers continue to benefit from the affordable housing situation in the GTA. Immigration to Toronto and surrounding areas adds to the pool of home buyers every year. The economic and ethnic diversity found in the GTA consistently attracts newcomers and foreign investment," said Toronto Real Estate Board (TREB) President Richard Silver.
The average selling price for transactions between March 1 and 14 was $502,155 – up by more than nine per cent compared to the first 14 days of March 2011. On average, homes sold for 100 per cent of the asking price within three weeks.
"Strong competition between home buyers in many parts of the GTA has resulted in sellers realizing their asking price in a short period of time. The fact that homes are selling for 100 per cent of the asking price, on average, suggests that sellers are very much in tune with the current market situation and know the fair market value of their home," said Jason Mercer, TREB's Senior Manager of Market Analysis.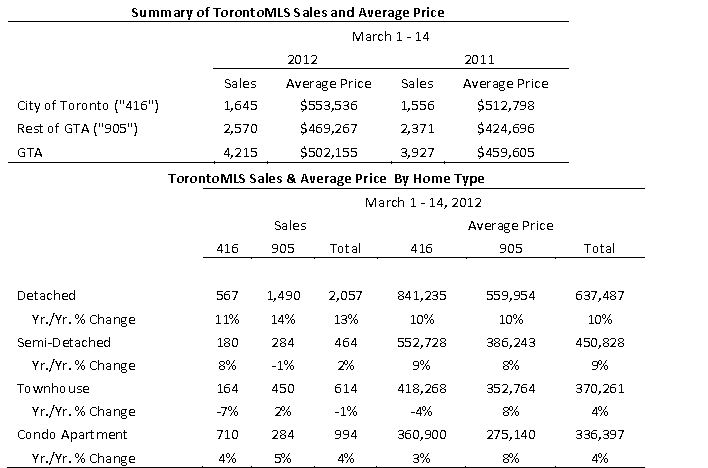 John Pasalis is the President and Broker-Owner of Realosophy Realty Inc. Brokerage in Toronto. A leader in real estate analytics and pro-consumer advice, Realosophy helps clients buy or sell a home the right way. Email John
Share This Article