John Pasalis in Toronto Real Estate News
Toronto's real estate market is finally starting to show some signs that things are cooling down as more houses come on the market and demand begins to soften slightly.
The real estate market typically gets off to a slow start in January and February each year and the competition tends to gradually heat up as we move closer to the peak months of April, May and June.
Things have been a bit different this year. The market got off to a very quick start and as early as January we were noticing an unseasonably high number of multiple offers for houses. Since May we have noticed that the number of multiple offers on homes has decreased significantly when compared to the activity we were seeing in March and April.
It's tough to spot these micro trends simply by looking at the basic statistics published by the Toronto Real Estate Board each month so we dug a bit deeper to find some numbers that illustrate this trend a bit better.
The chart below shows the percent of houses in the City of Toronto that sold for more than their asking price in 2011 and 2012 including the first two weeks of June. We are interested in the number of homes selling for more than asking because it is a very good proxy for the number of houses getting multiple offers. In most cases purchasers would not offer a price above asking unless they are in a multiple offer situation.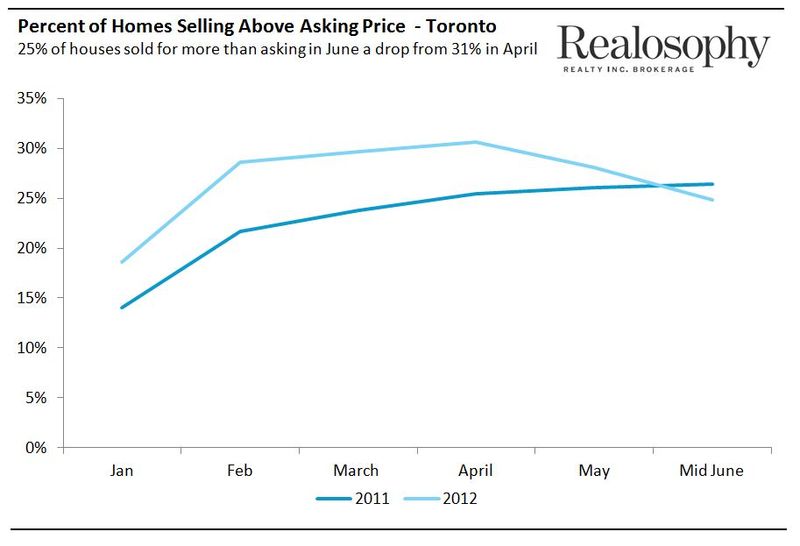 The darker line shows that the number of homes that sold for more than asking gradually increased each month peaking in June at 26%. In 2012 we can see that the number of homes selling for more than asking was quite a bit higher compared to 2011 and peaked in April at 31%. Between February and April three out of every 10 homes sold for more than the seller's asking price. Since April the percent of homes selling for more than asking has declined to 25% during the first two weeks of June.
These statistics are consistent with what we are seeing in the market right now. Fewer houses are getting multiple offers and of the houses that are getting multiple offers there are far fewer buyers competing than there would have been two months ago.
For home buyers this is very positive news. It means that there's a much better chance that you'll be able to avoid a bidding war on the house you want and even if you do have to compete you're more likely to be competing with another 2-3 buyers vs 10+ buyers which was the norm in March and April.
For sellers this means that you have to take a bit more care when deciding what price to list your home for sale at. A few months ago virtually every agent was pricing their houses for 5-10% below market value to generate a crazy bidding war. Today pricing your home for less than market value is a lot riskier because it doesn't guarantee a bidding war. You could find yourself with only one buyer ready to make an offer on your offer night which is not a great position to be in when your asking price is below market value.
These kind of mini booms and dips happen all the time in the real estate market. Whether you're a buyer or a seller it's important to know where we are at in the cycle so you can come up with a buying and selling strategy that fits the dynamics of the market today.
John Pasalis is the President and Broker-Owner of Realosophy Realty Inc. Brokerage in Toronto. A leader in real estate analytics and pro-consumer advice, Realosophy helps clients buy or sell a home the right way. Email John
Share This Article