John Pasalis in Toronto Real Estate News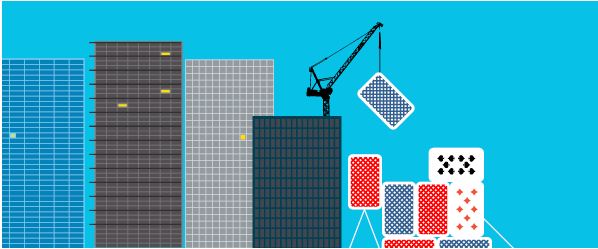 The Royal Bank of Canada published a report this week titled "Booming Toronto condo market does not imply a bubble" which offered an upbeat outlook for Toronto's condo market.
The report suggested that we might be seeing a two-tiered market emerging in Toronto where single family houses perform much better than condominiums. Our regular readers may recall that back in May I wrote about the diverging trends we are seeing between condos and houses. At that time I showed that the market for houses was still very competitive and deep in seller's market territory while the market for condos was approaching a buyer's market.
The report did find one considerable risk for Toronto's condo market. From the report:
The biggest risk that we see for the coming years is a possible mismatch between the types of condo units bought by investors and the types ultimately demanded for occupancy, which could lead to oversupply in certain condo sub-segments.
I discussed this same issue on CBC's Metro Morning a couple of months ago and thought it would be a good opportunity to expand on this idea.
When the majority of buyers in the pre-construction condo market are investors/speculators, builders will build what investors are willing to buy not necessarily what end users want or need. You might be asking, what's the difference?
The RBC report raised some concerns about the strong demand we are seeing in the pre-construction market for tiny condos (bachelors and small one-bedrooms). Over the past couple of years we've seen the average unit size for pre-construction condos plunge as investor demand outstripped demand from end users. The following chart from Realnet shows that the average unit size hovered around 900 sq ft between 2005-2010 but has dropped to 790 in the first quarter of 2012.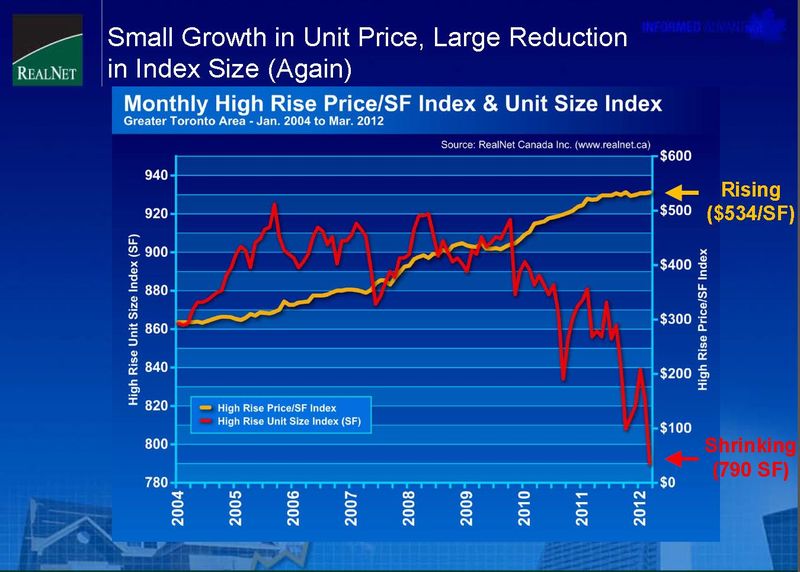 With most new condo projects offering a high number of units in the 350-550 sq/ft range the concern is whether or not there's going to be any demand for these tiny units from end users when the condos are completed. If there's not we could end up with an oversupply of micro units.
We can see a similar risks with the luxury condo market in Toronto.
By the end of this year Toronto is going to have a total of four luxury hotel/condominium developments completed in the downtown core. The Ritz Carleton opened about a year ago while Trump, Shangri-La and the Four Seasons are all in their final stages of construction. Combined these projects will add nearly 800 new luxury condominiums to the Toronto market.
If every one of those units was purchased by an end user there would be little risk of the market being oversupplied with luxury condos since the demand from end users would be equal to the supply of condos being built.
Unfortunately nobody has any statistics on whether or not a particular purchaser of a pre-construction condo is an investor or end user. Many in the industry believe that the majority of these condos were purchased by investors some of which plan to use then as income properties but the majority will likely try to sell them before or just after the condominium has completed.
The recently completed Ritz Carleton can give us some insight into the percentage of owners who either tried to lease their condo or sell it upon completion. Since the Ritz Carleton was completed a year ago 86 condos were listed either for sale or for lease which is just over half of the 159 condos in the development.
Going forward, the big unknown for Toronto's market is how many of the 600+ luxury condos in these developments scheduled for completion this year are going to find their way on the market for sale and does Toronto's market have enough demand to absorb those luxury condos.
If we take a look at the Ritz Carlton again, since the building was completed last year 48 different condo units were listed for sale and of those only 12 actually sold. On the flip side we did see some strong demand for luxury condo rentals in the Ritz. During the same period 44 condos were leased which means there was nearly 4x more demand from renters than from end users.
Does Toronto have enough demand from end users and renters to support 3 new luxury condominiums? Are tomorrow's first time buyers going to want to live in condos that are smaller than 550 sq ft? These are the questions and risks we face when the pre-construction market is driven by what investors want and not what end users want.
Time will tell whether or not Toronto has the demand for micro units and hundreds of luxury condos.
John Pasalis is the President and Broker-Owner of Realosophy Realty Inc. Brokerage in Toronto. A leader in real estate analytics and pro-consumer advice, Realosophy helps clients buy or sell a home the right way. Email John
Share This Article