John Pasalis in Toronto Schools, Home Buying, Realosophy News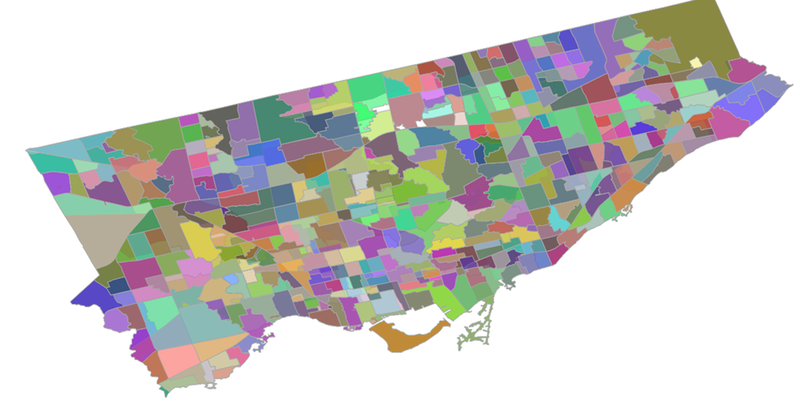 When we launched realosophy.com back in 2007, we pioneered
market analysis by neighbourhood in Toronto. At the time, realtor.ca boundaries
of E01, C11 and W01 really confused consumers – for example, E01 encompassed
the vastly different neighbourhoods of Riverdale, Leslieville and Blake Jones. We
worked to reflect neighbourhoods as consumers knew them - which more accurately
reflected actual real estate trends). Our neighbourhood profiles brought
together school data, housing statistics and demographic data to help home buyers
figure out which neighbourhoods would be the best fit for them.
When we opened the doors of our real estate brokerage in
2009, we saw first-hand that home buyers were once again pushing ahead of the
market. Once our clients had narrowed their search down to two or three
neighbourhoods they liked, they started to zoom in even closer, becoming hyper-focused
on the school district they wanted to buy in.
Many home buyers don't want to buy in Bloor West Village,
they want to buy in the Runnymede Junior and Senior Public School district.
They aren't interested in just any house in Davisville, it has to be in the Maurice
Cody Junior Public School catchment area.
So we decided that our latest innovation would be to allow
Toronto home buyers to search for homes by school district. (To check out how we do this, see houses
currently for sale in the Maurice Cody school district.)
If you're looking to buy a home and school quality is an
important priority for you, zeroing in on what's available is just the first
part of your challenge. You will find yourself competing with many other buyers
and having to assess and make trade-offs – here are a few words of advice that
I share with my clients.

Buy in the Fall
Most home buyers who want to buy in a good school district
typically start their search in the spring with the hope of being moved in to
their new home by the end of the summer. The goal is to get the kids into
school on Day One, avoiding the need for any mid-year switches. As a result,
the market for nice homes in good school districts can be very competitive
during the spring.
Consider starting your search in the fall when there is less
competition. The fall market has
historically been a bit less competitive than the spring market and this means
fewer bidding wars. This is a
particularly smart strategy for home buyers who don't have school-aged children
yet and don't have to worry about changing schools mid-year.
The Anchored
Neighbourhood
School quality can change over a three to four year
period. Home buyers with very young
children may benefit by focusing their search on schools that might not be the
top performers today, but have good potential for improvement. But how to do
you spot the potential winners?
At Realosophy, we talk a lot about the "Anchored
Neighbourhood" concept.
This means looking for schools that have average scores
today (as assessed by standardized testing administered and reported by the Education Quality
Accountability Office (EQAO), an arm's-length agency of the Government of
Ontario ), but are in established neighbourhoods surrounded by schools that are
already top performers. (You can research all Toronto Public and Catholic school
profiles and scores on realosophy.com.) Homes in the "average" school district
tend to be less expensive relative to the top performing school districts,
which makes it a bit easier for some home buyers to get into that particular
micro-market. Over time, as the area gentrifies and starts to see younger
families move in (many because they can't afford the neighbouring top school
district), the anchored neighbourhood and school benefit from these demographic
changes – parents tend to get more involved in local schools and general
capacity increases, leading to better performance.
At our monthly Schools for Home Buyers Workshop, we go
through the data and details behind the Anchored Neighbourhood concept, highlighting
recent examples of schools that were not highly desirable a few years ago, but
have benefited by being anchored in an established neighbourhood surrounded by
other good quality schools.
Is it Really About
the School?
Every family arrives at the schooling strategy that is right
for their children. We have a number of clients who don't focus too much on
EQAO scores for Toronto public schools. Some
just don't believe that school quality can be measured by how well students
perform on some standardized test. In other cases, parents have alternative or
private schooling options planned for their children. But buyers that are not
too worried about EQAO scores in terms of impact on their children are still worried
about how these scores might impact their home value, particularly when it
comes time to sell.
But our analysis of the data shows that school quality and
house prices are not a 1 to 1 relationship. Buying in a good school district
does not necessarily mean that your house is going to appreciate at a faster
rate and have better resale potential than a house in a poor school district - the
relationship is more nuanced than that.
Even when we look at the homes in two neighbouring school
districts, one a top performing school and the other below average, you might
be surprised to learn that school quality does not have a material impact on
how much house values are appreciating. Again, we go over all the data and the
details at our monthly Schools for Home Buyers Workshop so be sure to sign-up
if you're interested in digging deeper.
The latest EQAO scores have just been released and we're
hard at work updating realosophy.com. Over the next few months, we'll be
publishing our super-popular series of posts on schools, featuring the Top Ten
lists you love (Best Neighbourhoods for Top Schools and Best Schools on a 500K
Housing Budget), as well as introducing some new ones (Best Toronto Schools for
Math).
We hope you'll enjoy reading these posts as much as we love
pouring over the data.
John Pasalis is the President and Broker-Owner of Realosophy
Realty Inc. Brokerage in Toronto. A leader in real estate analytics and
pro-consumer advice, Realosophy helps clients buy or sell a home the
right way. Email John
Share This Article