Urmi Desai in Realosophy News, Toronto Real Estate News

If you use Realosophy.com, you've probably noticed some big
changes. (If you don't, and you're interested in Toronto real estate, you really should.)
For starters, there's a huge new search box in the room. We're
calling our latest free tool for consumers "Realosophy's Home Spotter" – and it's
big in a lot of ways.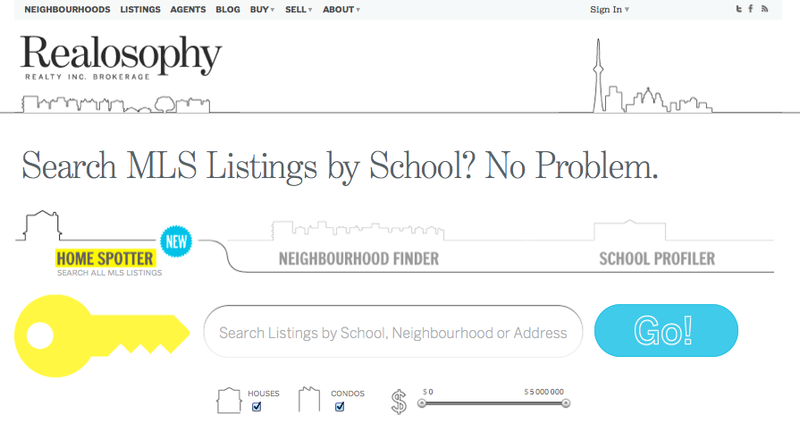 The Wowza Factor*
You can now search all MLS listings by
Toronto school district – a first for Toronto real estate. (We think you'll find
this as addictive as we do.)
In this screenshot below, you're looking at the boundaries for TDBS's Maurice Cody Junior Public School and seeing all the houses currently listed for sale within those boundaries.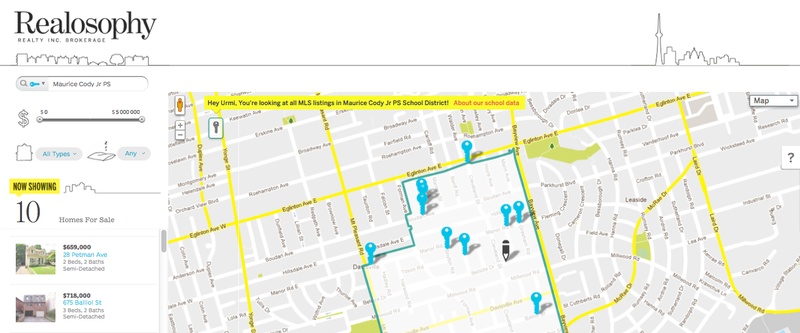 The inspiration to allow you to search all listings by
school district came from you. Time and time again, we saw home buyers lugging around complex Excel spreadsheets, desperately trying to zero
in on priorities. You told us about your frustration at having to
go to three different websites just to figure out which houses fit into which
school districts and neighbourhoods.
You'll see our "school smarts" on display throughout the Home Spotter - for example, when you look at an individual listing, our technology tells you what school district the listing falls into. As I said, wowza.
You can also search for houses in all the other ways you
love – by neighbourhood or just by dragging the map around. Better yet, once
you find a house you like, we've ensured that you get all the Realosophy Toronto
Neighbourhood info that you've grown to love – school scores, walk scores and
more – all specifically tailored to the listing that you're looking at.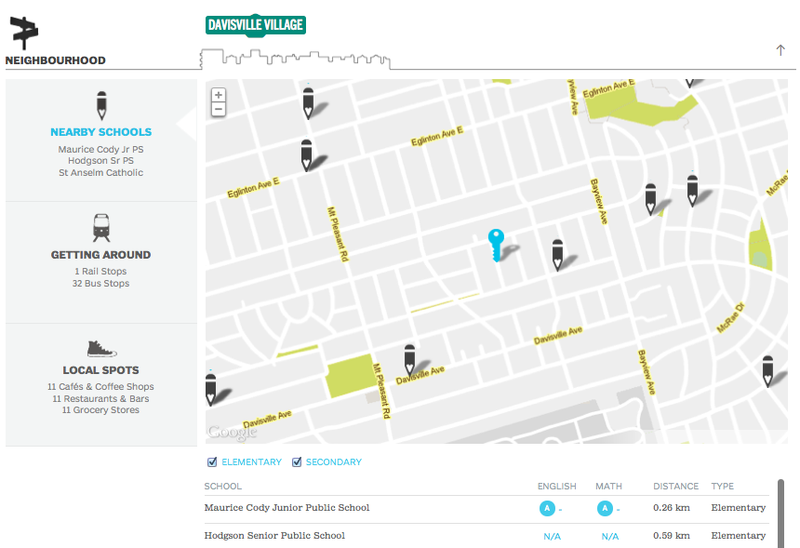 Design Matters
We've put a lot of thought and elbow grease into getting our
killer online search, well, killer. We started with the sharp design that
Realosophy is known for.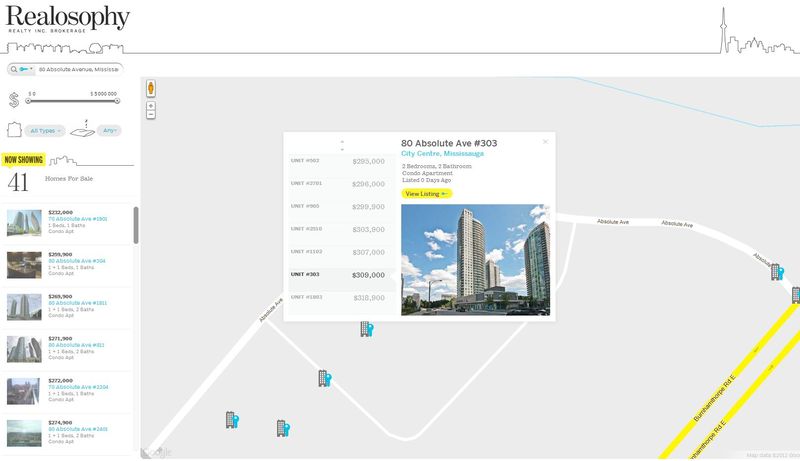 We think it's critical to making your browsing experience
a great one. When you grab a cup of coffee and browse, we get that it's not
just a house that you're imagining, it's about the type of lifestyle that you
could build in the right home and neighbourhood. It takes time to get your vision right so we
wanted to make it relaxing and pleasurable to keeping coming back to
Realosophy.com as often as you need to.
Simple But Powerful
When it comes to functionality, we constantly challenge ourselves
to make the tool as simple as possible while doing some really cool things that would
make your search easier.
We've insisted on making our home search "type and go" –
just type in the neighbourhood or school you want to browse, and Bob's your
uncle, you're looking at houses. (We've also made sure you can get to Realosophy's popular neighbourhood and school profiles the same quick way.)
We're adding more "wouldn't it be cool if you
could…" features as I write this, but we'll add carefully, so that you don't end up with that
frustrating "why the -bleep- do I have to fill in so many things" search filter experience.
Simple but powerful. It's a tough balance to get right, but
it's what keeps us fired up. We're always interested to hear what you think
(and there will always be kinks to work out) so please keep in
touch: homes@realosophy.com
The Bigger Picture

The launch of Realosophy's Home Spotter comes in the context
of larger changes in the residential real estate industry, particularly efforts
to allow consumers more direct access to more information about listings. The
Federal Competition Bureau's case against the Toronto Real Estate Board goes to
trial next week and Realosophy will be an active participant.
Readers of Move Smartly will not be surprised to find
Realosophy out front, arguing for changes to the sharing of MLS data in order
to allow pro-consumer innovation. It's not easy to go against the grain in your own
industry, but we strongly believe that change will make our industry stronger.
We're confident that by giving you access to tools like Home
Spotter, you'll be a more empowered client when it comes to buying a house –
and we'll be better able to help you make the right decisions when you use Realosophy's agent services. A more informed consumer does better at the hospital, at the
law office and at the bank – real estate is no different.
Trial starts Monday.
*Whenever we build something at Realosophy, I like to jump around saying "What's Wowza about this? There has to be something
Wowza!" I occupy an emotional space somewhere between Steve Jobs and George Costanza.
Urmi Desai is editor of the Move Smartly blog and is responsible for strategy and marketing at Realosophy Realty Inc. Brokerage. A leader in real estate analytics and pro-consumer advice, Realosophy helps clients buy or sell a home the right way. Email Urmi
Share This Article