Realosophy Team in Media Roundup, Realosophy News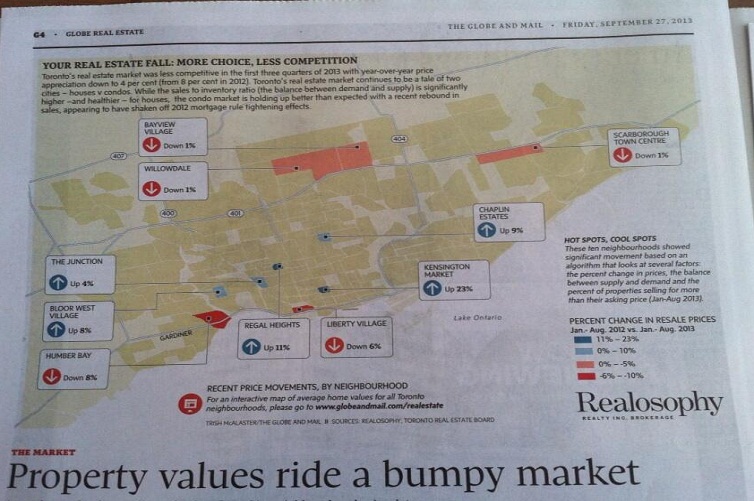 Wondering how your neighbourhood stacks up to the rest of the Toronto in this Fall market?
Realosophy is here to help.
Since 2008, Realosophy Analytics has been anaylzing real estate statistics for The Globe and Mail's semi-annual market surveys.
This Fall, smaller neighbourhoods are seeing the biggest uptick in value thanks to the availabillity of semi-detached and detached houes in areas with good schools.
Bloor West Village has retained its lustre, rising 8-per-cent in average price. Kensington Market rose 23-per-cent in average price while Regal Heights achieved an 11-per-cent change.
In an interview with the Globe, Realosophy President and Broker John Pasalis notes the overall trend sees prices continue to appreciate in eclectic neighbourhoods that contain rows of houses in popular school districts.
When it comes to big changers like Kensington Market, it's important to remember that a small number of sales in smaller neighbourhoods results in a significant change of the average sale price.
The value of houses swell when there are a multitude of bidding wars. Neighbourhoods with large numbers of condo units aren't seeing bidding wars take place due to the sheer amount of condominiums available.
For example, Humber Bay Shores, an area that mostly consists of condo buildings that have been built in the past 10 years, saw the average price drop by 8-per-cent.
Location is also a major factor. Though prices for houses north of Dundas Street West have dropped due to their proximity to the rail yards, consumers are finding themselves priced out of other neighborhoods. Buyers are opting to focus on the area's redeeming qualities, which include transit, shopping and restaurants within walking distance.
Looking at the big picture, Toronto's real estate market is favouring buyers, with rising inventory providing them with more options -- the good news is that they are still buying.
Read John's full interview with the Globe here.
Share This Article