John Pasalis in Toronto Real Estate News
The east end of the Toronto was the hottest place to buy real estate during the first month of 2014. Seven out of the top ten hottest MLS Districts in the city are in the east end including all three East York districts and four districts in Scarborough.
To calculate our hot list we focused on the sales-to-inventory ratio published in the Toronto Real Estate Board January 2014 market report. The sales-to-inventory ratio is a ratio of the number sales in a given month divided by the number of homes available for sale. In a balanced market, we can expect to see a sales-to-inventory ratio of roughly 20% which translates into one house sale for every 5 homes available for sale. The higher the ratio the more competitive the market is.
The following chart shows the sales-to-inventory ratio for our top ten performers in January 2014.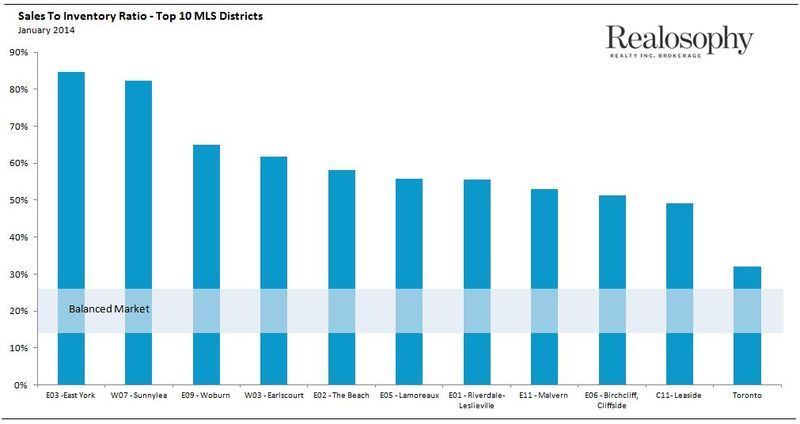 The E03 MLS District (The Danforth, Old East York) tops the list with a sales-to-inventory ratio of 85%. This was followed by W07 (Sunnylea) in the west end and E09 (Woburn, Bendale-Cedabrae), W03 (Earlscourt, Harwood) and E02 (The Beach) rounding out the top 5 neighbourhods.
The E05 District (L'Amoreaux, Tam O'Shanter) takes the sixth spot followed by E01 (Riverdale, Leslieville), E11 (Malvern), E06 (Birchcliff and Cliffside) and C11 (Leaside) in the final spot.
Below is a summary with some more detailed statistics for each of the above MLS districts for January.

Scarborough is not normally known for having some of the hottest real estate neighbourhoods in the city but with five out of the top ten neighbourhoods (including all 4 in Scarborough) showing an average sale price below $500K, the lack of affordable homes in more central neighbourhoods may be pushing first time buyers to these more affordable options.
John Pasalis is the President and Broker of Realosophy Realty Inc. Brokerage in Toronto. A leader in real estate analytics and pro-consumer advice, Realosophy helps clients buy or sell a home the right way. Email John
Share This Article