John Pasalis in Toronto Real Estate News
Deutsche Bank gets it wrong - Real Estate Prices are Not Overvalued by 60%
In December Deutsche Bank released a report of the world's most overvalued real estate markets and toping the listing was Canada which they estimated was 60% overvalued.
From the Wall Street Journal:
Based on their analysis, anyone in the market for property might want to avoid Toronto or Vancouver.
Last week economists lined up to highlight problems with Deutsche Bank's methodology, specifically the data behind the house price to rent ratio they used to assess how overvalued the real estate market is. The theory is that in a balanced market house prices should be appreciating at a similar rate to rents, when houses are appreciating faster than rents the market might be overvalued. It turns out that the rent data Deutsche Bank used as part of their analysis understates actual rents because the data is quality adjusted.
In the case of Toronto, the quality adjustment has the effect of assuming that all renters are renting apartments in the old stock of purpose built apartment buildings. It ignores the fact that virtually all the new rental apartments coming on the market in Toronto have been in condominiums which are 40-50% more expensive than apartments in traditional apartment buildings.
Two years ago I wrote a more detailed post titled Analysing Toronto's real estate market: how can so many be so wrong where I talked about the problems with using this kind of data to analyze Toronto's real estate market.
We are not going to see 70,000 condo completions over the next 2 years
TD Bank released a report last week forecasting an 8% decline in condo prices over the next two years.
One of the key factors behind TD's forecast is this observation:
"the high-rise segment is facing excess supply as some 70,000 units are completed over 2014 and 2015."
The above observation appears to be based on the following data from Realnet showing scheduled condo completions over the next four years.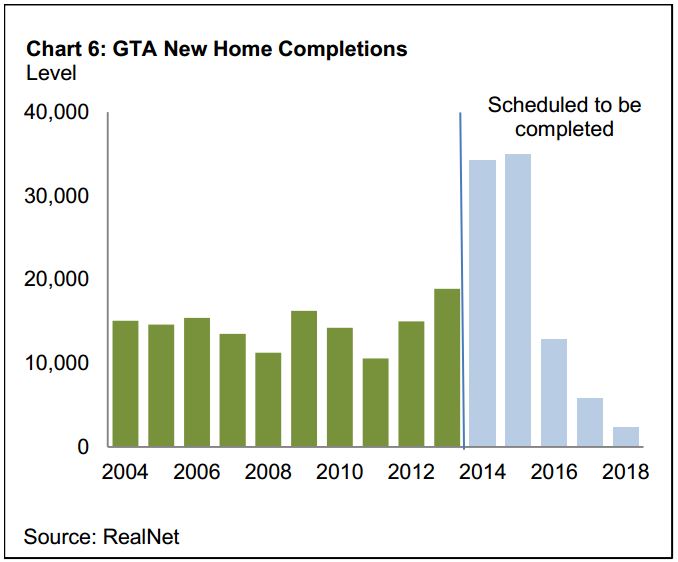 Anyone who keeps a close eye on Toronto's real estate market knows that there are a couple of reasons why we are not going to see 70,000 condo completions over the next two years, even though the above Realnet chart suggests we might.
Firstly, a condo's scheduled completion date is very different from a condo's actual completion date. It's very normal to see condos completing a year or two after their scheduled completion date. So a condo with a scheduled completion date of 2014 could end up being completed 2016.
The other factor at play here is that most industry insiders believe that the construction industry in Toronto can't complete much more than 15,000-20,000 units per year which is consistent with the historical level of annual completions. This means that we are probably not going to see much more than 30,000 – 40,000 completions over the next two years, or roughly half of TD's estimate.
Despite what some economists might think, Toronto's condo market is doing very well.
If TD is right, and there is an oversupply of condos scheduled for completion, we definitely did not feel the effects of this in 2013.
According to Realnet the GTA had 16,668 condo completions in 2013. What impact did these new condo completions have on the resale condo market? Did we see a flood of new listings hitting the market driving prices down? Actually, the exact opposite happened. The number of condos listed for sale on the MLS in 2013 dropped by 1.3% when compared to 2012.
Condo sales in 2013 were unchanged when compared to 2012 but this doesn't really tell the entire picture.
When we look at condo sales over the past six months, sales are up 16% when compared to last year and prices are up 5%.
As house prices soar, condos will become the only option for many buyers
Toronto's market for freehold houses continues to be incredibly competitive with average prices last month up over 10% year over year.
Even though the condo market has shown some strong signs over the past 6 months, condo prices are not going to see the same level of appreciation we're going to see in the freehold housing market.
As the price of a semi-detached house in traditional first time buyer neighbourhoods like the Junction and Leslieville approaches $1M, buying a house is not going to be an option for many first time buyers.
Over the next few years the spread between what a typical starter home and starter condominium costs will be so great that buying a starter condo, even for young families, will be the first choice for most first time buyers.
John Pasalis is the President and Broker of Realosophy Realty Inc. Brokerage in Toronto. A leader in real estate analytics and pro-consumer advice, Realosophy helps clients buy or sell a home the right way. Email John
Share This Article