John Pasalis in Toronto Real Estate News
After a fiercely competitive start to 2014, Toronto's real estate market is starting to show signs that things are cooling down slightly.
First, let's take a look at the Toronto Real Estate Board's statistics for March 2014.
Sales were up 4% in March compared to the same month last year, but you'll see that sales levels are well below levels reached in 2011 and 2012.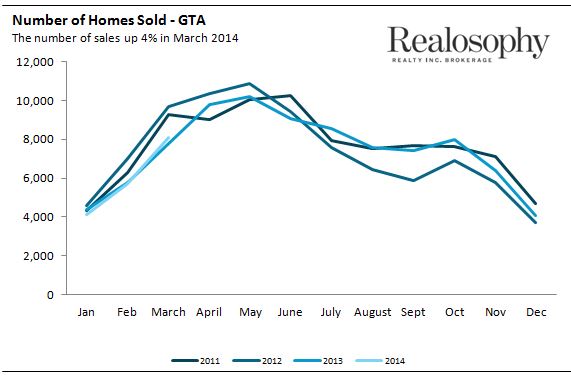 The number of new listings coming on the market in March were up just 1% compared to last year. Year to date we've seen a 5% decline in the number of new listings coming on the market.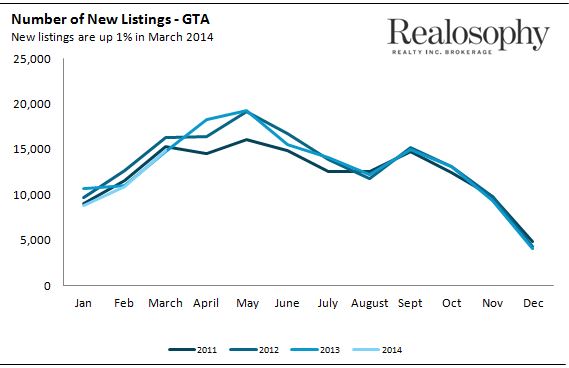 When we look at the decline in the number of new listings by house type for the first three months of 2014 we notice that new listings for semi-detached houses declined by 11%, the biggest decline among the five main house types. This helps explains why virtually all the properties we read about in the press that received 30+ offers and sold for 10-20% over asking were virtually all semis.
The sales-to-inventory ratio increased to 49% pushing us deeper into seller's market territory.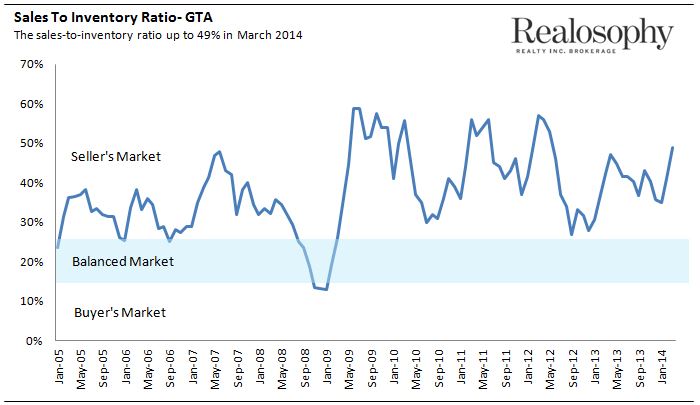 Now you might be asking how can i say that the market is showing signs of cooling down when statistics like the sales-to-inventory ratio suggest things are heating up?
One of the benefits of actively selling real estate is that you start to see things happening real time, before they make it in any report. What I've been seeing over the past few weeks is a slight cooling down relative to the fiercely competitive market during the first 10+ weeks of 2014.
A slight cooling does not mean prices are falling, it means that houses that likely would have received 10-15 offers back in February are now getting 5-7 offers. Houses that would have sold for well over market value a couple of months ago are selling for closer to market value today. Agents who underpriced their properties expecting a crazy bidding war, are not getting the price they expected on their offer night and are forced to increase their price closer to what the seller actually wants. The market is still very competitive, but we are not seeing the same level of competition we saw a couple of months ago.
What's driving this cool down? Firstly, I think demand has softened slightly. Roughly 18,000 people bought houses during the first 3 months of 2014 and I don't think 18,000 new buyers entered the market in that time which means there are slightly fewer buyers out there competing for homes.
We have also seen an increase in the number of new listings which has helped take some of the pressure out of the market. A month ago 20 buyers would line up to compete for the one nice house taking offers on any given night. Today, there are 2-3 nice houses taking offers on the same night which means we are seeing 5-7 offers for each house rather than 20 offers on one house.
Finally, I think buyer fatigue did kick in a bit towards the end of March. We noticed in our office that many buyers were more open to brainstorming different home buying strategies that would help them avoid competing with 10+ buyers for the one really nicely staged house that comes on the market each week.
The market will continue to be competitive at least until the summer but I'm hoping the period of headline grabbing sale prices in Toronto is behind us.
John Pasalis is the President and Broker of Realosophy Realty Inc. Brokerage in Toronto. A leader in real estate analytics and pro-consumer advice, Realosophy helps clients buy or sell a home the right way. Email John
Share This Article