John Pasalis in Toronto Real Estate News
Ever since Garry Marr published his article in the Financial Post titled "Canada's next housing bubble: real estate agents" there has been quite a bit of discussion both online and on the radio about the boom in the number of real estate agents.
The GTA has nearly 40,000 real estate agents, twice as many as 10 years ago and 1 agent for every 140 people.
So what's driving this boom? It's no surprise that part of the boom is driven by the perception that, as one recent applicant told me, "it's really easy and I can make a lot of money".
But more important than the dream of easy money is the fact that the barriers to become a real estate agent are extremely low in Ontario. To become a real estate agent one needs to successfully complete three courses, two of which can be completed online with the third requiring 40 hours of in-class training. If a student decided to take all three courses in class, the coursework totals 175 hours of in-class training, or roughly 4.5 weeks.
Successful graduates then enter what is called their articling phase. During the articling phase agents can sell as many or as few houses as they like without any direct supervision. There are no requirements in this regard. The only requirement during the articling phase is the completion of three additional courses which combined total 3 weeks of in-class training (two of the courses can be taken online which would reduce the in-class requirement to just 1 week).
A few weeks ago while talking business with a friend who owns a hair salon, I was surprised to hear about the difference in the training requirements the province has for hairstylists compared to the requirements for the real estate industry.
Hairstylists must first complete a Ministry approved 1,500 hour Hairstylist program which translates into roughly 10 months of in-class training. Following that they must complete 2,000 hours of on-the-job training under the direct supervision of a registered hairstylist.
The chart below compares how the two professions stack up both in terms of upfront educational requirements and the requirements during the articling/apprenticeship phase.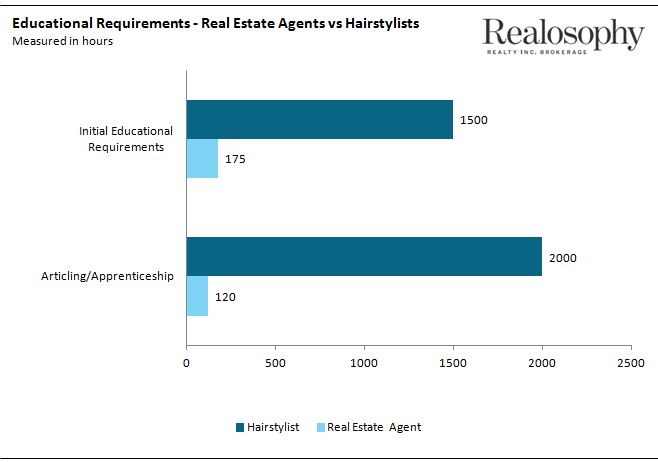 Because of these lax educational requirements, the real estate industry is increasingly being dominated by part-time agents. Mark McLean, TREB's President Elect and a Broker Manager at Bosley wrote a great post a couple of years ago where he estimated that roughly 71% of real estate agents were part-time. Since then, the percentage of part-time agents has increased to 78%.
Why are the educational requirements for real estate so low? There are two main reasons for this.
First, there is no strong lobby advocating for higher educational standards for real estate agents. In fact, when higher educational requirements are proposed, the Ontario Real Estate Association lobbies against such changes. In 2005 there was a proposal to ensure real estate agents were regulated in the same way as paralegals, but OREA successfully lobbied to have realtors exempt from this requirement.
The reason the industry actively lobbies for lower educational standards has to do with the way it's structured. The entire industry (associations, boards and even brokerages) operate a lot like most gyms. Gyms make the majority of their money from the thousands of people who sign up, pay their ongoing monthly fee, but rarely show up to exercise. The entire real estate industry has pretty much the same business model. They don't care that 78% of their members are part-timers who rarely show up because the associations, boards and in most cases brokerages, earn the same monthly fee off of the part-timers as they do the full timers.
Even though the industry is lobbying for lower educational requirements for realtors, why isn't our province stepping up to push for higher educational requirements for real estate agents to ensure consumers are protected? OREA's lobbying efforts aside, I think the main problem has more to do with Queens Park's need for new jobs, any way they can get them.
Anyone who read's David Larock's Monday Interest Updates knows that Canada's employment numbers have been propped up by increases in the number of self-employed individuals. There are a number of different professions that can be classified as self-employed but one very big one includes real estate agents. Real estate agents are typically independent contractors and thus, are self-employed individuals.
The Toronto Real Estate Board has had roughly 4,000 new agents register every year over the past 4 years. That means the Toronto real estate brokerage industry alone is responsible for roughly 4,000 new jobs each year. We can see pretty quickly that the real estate industry is responsible for a significant portion of the new self-employed jobs we are seeing each month.
And how successful are all of these new self-employed individuals? Over the past 12 months 27% of all agents registered with TREB have not sold a single house listed on the MLS. Two thirds of agents have sold fewer than 3 houses which means they are likely taking home (after all expenses) an income similar to a minimum wage job.
Queens Park has a duty to encourage job growth in the province but not at the expense of consumers. A four week course is not enough time for someone to learn everything they need to know about real estate and is definitely not enough time to develop the skills needed to help people with the biggest transaction of their life.
The people who are hurt most by the province's lax educational requirements are the people buying and selling homes. People who reasonably assume that their agents are trained to advise them on the value of the home they are planning to buy and sell, but who never would have imagined that Principals of Appraisal (a course that according to OREA "provides an understanding of valuation theory and is designed to develop registrants' ability to evaluate property in the course of trading activities") is not a required course. Which means that the majority of agents don't even have the basic skills needed to tell their client what a particular house is worth.
Real estate sales is a complex business and it's time the province re-evaluated the educational requirements for this profession.
John Pasalis is the President and Broker of Realosophy Realty Inc. Brokerage in Toronto. A leader in real estate analytics and pro-consumer advice, Realosophy helps clients buy or sell a home the right way. Email John
Share This Article