John Pasalis in Toronto Real Estate News
Torontonians have become so accustomed to hearing about how competitive the real estate market is and how quickly prices are rising that they have begun to tune out what they see as the same old story. But what many don't realize is that 2016 is different from previous years. It's the tipping point where our booming real estate market is on the verge of becoming a full blown real estate bubble.
Detached house prices are appreciating twice as fast in 2016 as they were last year with prices up 22% year over year in August. Home prices increasing at 22% per year is a significant cause for concern. At this rate of appreciation the average price of a detached home will double from $964,000 to $1,928,000 in just 3.5 years.
Let's take a look at a few charts to see how Toronto's appreciation in house prices has been building momentum over the past 3 years.
The chart below shows the number of detached homes that have sold each month since 2013. Sales have been increasing every year since 2013.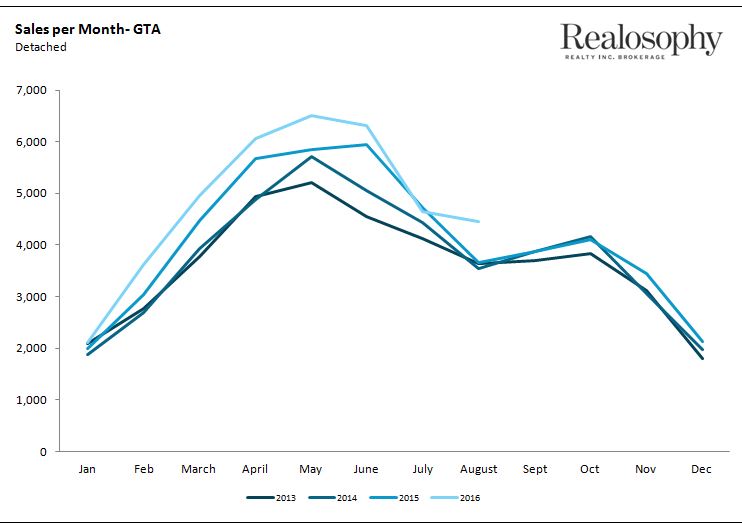 This increase in demand has resulted in a decline in the inventory of homes available for sale each month. The chart below shows the number of homes available for sale in each month from 2013.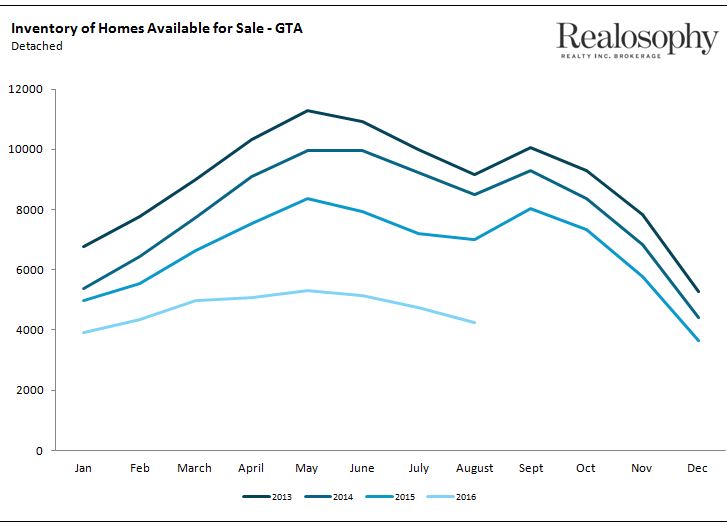 During the busy spring period there were roughly 11,000 homes available for sale each month in 2013. In 2016, that number has been cut in half to just over 5,000 homes available for sale. Today's home buyer has half as many homes to choose from compared to just 3 years ago.
When demand is rising and supply is falling – prices are of course going to increase. The chart below shows how much the averag price for a detached home increased compared to the same month in the previous year.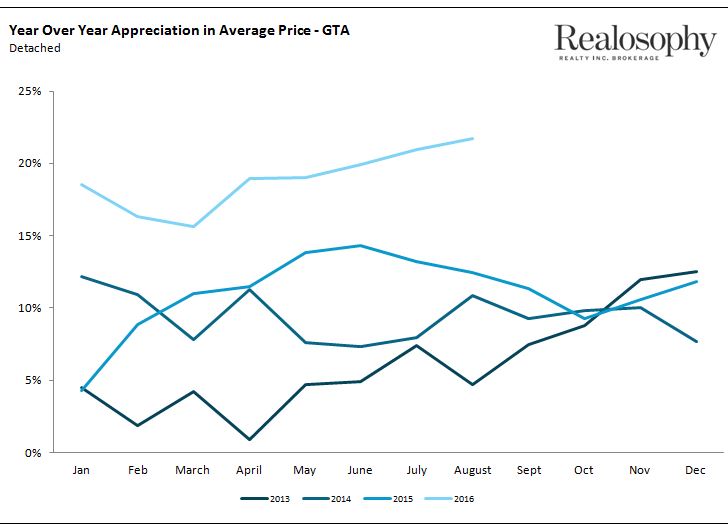 We can see from this chart that the momentum in price growth has been building over the past 3 years. With each year we can see that house prices were rising at a slightly faster rate than the year before - with the biggest increase coming in 2016 where prices have been up by roughly 20% for most of the year.
Much of the press has focused on quelling demand for homes by introducing a foreign buyer tax like the one introduced in Vancouver. While such a tax would definitely help, I don't believe foreign speculation is the only problem. I'm seeing a rise in domestic speculation as more and more buyers aim to capitalize on Toronto's out of control real estate prices – and understandably so.
Unlike stocks, real estate is perceived as being among the safest and most secure investments one can make, couple that with a 22% year over year appreciation and there are few investments out there that can beat it.
Unfortunately this type of wishful thinking is the fuel that drives real estate bubbles.
For the first time in Toronto's long real estate boom we are hitting a crossroad where the decisions our Governments make (or don't make) will materially impact the outlook of our housing market.
Our Governments have a choice to make. They can either step in to quell speculative behaviour in our housing markets – both domestic and foreign – or we run the risk of experiencing firsthand the roller coaster ride of a real estate bubble. The too good to be true run up in house prices (that has already begun) followed by an inevitable crash and recession to go with it.
From my conversations with home owners and home buyers – government intervention can't come soon enough.
John Pasalis is the President and Broker of Realosophy Realty Inc. Brokerage in Toronto. A leader in real estate analytics and pro-consumer advice, Realosophy helps clients buy or sell a home the right way. Email John
Share This Article