Why it's important to know whether a home has heritage designation before you buy - and how to check.
Editor's Note: In this new weekly blog series, John Pasalis, real estate data analyst, Move Smartly contributor and President of Toronto-based Realosophy Realty, shows you how the data revolution can help you uncover Hidden House Problems (read intro to blog series here).
Want more tips now? Download this 'Hidden Home Problems' blog series as a free e-book
A home that has been given a 'heritage' designation or is located in a 'heritage district' isn't what most home buyers think of as a "hidden house problem" - but not knowing this information before you buy could end up costing you thousands of dollars in unexpected expenses - and leave you unable to make the types of renovations you wanted to.
Heritage properties are homes that a municipality or the province has designated as having cultural heritage value. For example, in the City of Toronto, heritage districts are "neighbourhoods that represent Toronto's rich social, cultural and architectural history — places that contribute to the livability and appeal of Toronto as a multicultural, sustainable and equitable city".
Heritage properties are not good or bad per se - the key is knowing what you are getting into before you buy, which is why Realosophy.com displays an alert if a home being advertised for sale, even if home sellers and their agents fail to disclose this as part of their advertising listing on the MLS (or realtor.ca).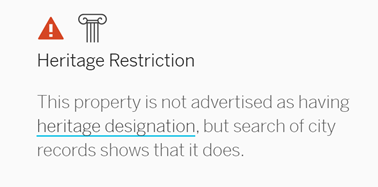 Source: Realosophy.com
This alert gives you the opportunity to do more research on what that specific property's heritage designation entails and whether you are comfortable with the restrictions imposed.
Conversely, if you are a buyer for whom a heritage designation is a plus, ensuring the ongoing character of a neighbourhood whose charms attracted you (and perhaps a premium home price) in the first place, you'll want to know that it indeed has official designation.
Either way, there are a couple of important things you need to know.
Homes and districts designated as heritage often have restrictions on the renovations that are permitted - most often to the facade of the home, which not only limit your renovation options, particularly if you prefer a more modern aesthetic, but can make them far more expensive than you may be budgeting.
For example, if you're thinking of buying a home with old brickwork in need of repair, you may be planning to simply paint over the brick - a common practice in many urban neighbourhoods, but one that is often not allowed for heritage properties. Your only options may instead be to restore the original brick facade at a much greater cost or leave the poor brickwork as it is.
Heritage properties also often have restrictions on the type and style of windows that are permitted. Some districts require that only wood windows be installed (rather than more economical options like vinyl or aluminum) and that the windows match the existing heritage character of the neighbourhood.
It's not always obvious from looking at a home or building whether it has heritage designation. In some cases, like Toronto's coveted Beaches neighbourhood, a heritage designation may apply to a single street rather than the entire neighbourhood.
While real estate agents representing the sellers of a home are supposed to disclose a property's heritage designation, many don't - often forgoing the effort required to properly research a property's status.
As with other home issues stemming from information that needs to be disclosed, suing after buying is a possible but poor remedy - in addition to the stress and cost of legal processes, you are still stuck with limited reno options.
So again, prevention - that is, going into a purchase with full knowledge - should be your aim when it comes to heritage properties.
Want more tips now? Download this 'Hidden Home Problems' blog series as a free e-book
Top photo credit: peterspiro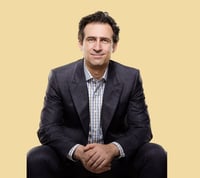 John Pasalis is President of Realosophy Realty, a Toronto real estate brokerage which uses data analysis to advise residential real estate buyers, sellers and investors.

A specialist in real estate data analysis, John's research focuses on unlocking micro trends in the Greater Toronto Area real estate market. His research has been utilized by the Bank of Canada, the Canadian Mortgage and Housing Corporation (CMHC) and the International Monetary Fund (IMF).
Follow John on Twitter @johnpasalis
Share This Article