Use the latest in data technology to avoid being surprised by these common but 'invisible' house problems.
Editor's Note: In this series, Move Smartly lead contributor John Pasalis, President of Toronto-based Realosophy Realty, explains how today's data can help you make better home buying decisions with new tips and real life examples every week.
Buying your own home is one of the most exciting life experiences - but falling prey to hidden house problems can quickly make it one of the most stressful.
Not spotting these common but 'invisible' property problems before you buy can lead to you living in homes that may harm you and your family and cause significant financial stress.
Fortunately, the latest in data technology now allows you to mitigate the risk of buying into these problems.
Want all tips now? Download the free e-book which includes all information in this blog series, plus additional content on avoiding hidden home problems.
A Data Revolution
We're living in an era of unprecedented information exchange. Propelled by new technologies and the push for more access to governmental and other sources of data, there is now more data available to us than ever before, changing how we order taxis, secure travel accommodation or research consumer products.
The data revolution has come slower to real estate, which has been characterized by small local authorities presiding over low-tech data, like paper-based land registry offices, restricted data, such as real estate association databases containing information regarding the buying and selling of properties and costly data, provided by private companies that charge for access to information.
But seminal legal cases in the U.S. and Canada have changed the landscape (a process I was personally involved in, in fighting for increased consumer access to the data restricted by the real estate industry).
Now, you can use data to help you uncover more hidden home problems than ever before - and make smarter decisions before you buy.
How to Access the Data
As we discuss property problems that may be identified by looking at the right data, you may be wondering how to access this data for your own home search.
Throughout this blog post series, I'll specifically be discussing why and how we look for certain data and report it on our Toronto-based brokerage's website, Realosophy.com.
We take every home for sale on the Multiple Listing Service (the MLS, the platform used by most agents to advertise or "list" properties for sale) in the Greater Toronto area and we mine and map data against it to take a closer look at the property.
If you are currently looking to buy a home in the Toronto or Greater Toronto area, you can use our website to help you with your own home search. Many of the alerts I discuss in this e-book are available for all users while some can only be accessed by our clients who use our our agent services to advise and represent them on their home purchase.
Visit Realosophy.com to sign up for a free account.
What if I'm buying a home outside Toronto?
In some geographical areas and for some types of data, there are data gaps in our coverage, particularly as you go further out in the Toronto area. We continually research new, reputable sources of data in order to acquire them and expand our coverage.
But if data is not currently available in your area or if you are looking to buy a home in another city or even country, you can still benefit from the information I'm sharing.
By becoming aware of the types of hidden problems that you might be able to avoid by looking at the right data, you can contact the local authorities in your own home search area to get the information you need.
This is actually a critical step in the process. As we are dealing in a lot of data, mistakes can happen on our website, so we strongly advise all buyers - even those in Toronto Area - to consult with the appropriate authorities (real estate agents, municipal and school officials and lawyers) before making a final decision on any issue.
But you can't know to look into a potential problem if you didn't know about it in the first place - which is why we believe that understanding how you can use data is a critical first step in enabling you to make better home buying decisions.
Our Approach to Data
As committed as we are to giving consumers access to data, we are even more strongly committed to avoiding a problem endemic to the internet - 'information overload.'
As a real estate data analyst, I see far too many stats and data reported on by the media with little to no real consumer education on whether and how such data should impact the actual decisions consumers are making. This in turn leads many of us to discount much of this information as the media tends to report every issue as a five-alarm fire.
Many real estate brokerages and property advertising websites have also responded to consumer demand by dumping all available data on their websites, without doing the work to vet the accuracy of such data and to research whether the data is actually helpful, much less explain why the data matters and how consumers should be using it to make better decisions.
This is why we invest heavily in academic research and information technology to identify and present the best real estate data possible and in publishing high-quality consumer education to accompany this data.
This is not to say that you cannot find good quality data on media and real estate industry websites; there is so much data to be captured and reported on that no one organization could possibly do it all - and consumers should be looking at a wide array of sources which will specialize in different areas of data.
Our goal at Realosophy is to guide you in understanding all of this real estate data and give you as much live data as we can in an accurate and useful way.
Here's an overview of the many types of issues that can be uncovered by mining the right data -- and looking at it in the right way - including many that may surprise you.
In the coming weeks, I'll blog further about each issue, sharing real life examples of how our agents and clients have used data to make better home buying decisions - and how you can do the same.
Or, if you prefer, you can download our 'Hidden Home Problems' E-book to get all of these blog posts plus additional content right away.
Building Permits
When you're out looking to find a home you love (and can afford), you rarely give a thought to its building permit history.
So why do we display the entire building permit history available for every property for sale on Realosophy.com?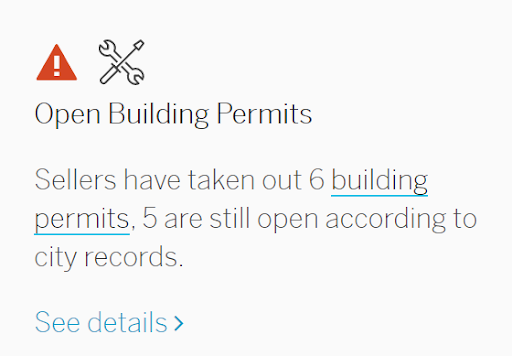 Source: Realosophy.com
After all, it's information few buyers and agents looked into even manually, in pre-internet days.
But this information can bridge one of the knowledge gaps that is most familiar to home buyers. When you hire a home inspector to report on the physical health of a home you are looking to buy (or choose to rely on the inspection report provided by the sellers), the inspector will caution that they cannot report on things they cannot inspect, such as what lies behind drywall, where electrical, plumbing, structural issues and other common home problems often appear.
This is where building permit information can help.
Learn more about building permits
Avoiding a Bad Flip
Most home buyers like the idea of moving into a newly renovated home that is in "move-in" condition because they don't have the time, money or inclination to renovate a home themselves.
This type of buyer is targeted by home "flippers" - investors who buy older homes, renovate them and re-sell them for a profit over a short period of time.
While a flipped home seems like an ideal option, they can be among the riskiest.
Anytime a home is substantially renovated, it's critical that the renovation is done well to ensure the ongoing health of the home. Given the profit motive and tight timelines of the flipping business (the longer a renovation takes, the more the flipper risks having their expenses (including the cost of carrying a mortgage for the house along with renovating it) outweighing any price they might fetch, there are plenty of ways flippers may opt for cheaper workmanship or materials and pass on problems to unwitting buyers.
What makes it tricky for buyers is that every renovated home you are looking at it is not necessarily a flip - some are renovated with care by home owners over time, both for their own use and with a view to selling one day. And not all flips are badly done - some are of high quality.
On Realosophy.com, we look at several pieces of data to determine if a home is likely being flipped in order to display a special alert:

Source: Realosophy.com
Once you know you might be looking at a flip, you can look for evidence that may suggest how well it's been done.
Front Pad Parking
Imagine moving into your new home, and on the first day you leave your car parked in the front of your home, you get a parking ticket.
Then another one the next day?
Buyers in urban neighbourhoods like those in downtown Toronto may be surprised to know that they do not automatically have the right to park their car in front of their homes. These neighbourhoods, which typically feature narrower homes, often do not have the spacious driveways seen in more suburban areas; what looks like a driveway out front is actually a 'front pad' parking spot, which needs to be legally registered with the city.
Unfortunately, it doesn't matter if you buy a home that is advertised by real estate agents as having a front pad parking spot - if this spot isn't registered with the city, the parking isn't legal.
This is why Realosophy.com checks on and displays alerts on the status of any home for sale being advertised with front pad parking: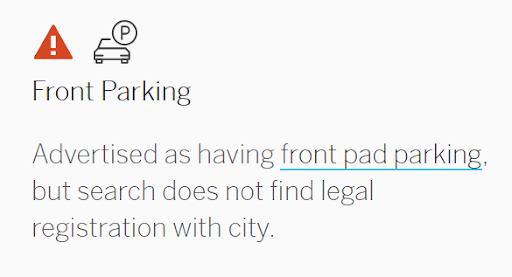 Source: Realosophy.com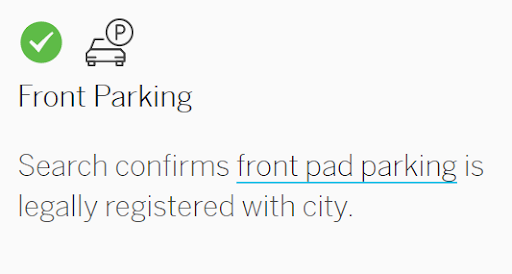 Source: Realosophy.com
This is one simple example of how we use big datasets to find hidden problems with homes that are being advertised for sale on the main platform used by agents in the Greater Toronto Area, the MLS (and its public website Realtor.ca).
Learn more about front pad parking
Heritage Designation
A home that has been given a 'heritage' designation or is located in a 'heritage district' isn't what most home buyers think of as a 'hidden house problem' - but not knowing this information before you buy could end up costing you thousands of dollars in unexpected expenses - and leave you unable to make the types of renovations you wanted to.
Heritage properties are homes that a municipality or the province has designated as having cultural heritage value. For example, in the City of Toronto, heritage districts are "neighbourhoods that represent Toronto's rich social, cultural and architectural history — places that contribute to the livability and appeal of Toronto as a multicultural, sustainable and equitable city".
Heritage properties are not good or bad per se - the key is knowing what you are getting into before you buy, which is why Realosophy.com displays an alert if a home being advertised for sale, even if home sellers and their agents fail to disclose this as part of their advertising listing on the MLS (or realtor.ca).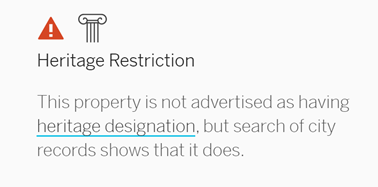 Source: Realosophy.com
This alert gives you the opportunity to do more research on what that specific property's heritage designation entails and whether you are comfortable with the restrictions imposed.
Conversely, if you are a buyer for whom a heritage designation is a plus, ensuring the ongoing character of a neighbourhood whose charms attracted you (and perhaps a premium home price) in the first place, you'll want to know that it indeed has official designation.
Learn more about heritage designation
Former Marijuana Grow-Operations
Any home that was found to be an illegal marijuana grow operation at any point in the past (often called "grow-ops") should disclose this information when the owner is selling the house.
Given that our society is more relaxed about marijuana use today, as evidenced by the introduction of new laws decriminalizing recreational marijuana use in Canada, it may not seem immediately obvious why it matters if a home's previous inhabitants grew their own marijuana plants.
Growing several plants legally for personal use is unlikely to have any material impact on a home. But growing a significant number of marijuana plants illegally (i.e., running a "grow-op") can cause significant damage to homes in many ways.
One common side effect is that high levels of humidity required in grow-ops can result in significant mold damage throughout the house.
While sellers need to disclose past marijuana grow ops, not all do.
That's why we obtain official data on known former marijuana grow-ops and cross reference them against any home currently available for sale in order to display alerts on Realosophy.com, regardless of what a seller says (or even knows) about its grow-op status.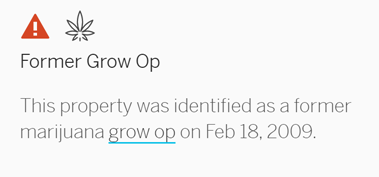 Source: Realosophy.com
At the time of writing, there are currently 12 houses for sale in Toronto that were former marijuana grow ops that made no reference to this anywhere in the MLS listing advertising the home for sale (including in remarks that only agents and not the public see).
Learn more about marijuana grow ops
Oil Heating
In the past, many homes used to be heated with oil rather than gas.
Oil furnaces required an oil tank which would be filled periodically by an oil truck that would visit the home. More often than not, the oil tanks were in the basement of the home, but occasionally they would be installed underground, often in the backyard.
Given the risks posed by oil tank leakage, the inconvenience of fill-up and wide-spread advances in home heating technology, few homes still use oil heating. Those that still remain buried on the property must be legally registered and upgraded or removed properly.
But when owners convert their home from oil to gas heating, many do not remove these tanks. When tanks have been left buried underground on the property, there is a good chance the oil was not completely emptied out. As the steel tank rusts and develops holes, the oil can slowly leach out into the soil over many years. Removing these tanks properly and remediating any soil contamination can be very expensive, and potentially complicated the sale of homes, as highlighted by Move Smartly writer, Bob Aaron, and others.
Unfortunately, detecting potential underground oil tanks isn't easy. In most cases, the sellers likely have no idea if there is one in their backyard because any conversion to gas was likely done a long time ago by previous owners.
That's why we display an alert for home's that currently or previously had oil heating.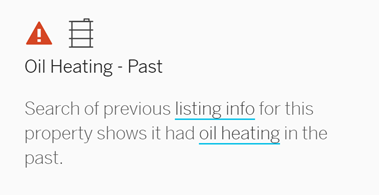 Source: Realosophy.com
Want more tips?
Download this blog series as a free e-book
The e-book includes all information in this blog series, plus additional content on avoiding hidden home problems including:
Quick Resales

Repeat Sales

UFFI Insulation

Electric Heating

New Building Construction

Garbage Sites

Chemical Sites

High Traffic/Special Use Sites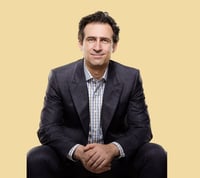 John Pasalis is President of Realosophy Realty, a Toronto real estate brokerage which uses data analysis to advise residential real estate buyers, sellers and investors.

A specialist in real estate data analysis, John's research focuses on unlocking micro trends in the Greater Toronto Area real estate market. His research has been cited by the Bank of Canada and the Canadian Mortgage and Housing Corporation (CMHC) and surveyed by the IMF.
Follow John on Twitter @johnpasalis
Share This Article