August home sales in the Greater Toronto (GTA) area were up 13% over the same month last year based on Realosophy Realty's analysis of sales through the Toronto Real Estate Board's MLS system. August was the fifth month in a row where GTA home sales were up by double digits.
Low-rise home sales (detached, semi-detached, row houses etc) were up by 17% over last year compared to an increase of 7% for condominiums.
Average home prices in the GTA reached $795,682 in August, up 3% over last year. The average price for low-rise homes was up 2% compared to an increase of 5% for condos.
When looking at the change in sales over last year by region, we can see that much of the growth came from big increases in sales in Durham, York and Peel regions.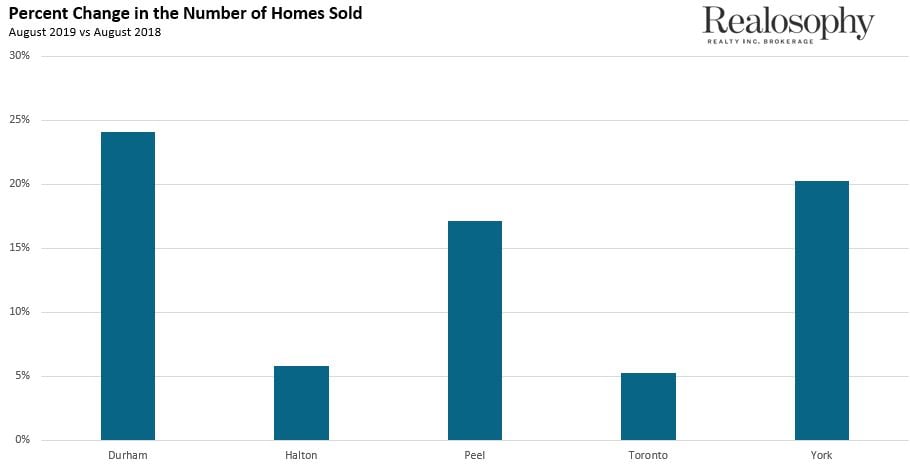 These regions saw the biggest increase in sales for a couple of different reasons. Durham and Peel are the most affordable regions in the GTA and buyers are gravitating to areas where homes are affordable. In August, the average price for a low-rise home in Durham was $638,154 and $850,489 in Peel. The average price for a low-rise home in Toronto - the most expensive region - in contrast was $1,165,650.
York Region on the other hand is the second most expensive region in the GTA with the average price for a low-rise home reaching $1,047,820 last month. What's driving sales in York Region? York was the hardest hit region when home prices fell in 2017. York Region saw the biggest decline in both sales and average prices when compared to the other regions in the GTA and after two years of under-performing the market home buyers are confident that the market has stabilized. This renewed confidence coupled with prices that are far below their 2017 peaks has resulted in buyers jumping back into York Region's real estate market.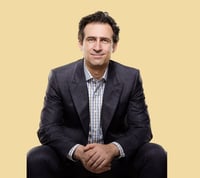 John Pasalis is President of Realosophy Realty, a Toronto real estate brokerage which uses data analysis to advise residential real estate buyers, sellers and investors.

A specialist in real estate data analysis, John's research focuses on unlocking micro trends in the Greater Toronto Area real estate market. His research has been shared with the IMF and cited by the Bank of Canada and CMHC.
Follow John on Twitter @johnpasalis
Share This Article