Why a recent CBC investigation into unethical behaviour by some buyer agents fails to tell the full story.
CBC's consumer investigation show, Marketplace, looked into buyer agents who steer their clients away from 'For sale by owner' (FSBO) properties - but failed to fully inform buyers about this issue, including how to best protect themselves.
What's the issue?
Agents or realtors who represent buyers earn money through commissions offered by home sellers. In Ontario, this amount is not set, and is usually 5%, split between the buyer and seller agents who represent their clients when a home is sold. When homes are put on the market as a FSBO, the home owner is not paying a selling agent to advise and represent them, is managing the showing and sale of their home themselves, and may offer less than the 2.5% commission that a buyer agent is normally offered. The CBC investigation alleges that some buyer agents are steering their clients away from such FSBO homes in order to ensure that the commission they receive is as high as possible.
This practice, referred to as 'steering', is illegal and industry associations, the Ontario Real Estate Association (OREA) and the Toronto Regional Real Estate Board (TRREB), and their regulatory body, the Real Estate Council of Ontario (RECO) were quick to email all registered real estate agents to remind them of this in the wake of the CBC report.
Realosophy president and Move Smartly contributor John Pasalis took to Twitter to share his own views on the investigation, noting that while 'steering' is rightly illegal, there are other reasons that buyer agents, and even buyers, might be less likely to engage with FSBO properties.
1. FSBOs can be hard to view.
In the CBC investigation, a person posing as a buyer called three real estate agents to see if they would be willing to take them to see a FSBO property. One of the agents indicated that they were unable to book a viewing of the property, and the investigation suggested this was a lie as the FSBO home owner said that no agent had called her.
While it is hard to know what actually happened in this instance, John notes that FSBO properties can be harder to view relative to other properties.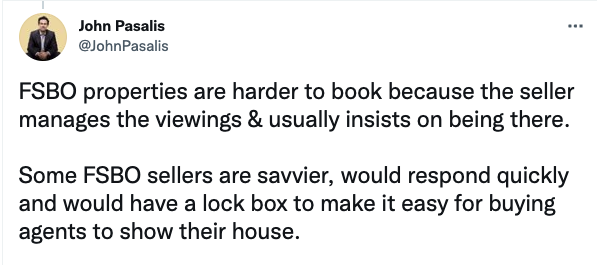 2. FSBOs can be overpriced.
In the investigation, another selling agent contacted by the pretend buyer said that the FSBO property wasn't worth viewing because it was overpriced.
But in reality, a FSBO can be overpriced for good reason - sellers who are pricing their own homes without the advice of a selling agent may be unfamiliar with the value of their home or find it hard to know what other homes in their neighbourhood have recently sold for. Some also have an emotional connection to their property, potentially making negotiations less successful around what a fair price for the property would be.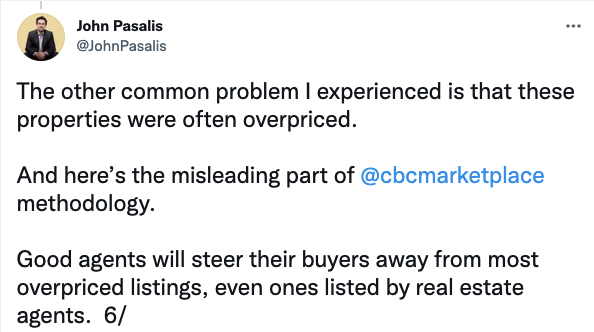 3. Buyers may have to pay their agent instead.
In the CBC investigation, it is not clear that any of the buyer agents contacted had actually signed a Buyer Representation Agreement with the pretend buyer. A Buyer Rep agreement legally contracts them to represent the buyer's best interests.
The standard language of these agreements often includes a clause stipulating that the buyer will pay their buying agent in the event that the seller offers a lower commission. Buyers who are in this position may themselves avoid buying a FSBO for this reason.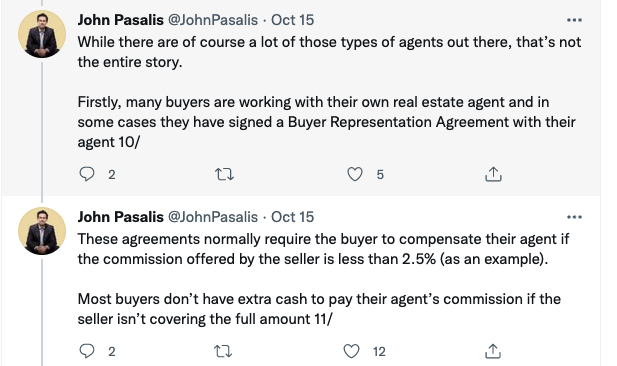 4. Buyers may want their agent to be compensated.
Finally, if buyers have a good relationship with their realtor, often working with them for an average of six months before buying a property, they often want to see their agent get a fair commission. Again, these buyers may themselves avoid FSBOs.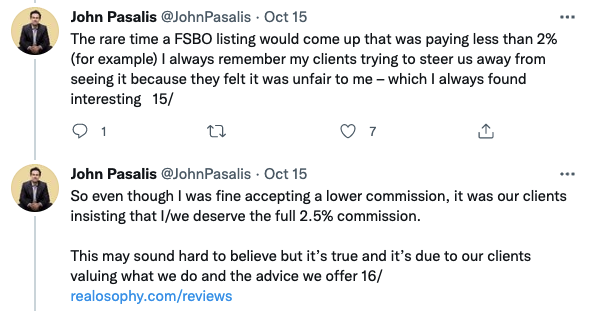 So how can a buyer avoid these issues?
First, John notes that it's critical to work with a full-time agent with good client reviews. In his thread, John notes that only "about 20% of agents out there are true professionals" in this sense, with the others often working part-time, making them less inexperienced or less aware of rules and perhaps more desperate to make money even if unethically. Given this, John suggests that "if you're a buyer doing what CBC Marketplace did – calling a bunch of random agents to show you homes you're likely going to get the same result as CBC."
Hiring a trusted, experienced agent will make it less likely that you will be advised against any home, FSBO or otherwise, without a valid, well explained reason that protects your best interests. Such agents want to ensure that their clients end with up the best home for them, whether FSBO or not, are confident and capable enough to be able to negotiate with any seller and active and successful enough to be able to accept a lower commission if warranted.
John notes that at his brokerage, Realosophy Realty, the policy, which is reflected in Buyer Representation Agreements signed with clients, is that "our agents will accept whatever commission the seller is offering, even if it's just 1%. That way, our clients don't have to worry about covering any difference or worrying that their agent is steering them or manipulating them in any way. We do this because I don't think it's fair for our commission to get in the way of our clients buying a home they love. I also don't think it's fair to expect our clients to assume the risk that they'll have to pay our agent if the seller is offering less than 2.5%."
Top Image Credit: Getty/iStock
Sydney Wilson is a social coordinator at Realosophy Realty, a Toronto real estate brokerage which uses data analysis to advise residential real estate buyers, sellers, owners and renters, and educates consumers at the Move Smartly website.
Share This Article