Over the past decade in the Toronto area, media headlines have trumpeted record breaking sales and ever higher prices while bearish economists and analysts have been warning about a slowdown just as long. But looking back to 2005, we see that the number of resale property sales (those sold by home owners rather than new construction sold by builders) in the GTA over a ten year period has been relatively steady – with two slight deviations in 2007 and 2008, the first partly driven by an increase in demand in the City of Toronto before a new municipal land transfer tax was introduced and the second largely a side effect of the U.S. subprime mortgage crisis. Aside from those two years, the number of sales has been relatively consistent.
Sales started to deviate significantly from their ten-year average in 2015 when they were up 15%, and in 2016, when they were up 29% above the ten year average.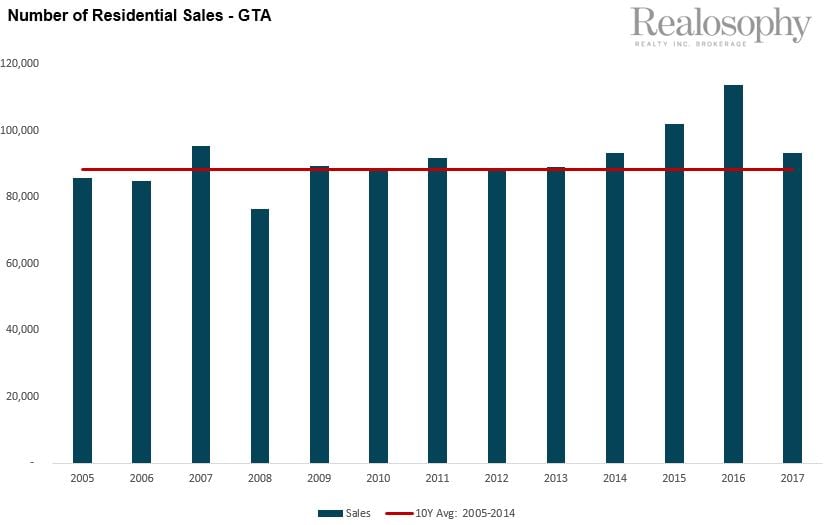 Looking at the rate of change in property prices since 2005, we find that prices were appreciating at roughly 6% per year on average. Prices did not deviate from this average until they surged and then dipped in the final few months of 2007 and most of 2008. A steep appreciation in late 2009 and early 2010, driven by renewed confidence in the Toronto area real estate market once the worst of the U.S. financial crisis had passed, pushed prices back up to pre-crisis levels.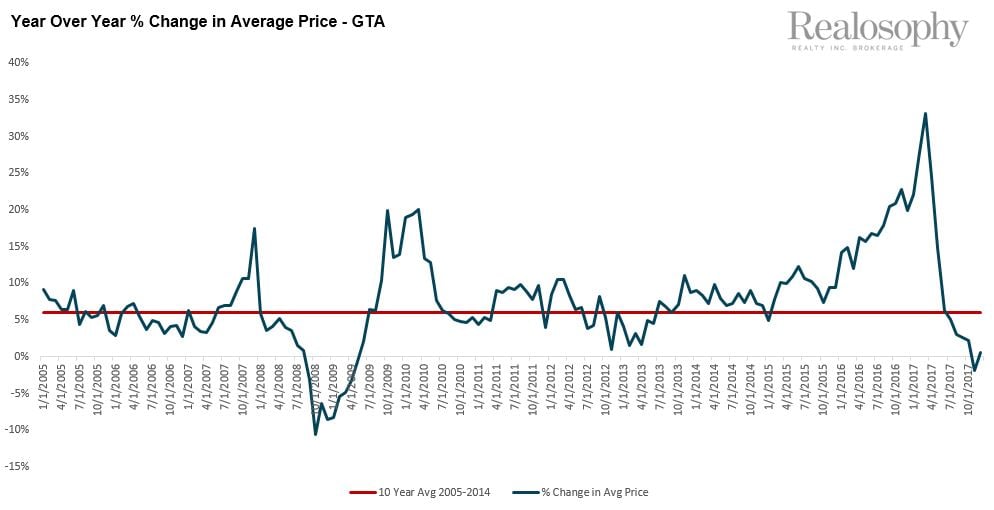 Aside from these periods just before and after the crisis, the change in prices was relatively balanced; there were months when price growth would deviate by as much as 4-5% from the average, but these were generally short-term trends not dramatic shifts in the market.
The growth in average prices started to deviate from its long-term trend in April 2016 when prices were up 16% over the previous year, an upward trend that continued in the next year and eventually hit a peak in March 2017 when house prices had appreciated by a striking 34% over the previous year.
So, What Caused the Rapid Price Appreciation?
Population Growth
A common and long-standing explanation for rapid price growth is that many people want to live in Toronto, fuelling strong demand for homes.
But when we look to 2016 and 2011 Census to measure the change in population in the Toronto Census Metropolitan Area (CMA), we see that Toronto's population grew at its slowest rate in over twenty years — the opposite trend we would expect to see given the argument for increased demand.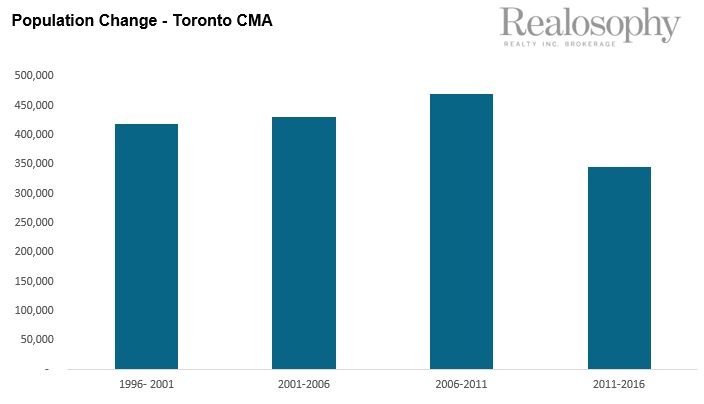 Housing Supply
Another common explanation for rapid price increase is a shortage of supply of new properties in the Toronto area, which suggests that demand for properties outpaces the existing stock for sale, driving up prices. This argument, favoured by most real estate industry associations, claims that regulations on new construction prevent builders from building enough homes to meet demand.
But new housing completions (the number of newly built properties completed each year) between 2015 and 2017 were well above the ten-year average when prices rose between 2015 and Q1 2017.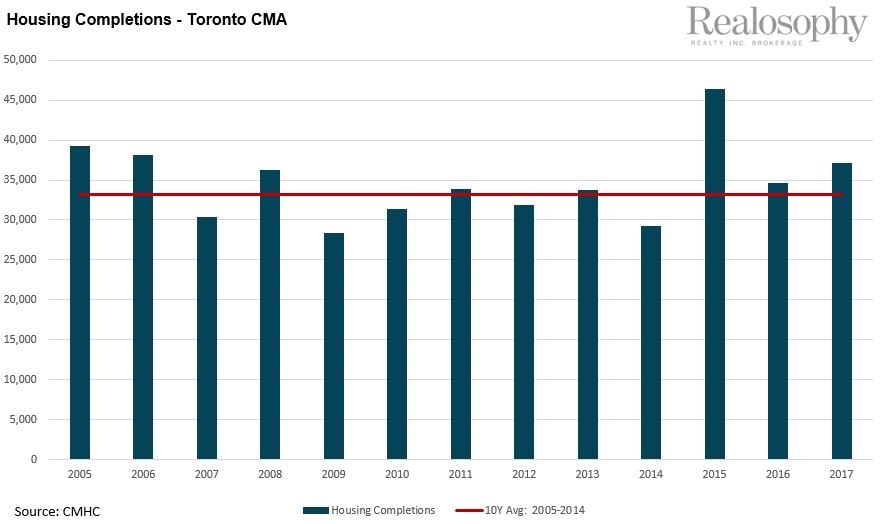 The number of properties under construction were also well above the ten-year average.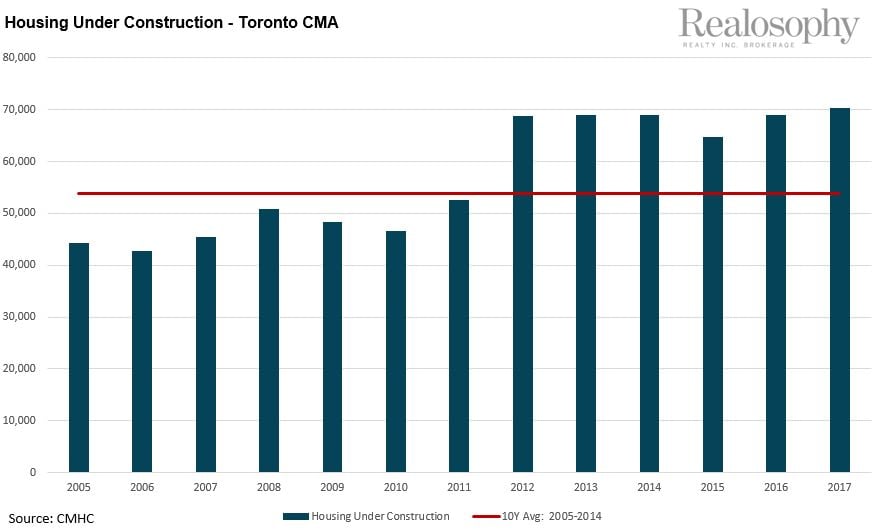 This is not to suggest that there are no constraints on the supply of homes in the GTA – supply constraints were likely a factor in prices rising by 6% per year over the past 10+ years. But there was no sudden decline in supply of homes in 2016 and 2017 that could explain the rapid price appreciation experienced.
Psychology
A lesser discussed factor in real estate market behaviour is psychology.
Prominent economists Karl Case and Robert Shiller, who have been studying the behavior of buyers in boom and post boom markets since the late 1980s, have found that during boom periods there is a heightened excitement about real estate which results in exaggerated expectations about how much prices will grow by each year (Case and Shiller, 1988; Case and Shiller, 2003).
Buyers begin to believe that prices have 'nowhere to go but up' and rely on simplistic rationales for why including two identified by Case and Shiller as far back as the late 1980s: "Lots of people want to live here" and "There is just not enough land available."
These biased assumptions about prices can influence the market in two ways, both leading to more price acceleration.
One way is by provoking panic buying as buyers rush into the market out of fear that 'it's now or never' – if they don't buy now they'll never be able to afford a property later (because they expect prices to keep going up). Once in the market, they may also feel like they have to 'pay what the market wants.' When Case and Shiller's survey described instances of buyers lining up to make offers on properties, properties receiving multiple offers from buyers, some for more than asking price, and asked buyers why they thought this was happening, the most common response from buyers in booming markets was that "there is panic buying and price becomes irrelevant."
In a market where house prices are rising by 20% per year as they were in the GTA in late 2016, it is reasonable to conclude that buyers might have panicked, fearing that the $700,000 home they are looking at today would be $770,000 in six months. It should be noted that while there is anecdotal evidence of such panic buying during the peak of the GTA market, we lack evidence from formal surveys.
The other way biased assumptions about future price growth can impact the market is by spurring more people to buy properties purely for investment purposes rather than as a place to live. In a market where house prices are rising 20% or more, investors believe that the $700,000 property they're buying today is going to be worth at least $840,000 a year from now. For many investors, this represents a potential return on investment rarely found elsewhere; for example, if they made a 20% down payment on a $700,000 property ($140,000) and the property went up in value by $140K in one year, their return would be 100% (before transaction costs), a doubling of their money in a year.
With many in the real estate industry corroborating their simplistic rationalizations, few buyers and investors have reason to question their biased assumptions – both groups begin rushing into the market and price starts becoming irrelevant.
Caught Between Bears and Bulls
One of the factors that has likely contributed to the overconfidence home buyers and investors have had in the GTA housing market was that after ten years of hearing from various analysts and industry actors that any fears were unfounded and that prices would always keep rising, people began to tune out any talk of bubbles.
On the flip side, bubble theorists who have been predicting the complete collapse of the market for the past ten years or longer, lost credibility. Even more dangerously, they damaged the credibility of a counterposition that seemed to remain the same no matter how numbers changed, leaving consumers deaf to warnings based on credible analysis such as when Bank of Canada Governor Stephen Poloz warned in June 2017 that the rapid price increases in Toronto housing markets had "an element of speculation to them."
A Closer Look at Investor Demand
Understanding how the demand and behaviour of investors has changed over time can give us some insight into one of the factors that may have influenced prices. Many of the cities in the U.S. that experienced the most rapid growth in house prices during the boom that preceded the 2008 subprime crisis experienced a significant rise in demand from investors.
Investors are a natural part of any market, but they can be a sign of a potential problem in a real estate market when investor demand grows rapidly and investor behaviour suggests that they are buying strictly for capital appreciation. This type of rise in demand can help push prices higher than they otherwise would have been and also creates instability should prices start to fall, as investors have been found to default on their mortgage debt at a higher rate than end users (Haughwout et al., 2011).
I began to notice a significant shift in the motivation of buyers in 2016 when nearly half of the people coming to our brokerage were interested in buying single family homes as investment properties rather than as a place to live in. In some cases, these investments were being made by parents who were buying homes for their elementary school-aged children because of the fear that their children will never be able to afford a home in the future.
When we walked them through the numbers and showed them that the rent they could earn wouldn't cover their monthly expenses and mortgage payments, most of these buyers didn't care. They felt it was worth losing roughly $1,000 per month on these costs (often referred to as 'carrying costs') because they were convinced that the $800,000 home they would be buying would be worth at least $100,000 more the following year.
These anecdotal experiences led us to research the impact investor demand might be having on the GTA's real estate market. The results of this research, published in our March 2017 report Freeholds on Fire: How Investors are Driving Up House Prices in the Greater Toronto Area, aimed to quantify investor demand for single family houses in the GTA real estate market from 2012 to 2016 and to measure the return on these investments.
The report measured this type of investor demand by analyzing all sales of low-rise houses (detached, semi-detached and rowhouse) on TREB's Multiple Listing Service (MLS) database system, which contains details for the vast majority of resale properties being advertised for lease or sale in the Toronto area, and then checking to see if that same property was subsequently listed for lease on the MLS by the new owner.
Taking a similar approach, the chart below shows the percentage of low-rise houses purchased in first quarter of 2012, 2016 and 2017 that were subsequently listed for lease on the MLS in the same calendar year. We are focussing specifically on the first quarter because this period marks the peak of Toronto's real estate bubble in 2017; by the second quarter, the market had started to cool down significantly and demand from investors had also also declined (as we will see later on in this report). Measuring this against 2012 data allows us to see the long-term change in investor demand and against 2016 data, year-over-year change.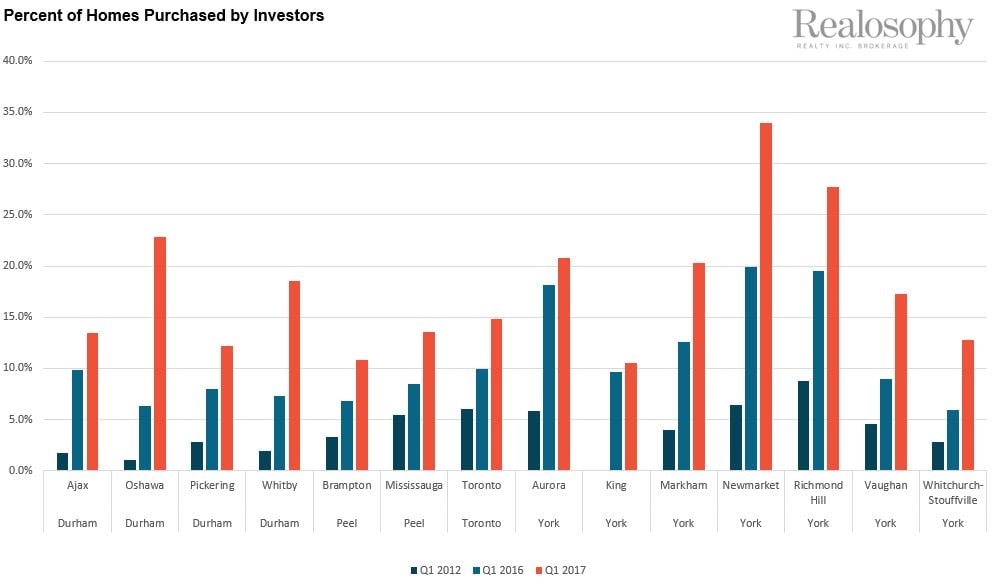 In 2012, this type of investor demand accounted for 4.8% of all low-rise houses purchased during the first quarter, climbing to 10% in 2016 and 16.5% in 2017, a 65% increase over the previous year.
In 2017, York Region continued to be the most popular region for these investors and in four municipalities, they accounted for more than 20% of sales with Newmarket topping the list at 34%, followed by Richmond Hill at 28%. In 2012, such investors accounted for 7% and 9% of sales in Newmarket and Richmond Hill respectively.
Whitby and Oshawa in Durham Region saw the biggest year-over-year increase in such investor sales from 2016 to 2017, with sales more than doubling in Whitby and jumping from 6.3% to 23% in Oshawa.
It's important to note that the above methodology excludes investors who bought a low-rise house and rented it privately (as opposed to advertising it for lease on the MLS) or left it vacant as well as owners who decided to hold on to their current house as an investment property rather than selling it after they moved, but despite these shortcomings, it offers some insight into a minimum level of investment in low-rise houses in the GTA.
Looking at the total increase in low-rise house sales from 2015 to 2016, we found that investors accounted for 43% of this increase.
Looking at the increase in the number of low-rise sales between Q1 2017 and Q1 2016, we found that investors accounted for 171% of this increase – without this, overall sales would have fallen during the first quarter of 2017. It appears that towards the end of the bubble, regular buyers started to pull out of the market while investors were still rushing in.
An important consideration when looking at the demand from investors is to determine how rational these investments were. Most real estate investors typically look for properties that are at least cash flow neutral, which is to say that the monthly rental income covers all the 'carrying costs' of the property including mortgage payments. Properties that have a negative cash flow can be more speculative because it suggests that the investor is buying strictly for property price appreciation – they are prepared to lose money each month in the belief that the loss will be more than covered by the potential capital gain. The larger the negative cash flow, the more speculative the purchase.
Because our methodology is driven by paired transactions of low-rise house sales and leases, we know the price and property taxes paid and rent earned for each. Assuming a 35% property down payment, a mortgage rate of 2.8% (also the rate used in our March 2017 report) and a 25-year mortgage amortization period, we were able to estimate whether rental income would cover carrying costs.
In 2016, 95% of the investment properties purchased were not making enough money in rent to cover the operating costs and projected mortgage payments for the property. The average investment property was short $1,121 each month, a figure which ballooned to $1,650 in the first quarter of 2017 due to the rapid increase in house prices with little change in rents earned.
The municipalities in York Region were among the worst performers in the GTA with Richmond Hill and Markham showing an average monthly negative cash flow of $2,488 and $2,444 respectively during the first quarter of 2017; the average price of investment properties purchased during the first quarter of 2017 was $1,438,241 and $1,397,118 respectively and average rents were $2,417 and $2,323.
The municipalities in Durham Region were among the least worst performers with Oshawa and Ajax showing the lowest monthly negative cash flow of $594 and $644 respectively.
What About Condos?
Condominium research firm Urbanation performed a similar analysis for resale condominiums to that used by Realosophy to analyze resale houses. Senior Vice President Shaun Hildebrand found that in Q1 2017, 11% of all condos purchased in the GTA were leased during the same calendar year, an increase from 7% the year before. The average price paid in Q1 2017 was $475,388, 23% higher than the previous year and average rents were $1,950, up 6%. In calculating the average monthly cash flow, they found that condos investments were losing an average $176 per month in 2016, which climbed to $424 in 2017.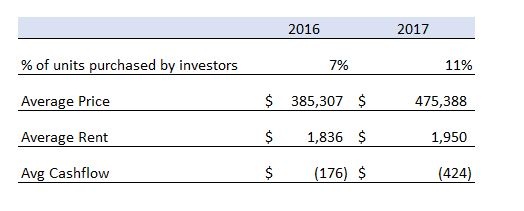 Source: Urbanation. Figures assume a 2.8% mortgage interest rate, a 25-year mortgage amortization period and a 25% property down payment and factored in property taxes and condo maintenance fees.
The rapid rise in investor demand coupled with their rising negative cash flow suggests that a speculative mood hit Toronto – reflected in investors who appeared to believe they could make easy money by buying what they perceived to be a safe and secure asset, single-family homes – and may have been a key driver of the rapid growth of house prices in the GTA.
Foreign Buyers
Most discussions about rapid house price growth typically include questions about the impact of foreign ownership.
Unfortunately, the Ontario government only started collecting data on foreign buyers after they introduced their non-resident speculation tax in late April 2017 – a 15% tax on properties purchased by non-residents – so it is difficult to answer what impact foreign buyers may have had on the market before that.
One possible explanation for the rapid increase in sales and prices in late 2016 and early 2017 is that following the BC government's introduction of a foreign buyer tax in July 2016, much of the foreign capital that was flowing to Vancouver moved to Toronto – contributing to our rapid increase in prices, but without data this remains only a theory.
We do know that between April 24th and May 26th the Ontario government reported that 7.2% of real estate transactions in the City of Toronto and 9.1% in York Region involved at least one foreign entity.
If we assume that these proportions reflect the number of properties purchased by foreign buyers before the tax was introduced then it suggests that foreign buyers likely did have an impact on the GTA's real estate market in 2016 and early 2017. It's worth noting that in 2016 sales had increased by just 11.7% over the previous year and this was enough to push our market into bubble territory with price growth surging to 20%. This means that the 7% and 9% of properties purchased by non-residents in Toronto and York Region respectively was significant enough to have an impact on prices.
But foreign buyers may have had a bigger impact on the real estate market than suggested by their percentage of transactions. The Canadian newspaper The Globe and Mail, through a Freedom of Information request, found some interesting differences between the behavior of resident vs non-resident buyers (Mahoney 2017):
In the four months after the Ontario government began charging a 15-per-cent tax on residential purchases by foreign buyers in the Toronto region, non-citizens paid on average $977,611 for homes compared with $659,470 for Canadians and permanent residents – or 48.2-percent higher.
This may be due to several factors – foreign buyers may be stronger participants in luxury markets and may pay more for properties than local buyers do – which may help explain why homes in many York Region municipalities, where demand from foreign buyers was the highest, appear more overvalued than in the rest of the GTA. And it may help explain why the median house price in Richmond Hill in 2017 was 63% more expensive than Whitby when the median household income in Richmond Hill is 15% lower than Whitby. Again, this may be due to several factors – Richmond Hill may have more households reporting less income and may have more vacant homes – which are suggestive of a higher presence of foreign investors.
More data and research is required to better understand the impact foreign buyers may have had on the GTA real estate market.