In some cases, owners may sell assets or downsize their existing home to reduce their debt burden. In other cases, owners will opt to buckle down and stay the course hoping that things will improve in the near future. They hope that either interest rates will fall again reducing their debt servicing costs or asset prices will begin to rise rapidly again. In these situations, it's not uncommon for owners to take on even more debt to make ends meet in the short term. Owners who have trouble obtaining additional financing for their home or investment property from traditional banks may turn to more expensive sources of financing.
In Canada, private lenders often serve as the lender of last resort that buyers and owners can turn to when traditional banks and credit unions have turned them down. Private lenders are more willing to take on riskier financing arrangements than traditional lenders and in return charge borrowers much higher interest rates.
When looking at the number of refinancing mortgages registered on a property that have been arranged since 2016 (Chart 2), we see that the share financed by private lenders has increased significantly, from a low of 12% during the second quarter of 2016 to 20% during the second quarter of 2018 - a 67% increase in two years.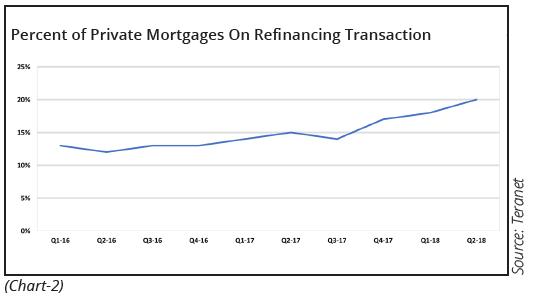 The average private loan amount (Chart 3) peaked at $202,836 during the fourth quarter of 2017 before falling to $179,280 in 2018. The average term on private mortgages is 1.5 years.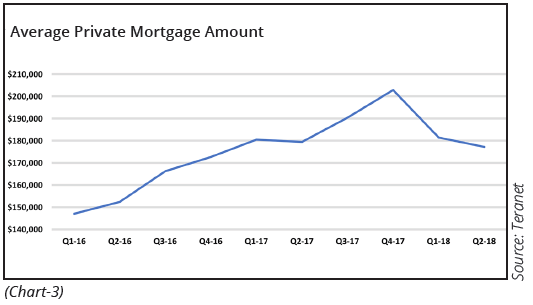 In contrast, refinancing mortgages from banks, credit unions and trust companies averaged $480K in 2018 with an average term of 3 years.
Total private mortgage volumes (Chart 4) have increased from $920M in the first quarter of 2016 to $1.5B during the second quarter of 2018. The dollar volume market share of private mortgages increased from 6% in Q1 2016 to 10% in the second quarter of 2018.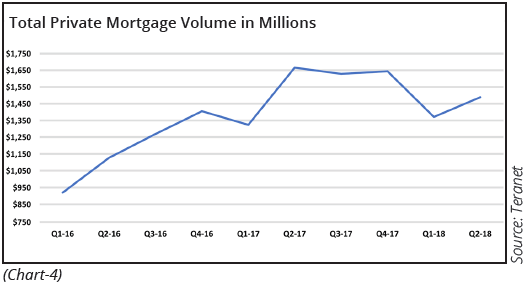 Growth in refinancing mortgage transactions financed by private lenders (Chart 5) has been on the rise in all five of the GTA's regions.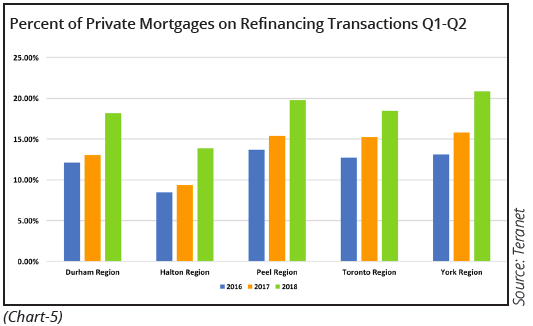 While Halton had the lowest percentage of private refinancing mortgages out of the 5 GTA regions, it has seen the fastest growth with private financing up 64% in 2018 over 2016 volumes.
York Region saw 21% of their refinancing mortgages in 2018 sourced from private lenders, the highest level of the five GTA regions.
Previous research by Realosophy Realty found a significant increase in the number of houses being purchased by investors in 2016 and 2017 and that investor demand varied across GTA municipalities.