John in Toronto Condos and Lofts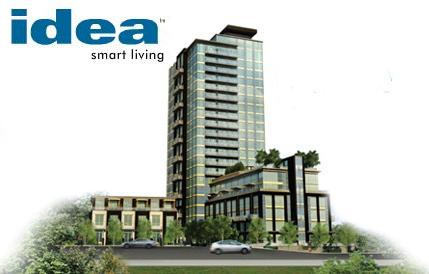 idea At a Glance
Neighbourhood: Long Branch
Total Suites: To be announced
Expected Occupancy: December 2009
Developer: Queenscorp Residences
Architects: Grazianni + Corazza Architects
Maintenance Fees: Approx. $.49 per square foot
Maintenance Fees Include: Heat, A/C, water, insurance (hydro excluded)
Price Range: $222K - $589K
1 Bedroom Price Range: $222K - $295K
2 Bedroom Price Range: $249K - $589K
Ceiling Height: Approximately 9 feet
Locker: $2,500
Parking: Included in the purchase price
idea is a new condominium project by Queenscorp Residences that will be going up just west of Etobicoke in Mississauga. Great views are in short supply in new downtown condos, and when they are available they typically only last a few years until a view-blocking condo goes up right next door. This doesn't appear to be an issue for the future residents of idea. The only thing separating idea from lake Ontario is the Marie Curtis Park just south of it. The Toronto Golf Club is just north of the condo and the low-rise homes that make up Toronto's Long Branch neighbourhood are to the east (see Realosophy's Long Branch neighbourhood profile for local school and housing stats). All of these factors are a good indication that idea residents will be enjoying their great views for quite some time.
The major design influence behind idea is IKEA, the furniture retailing juggernaut. John Tong from design firm 3rd Uncle design explains:
"IKEA is a company that encourages and nurtures the development of good design that represents new ideas. The concept behind idea is likewise to bring smart ideas to a development inspiring a new community."
But the IKEA influence goes well beyond the overall design of the building.
The developer has a great option for first time HomeBuyers who might not have much money left over to furnish their new homes. For an additional $7K - $12K, depending on the unit size, HomeBuyers can opt to walk into a completely furnished unit when they take possession of their new home. HomeBuyers taking this option would work with a design consultant to pick the Ikea furnishings that best suit their needs and lifestyle. The furniture would then be in place - fully assembled - the day you walk in to your new condo.
The 21-storey condominium will offer residents both an autoshare and bikeshare program. Other amenities include a roof top patio, onsite pet-care service and of course, a yoga studio. Every unit in the building has a balcony; one parking spot is also included in the purchase price.
John is a sales associate at Prudential Properties Plus in Toronto and a founder of Realosophy. Email John
Share This Article