John in Toronto Condos and Lofts, Toronto Real Estate News
Ed. Note. Whoops, looks like we are not immune to condo-gargantuanitis ourselves. In our rush to crown a winner in Toronto's tallest tower sweepstakes, we "grew" the 243 metre Aura - by a lot. A couple of our loyal readers have helpfully pointed out that the Trump Tower is still way on top at 281.88 metres. (November 20th, 2007)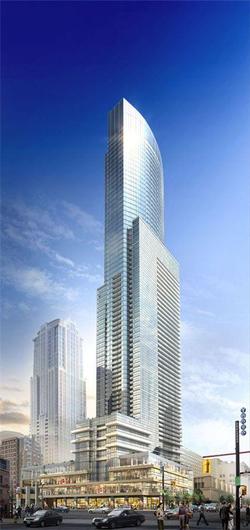 Now that Bazis International has made it look easy to market Canada's tallest condominium at 1 Bloor, developer Canderel Stoneridge announced plans to build a condo that will surpass 1 Bloor in height and become, according to the developer, "a landmark building".
Slated to become Canada's tallest condo, Aura will be located at the corner of Yonge and Gerrard and is the third phase of the developer's The Residence at College Park. Much like 1 Bloor, Aura will have a four level "podium" at its base comprised of retail tenants. A quick glance at the marketing campaign suggests that Posh Spice would be at home here.
Given the one-upmanship that has come to characterize Toronto's condo boom, Aura may not be the tallest tower for very long. The 75-storey, 243 metre Aura is just 16 metres taller than the current 1 Bloor design. This has sent the developer of 1 Bloor scurrying to seek approval to increase the building's height to 278 metres to put it back on top.
Aura will be open for sales in 2008.
John Pasalis is a sales associate at Prudential Properties Plus in Toronto and a founder of Realosophy. Email John
Share This Article