John in Toronto Condos and Lofts and Toronto Real Estate News
The students who have been waiting in line for real estate agents outside the 1 Bloor condo sales office are about to get some rest. The condo is scheduled to open its doors to agents on Tuesday, November 13th at 6pm.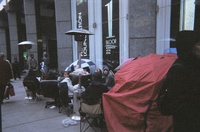 I passed by the sales centre on the weekend and witnessed the lineup of students for myself (see left). The students were kept warm by portable heat lamps and many were covered by either tarps or umbrellas for what has unfortunately been a rainy week. Realtors are reportedly paying students $2,000 - $3,000 a week to wait outside. They have also rented hotel rooms for the students to take showers, get changed and rest.
Can we expect to see this type of hype for any other condo launch coming down the line? If so, I don't think realtors will have a hard time finding students. I came across the ad below on Craigslist. (What this says about the state of our education system is another story.)
____________________________________________________________________________________
Students Will Wait in Line for 1 Bloor Condos!!
Two undergraduate liberal arts students from University of Toronto will wait in line outside Bloor 1 condo sales office for any period(s) of time starting thursday nov 8 until the opening of the sales office on tuesday.
It's going to be cold, rainy and miserable outside, but we are young, healthy and can't afford to buy books!
Pay is negotiable and can be hourly or daily
_____________________________________________________________________________________
John Pasalis is a sales associate at Prudential Properties Plus in Toronto and a founder of Realosophy. Email John

Share This Article