John Pasalis in Toronto Real Estate News, Condo Buying Tips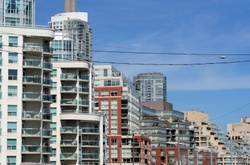 The past ten years have been kind to home buyers and real estate speculators who invested in pre-construction condominiums in the Toronto area. Purchasers who bought in the early stages of a new condominium were able to realize a significant return on their investment by the time their condo was completed.
Long lineups of purchasers eager to buy early before prices went up were a staple of new condo openings during this decade's condo boom. When the Tannery Lofts sales office opened in 2004, the sales team would ring a cowbell to inform the lineup of waiting purchasers that prices had just been jacked up. The height of the condo madness was reached when realtors began paying students to wait in line outside the sales office of 1 Bloor, up to a week before the sales office opened.
For too many years there has been an underlying assumption among many condo purchasers that you can't lose when buying a new construction condo. The assumption is that if you buy early enough, you are virtually guaranteed to make a significant return on your investment by the time your condo is completed. This underlying belief about the condo market reminds me of something I read from economist John Kenneth Galbraith recently.
It's another feature of the speculative mode that, as time passes, the tendency to look beyond the simple fact of increasing values to the reasons on which it depends greatly diminishes.
Do new construction condos always increase in value or were the increases this decade a function of a booming real estate market? What happens if prices remain flat, or even drop slightly, over the next five years? How will this impact your new condo investment by the time it is completed? If you assume that your new construction condo will not appreciate in value by the time you take possession, would you still buy?
Our booming real estate market has made many people forget that there are risks with buying new construction. Even the assumption that your condominium will be completed is something that purchasers need to start questioning.
Jane Renwick from the condo consulting firm Urbanation recently reported that up to 30% of the 120 new condos currently being marketed and not yet under construction may never even break ground.
The "A" locations — the ones downtown, or near subway lines and being built by proven developers — aren't affected. It's the "B" locations being presold by unproven developers that are causing concern.
The market has changed significantly over the past year. Your buying decisions should not be based on the same assumptions you had two years ago. If you're contemplating buying a new construction condominium, leave your previous assumptions at the door and look closely at all the factors that may impact your investment.
John Pasalis is a sales associate at Prudential Properties Plus in Toronto and a founder of Realosophy. Email John
Share This Article