John Pasalis in Toronto Real Estate News, Condo Buying Tips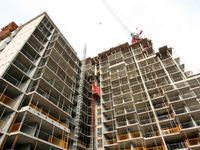 In May of this year the Canadian Mortgage and Housing Corporation (CMHC) released an optimistic report on Toronto's condominium market. They raised some concerns about the share of condominiums currently under construction that are owned by investors. Here they concluded:
As projects complete, some of these investors will choose to sell their apartments in order to take advantage of increases in market value which occurred during the construction period. These increased sales are not forecast to result in declining values for condominium apartments.
CMHC forecasted that condo prices would continue to rise in 2009.
Despite their positive forecast, I still had a few concerns about Toronto's condo market so I invited CMHC's Senior GTA Market Analyst Jason Mercer to answer a few questions for our readers. One of my principle concerns was that Toronto's condo market is oversold which means that the condo market might have two negative factors working against it, a decrease in demand and an oversupply of units. You can read our full interview here.
In yesterday's Toronto Star Brian Johnston, President of condo developer Monarch had this to say about Toronto's condo market:
I think we've definitely oversold the market. The question is whether all these buildings are still going to be built a few years from now. I think you're seeing a real possibility that some won't be going up.
This is the first time I've heard anyone in the industry say that Toronto's condo market is oversold.
What does this mean to the average condo owner/buyer?
In the short term, purchasers who are considering buying a new construction condo are going to have to do a lot more homework before signing any papers. I recently wrote a post titled Buying a New Construction Condo in a Slowing Market that outlines some of the issues that today's new condo buyers should be considering.
Assuming the condo market is in fact oversold, we will likely see some downward pressure on prices over the next year or two as the condos that are currently under construction are completed. How much of a decline will depend on the percentage of units currently under construction that are owned by investors as well as the local economic conditions at that time. Furthermore, if all types and sizes of units are oversold then we'll see a uniform decline in the market. If a particular type or size of unit is overbuilt then we would expect to see a steeper decline in this segment.
Current owners who bought pre-construction may be more insulated from any price decline because their units have likely appreciated more than the average resale condo unit has.
Photo Credit: Cresford
John Pasalis is a sales associate at Prudential Properties Plus in Toronto and a founder of Realosophy. Email John
Subscribe to the Move Smartly blog by email
Related Posts
Buying a New Construction Condo in a Slowing Market
No Crash Expected for Toronto's Condo Market: CMHC
Share This Article