John Pasalis in Leslieville, Urban Issues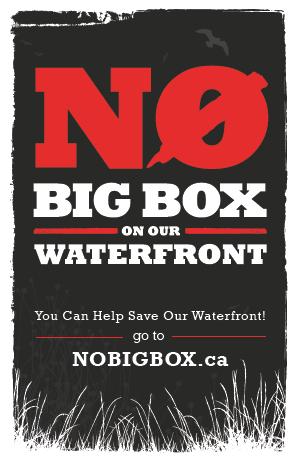 The Ontario Municipal Board has decided that big box stores anchored by a Wal-mart have no place in Leslieville. The board said that Smart Centre's proposals "do not constitute good planning" and "will very likely destabilize" the area. From the Toronto Star:
The SmartCentres proposal called for multi-level retail, service, commercial, office and entertainment uses, covering nearly 700,000 square feet.
It included a variety of sizes of retail stores including the possibility of two large-scale units, with the largest being up to 180,000 square feet. Parking was set aside for more than 1,700 vehicles, but it would have been tucked in behind the buildings, not visible from the street or nearby residences.
No specific tenants were ever announced, but Wal-Mart was being courted to be an anchor tenant.
Residents in the neighbourhood were divided on the project, though a vocal opposition group emerged in the East Toronto Community Coalition, which appeared before the board hearing.
The city had argued the low-wage retail jobs were not what Toronto wanted, but rather higher-paying "creative industry" jobs in film or media.

The City of Toronto issued the following press release earlier today:
OMB decides in favour of City on South of Eastern Avenue appeal
"The City of Toronto successfully defended its Official Plan policies today as the Ontario Municipal Board upheld the City's right to
maintain the area South of Eastern Avenue as an Employment District without large format, stand alone retail outlets.
'Preserving and protecting employment lands is an important part of Toronto's Official Plan,' said Mayor David Miller. 'This decision
recognizes that position and strengthens our ability to ensure Toronto can prosper now and in the future.'
'The OMB decision has found that the test to add large format stand-alone retail to employment districts is a difficult one to meet,' said Brendan O*Callaghan of the City*s legal division.
The OMB found that the functioning of other economic activities within this district would have been undermined if the Smart Centres application had been approved.''
John Pasalis is a sales associate at Prudential Properties Plus in Toronto and a founder of Realosophy. Email John
Share This Article