John Pasalis in Toronto Real Estate News, Condo Buying Tips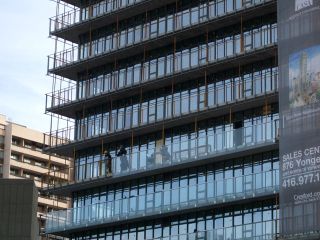 Toronto's condo market is on solid ground according to a recent research paper published by Scotiabank Economics. Toronto's condo market is the one segment of the real estate market that industry watchers are keeping an eye on because it's believed to be the most vulnerable. With over 36,000 condominiums currently under construction, there is a risk of an oversupply once these condos are completed. But Scotiabank economist Adrienne Warren concludes in her report that the risk of an oversupply of condos which would result in a broad decline in prices is low.
She gives seven key reasons for this conclusion:
Fewer Condos under Construction
The number of condo apartment units under construction has fallen for four consecutive months.
Residential Construction Intentions are down
The number of new construction permits being issued is on the way down as well. The weak sales environment in the new construction market means that far fewer building permits are going to be issued over the next few years.
Increase in Cancellations Expected
They expect to see an increase in the number of pre-construction condominium projects getting cancelled due to poor sales and a tightening of credit. Many of these displaced buyers are expected to re-enter the housing market.
Number of unsold units is below prior cycle peaks
The number of completed but unsold multi-unit dwellings is below prior cycle peaks. This low rate of additional inventory has a lot to do with the tighter lending requirements set out by the banks. Lenders typically want to see 65%-75% of a condo sold before financing the project.
Apartment rental vacancy rates are low
Low vacancy rates in the condo market means that speculators and home owners have the option of renting their condo should they not be able to get the sale price they hoped for.
Deep freeze is almost over
Sales of new condominiums were up sharply in March.
Shifting demographics and demand preferences
Condominiums have become a preferred housing type for many home buyers. In 1991 multi-unit dwellings accounted for 16% of owner occupied housing in Canada compared to a record 24% in 2006. This increase in demand for condominiums means that our "market can sustain a higher level of condominium housing stock than in the past".
The report also looked at the following city-level metrics to gauge the risks in different markets:
Unsold inventory scaled to the size of the adult population
Apartment rental vacancy rates
Cost of renting over owning
"The higher inventory levels and rental vacancy rates, and the lower the relative cost of renting over homeownership, the greater the risk of developing an oversupply of condo units"
Out of the six cities analyzed the risk appears to be the greatest in Calgary while Toronto and Vancouver "fare the best on the combination of the three metrics".
You can download a complete copy of the report here.
Related Posts
Low Vacancy Rate Good News for Toronto Condo Investors
Photo: Casa Condominium by Cresford
John Pasalis is the Broker owner of Realosophy Realty Inc in Toronto. Email John
Share This Article