John Pasalis in Toronto Real Estate News
Home sales in the Greater Toronto Area increased by almost 2% to 9,589 in May 2009, the first monthly increase since December 2007. Average prices decreased by less than 1% to $395,609.
Toronto's real estate market continues to experience a significant shortage of new properties coming on the market. The number of new listing declined by 27% in May 2009, a slight improvement over the 30% decline recorded in April 2009. The following chart shows the new listings for 2009 in purple.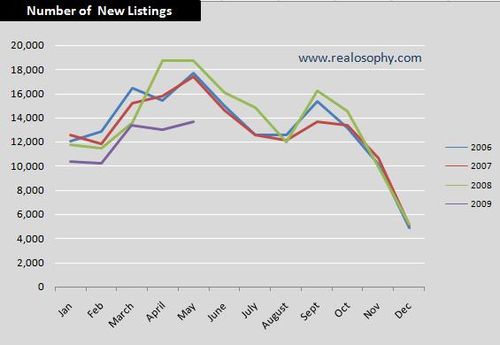 This shortage in the supply of homes is what is driving the multiple offers many Toronto home buyers have been experiencing over the past couple of months.
We can see the imbalance between supply and demand by looking at Toronto's sales-to-inventory ratio. The sales-to-inventory ratio jumped to 45% in May 2009 moving us well in to Seller's Market territory. A sales-to-inventory of 45% means that for every 100 houses available for sale, 45 actually sell. In a more balanced market we would expect to see a sales-to-inventory ratio between 15%-25%.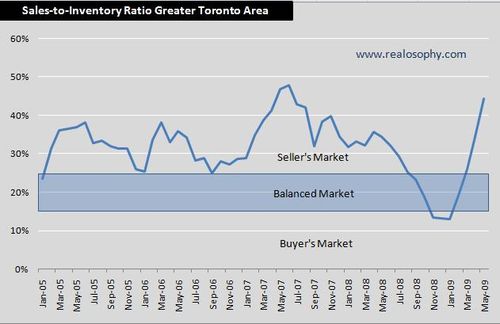 "The average resale home price has moved in line with last year's level because of tighter market conditions experienced this Spring," stated Jason Mercer, TREB's Senior Manager of Market Analysis. "Home sales have increased strongly relative to new listings, bolstering home prices."


Download TREB's Market Watch Report
Related Posts
Lessons from Toronto's Real Estate Crash
John Pasalis is the Broker owner of Realosophy Realty Inc in Toronto. Email John
Share This Article