John Pasalis in Toronto Real Estate News
The Toronto Real Estate Board reported 10,995 sales in June 2009, a 27% increase over the same month in the previous year and the highest June sales on record.
Toronto's real estate market continues to suffer from an extreme shortage of homes for sale. The following chart shows that the volume of homes available for sale has been on the decline since March (purple line).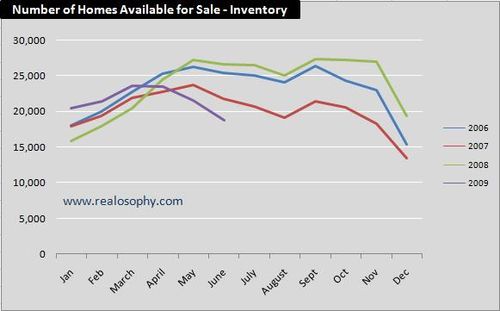 There were 30% fewer homes available for sale in June 2009 compared to the same month in the previous year. But while inventory continues to slide, sales have been on the rise.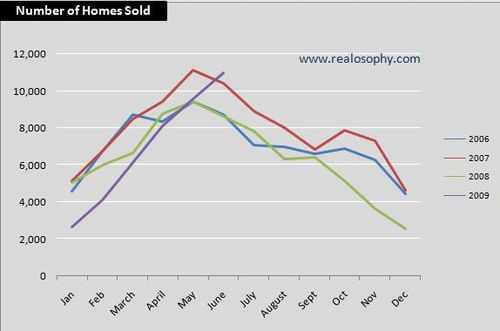 The combination of the 27% increase in sales and the 30% decline in inventory means we are in the middle of a very unbalanced seller's market.

We can see this imbalance by looking at the sales-to-inventory ratio for Toronto's market. The sales-to-inventory ratio measures the balance between supply and demand. During a balanced market we would expect to see roughly 2 sales for every 10 homes available on the market or a sales-to-inventory ratio of 20% (Related: Lessons from Toronto's Real Estate Crash ). Toronto's sales-to-inventory ratio jumped to 59% in June 2009 moving us even further into Seller's market territory.
A 59% sales-to-inventory ratio may not mean that much to the average home buyer, but it really is an alarming number. Consider this, June 2009's sales-to-inventory figure is the highest we've seen in the past twenty years. This means that the imbalance between supply and demand – favouring sellers - was greater in June 2009 than any other month in the past twenty years, including Toronto's real estate bubble in the late 1980's.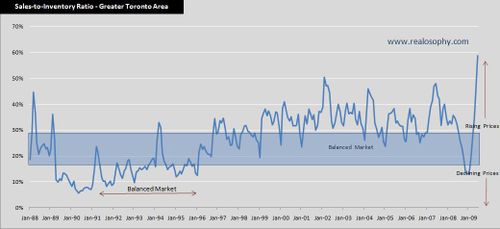 An overheated real estate market is something we should be concerned about and will need to keep an eye on in the months ahead.
John Pasalis is the Broker owner of Realosophy Realty Inc in Toronto. Email John
Share This Article