John Pasalis in Toronto Real Estate News
The big story for Toronto's real estate market in May was the big decline in homes available for sale. There were 27% fewer homes available for sale in May 2011 compared to the same month last year. Why are there so few homes available for sale? I suspect that part of the problem might be related to the federal government's decision to lower the maximum amortization on mortgages to 30 years.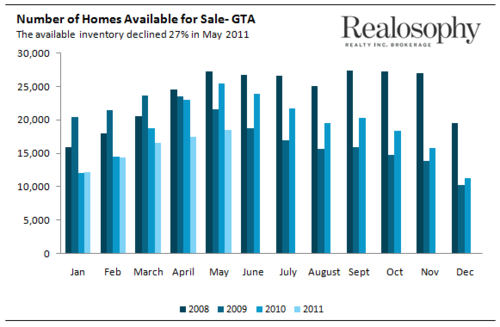 When the federal government increased the maximum allowable amortization from 25 years to 40 years in 2006, we found that the biggest increase in demand for houses was in the repeat buyer segment looking to upsize their home. A longer amortization meant that a homeowner could suddenly afford a much more expensive home by just increasing their amortization to 40 years. With amortizations being reduced to 30 years it means that homeowners cannot just borrow their way into a more expensive home any more, so fewer are upsizing.
Sales were up 6% to 10,046, the second best monthly sales volume for May on record.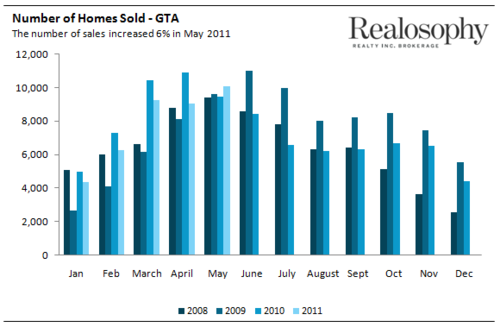 The drop in supply and increase in demand for homes pushed the sales-to-inventory ratio further into seller's market territory to 54%.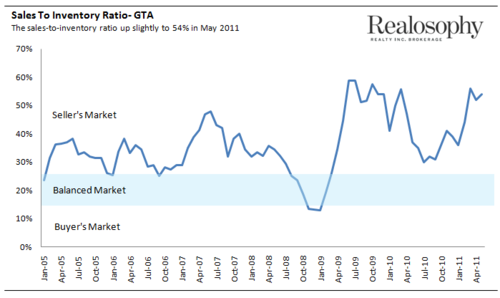 Turning to the Teranet-National Bank House Price Index, house prices in March were up from the previous month in every city except Calgary. Over the past year Montreal and Ottawa have seen the highest appreciation in house values at 7.5% and 7.2% respectively. Calgary and Toronto round out the worst performers with a -3.3% and 3.9% change in house values respectively.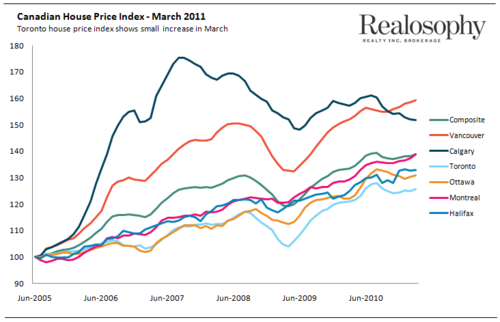 John Pasalis is the Broker Owner of Realosophy Realty Inc in Toronto. Realosophy focuses on researching Toronto neighbourhoods to help their clients make smarter real estate decisions. Email John
Share This Article