John Pasalis in Toronto Real Estate News and Condo Buying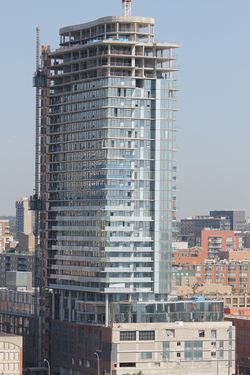 Over the past six years, federal Finance Minister Jim Flaherty has influenced the Canadian residential real estate market by making a number of changes to the Canada Mortgage and Housing Corporation's (CMHC) guidelines for insured mortgages. While I have often called for more oversight of the market to ensure its health, the policy decisions that Flaherty has elected to implement endanger it instead.
Let's start with a bit of background. Prior to 2006, any homebuyer with less than a 25% down payment needed to purchase mortgage insurance and the amortization on their mortgage could not exceed 25 years.
In 2006, the federal government increased the maximum amortization on insured mortgages three times with the final change pushing it to 40 years.
These changes effectively allowed a home buyer to spend 30% more on a home. Put differently, a first time buyer with a 5% down payment whose maximum budget for a house in 2005 was $285K could suddenly spend $370K on a home in 2006.
It's no surprise that this added fuel to an already hot real estate market in 2006 and encouraged Canadians to take on even more debt which contributed to the increase in household debt we often hear Flaherty and Carney talking about.
Since then Flaherty has backtracked by introducing several new changes to tighten CMHC's guidelines, the most recent of which took effect in July 2012 and saw the federal government decrease the maximum amortization on insured mortgages from 30 years to 25 years.
Flaherty was prompted to make the changes because of the high volume of construction we are seeing in Toronto's condo market.
From the Globe and Mail
"In Toronto in particular, what I've observed and heard about from developers is continuous building without restriction," Mr. Flaherty said. "It's distorting the market, quite frankly. And for that reason, we're taking the steps we're taking."
Mr Flaherty was right to be concerned about Toronto's condo market (I've sounded this alarm myself), but unfortunately his policy decision to decrease the amortization rate is not the right response.
The problem with Toronto's condo market over the past few years has been with the pre-construction market, not the resale market. It is widely suspected (though not known because no level of government tracks and reports on this) that the pre-construction market has been heavily dominated by speculators/investors (rather than end-users) which can present a number of risks when units are completed and go on to the resale market .
I've discussed this in previous posts here and here.
By reducing the maximum amortization, Flaherty has made it even harder for first time buyers to buy their first home. And because the majority of first time buyers in Toronto are buying condominiums, Flaherty's policy decision is effectively a tax on condo ownership for the end-user.
Now that Toronto has tens of thousands of condos already under construction (Memo to Flaherty – that ship has already sailed) our federal government should not be introducing policies that make it harder to buy a condo, they need to be introducing policies that make it easier for home buyers to buy their first condo. Otherwise we may end up with an (even stronger) oversupply of condominiums in the years ahead – the very fallout that Flaherty is trying to avoid.
If Mr. Flaherty wanted to help Toronto's condo market he should have introduced policies that curb speculation, not home ownership. Possibilities include taxing condo assignments or introducing a capital gains or sales tax on units flipped immediately upon completion, both of which target the behaviours of speculators not end users (these suggestions had the CBC labeling me a communist back in October!) There may be good reasons against these more targeted anti-speculation measures (apart from a general distaste for implementing a policy the Chinese Government recently has), but what has surprised me is the almost total lack of debate on this from government and industry watchers.
This late in the day, no good can come of targeting the demand – rather than the supply – side of the condo market equation.
John Pasalis is the President and Broker-Owner of Realosophy
Realty Inc. Brokerage in Toronto. A leader in real estate analytics and
pro-consumer advice, Realosophy helps clients buy or sell a home the
right way. Email John
Above image is of Market Wharf by Context.
Share This Article