Nicole Harrington in Listings of the Week
Toronto's housing market is as diverse as its people, ranging in price, size, and décor. We pick the top Toronto listing in each category weekly, with this week's focus on condos. With a push through underlying government policies to have the city build up, not out, we are seeing condominiums become a first choice for many homebuyers – although this stunning unit may be more of a dream than a reality. Who made the cut this week? Read on to find out.
Here's our top pick in the 6ix.
LAKE VIEWS FOR DAYS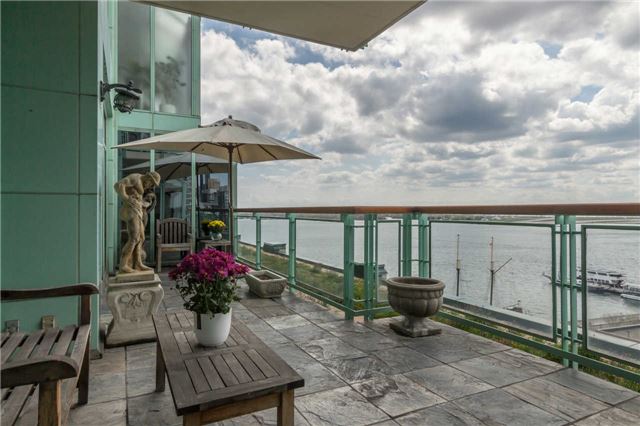 211 Queens Quay W 906 - $4,895,000
Neighbourhood: Harbourfront, Toronto (See all homes for sale here)
Agent: JAY EGAN and OLGA LAPSHINA
Brokerage: FOREST HILL REAL ESTATE INC.
Picture this: the sun is shining, and you can hear the gentle hum of boat engines in the distance. You're surrounded by panoramic views of one of Canada's most iconic lakes, while being situated within a neighborhood rife with history. Well stop dreaming, because this could be reality – your reality. This four bedroom five bathroom double condo apartment is our top listing in the six this week, and although the pictures speak for themselves, let me tell you why.
From an investment perspective, this unit is one of a kind. While it was originally two separate dwellings, the owners have merged the two to create one home fit for a king - or queen. This building was developed in 1985 out of the old Toronto Terminal Warehouse, and although the condos are over 30 years old, they have been maintained phenomenally while still keeping that old world charm. The price per square foot in this building has gone up dramatically since 2013, and with prices in Toronto increasing year over year, all other things equal, we can expect for this to do the same.
If you're looking to live in a piece of Canadian history with a community feel right in the heart of the city, I think you've found your place.
211 QUEENS QUAY W 906
So, what do you think - could you see yourself here? Tune in for next week's post where we look for our top listing in the east end. Have any suggestions? Send them here.
Nicole Harrington is a Sales Representative with Realosophy in Toronto. She specializes in using data and analytics to help her clients make smarter real estate decisions, concentrating on Toronto and the GTA, and hosts her own website: SheSellsToronto.com. Email Nicole
Share This Article