Nicole Harrington in Listings of the Week
Here's my closer look at a recent Realosophy listing brought to market by our busy sales team - along with key insights and the bigger stories that today's consumer won't want to miss.
SINGLE FAMILY LIVING WITHOUT THE STRESS
List Price: $599,000
Neighbourhood: Observatory, Richmond Hill
Brokerage: Realosophy Realty Inc
Agent: Maria Tikhanina & Nicole Harrington
Underlying government policies have caused a shift for developers to focus on building up, not out – and that means we are going to continue to see less and less new single family homes being built. We all know what's going up in place of these (so-called) land wasters - condominium apartments - and let's face it, not everyone wants to live in a glass sky box. That being said, there is another trend to take note of and that's the condo townhouse.

With a similar principle to condo apartments, condo townhouses take the stress out of home ownership by overseeing items like snow removal, lawn maintenance, and in some instances even items like water billing and roof repair and replacement. Condo towns are perfect for the busy professional who wants to enjoy single family home-ownership without the burden of worrying about the day-to-day maintenance of the house – not everyone wants to spend their Saturdays mowing the lawn or repairing the deck.
What's more is that condo townhouses can in some instances be a more affordable option than similar freehold condos. Let's take the Observatory neighbourhood in Richmond Hill for example:
Over the past six months the average sale price for a condo townhouse in Observatory was approximately $470,000, with prices ranging from $355,000 for a smaller two-bedroom home to $720,000 for a stunning 1600 square foot unit with a backyard.
Conversely, in the same time period for this neighbourhood the average sales price for a freehold townhome was approximately $640,000 with prices ranging from $575,000 to $718,000 for a home that could use some updating (but that comes with 19 x 108 ft lot).
Although some condo towns can range to higher prices, there aren't too many places where you can buy a single family home for under $500,000 – and having condo styled townhouses in the mix make buying a home on a smaller budget a more plausible goal.
Now I know what you're thinking: one thing we haven't taken into consideration are condo fees, because all of the maintenance that you don't have to do on the house yourself has to be paid out to a third party to be completed. What's great about condo towns is that, although you miss out on the swimming pool or a concierge of a big tower, you also don't have to pay for those things – making some of the condo fees much less than in a traditional condo apartment. In addition, just because you don't have a set amount to pay each month when you own a freehold home, it doesn't mean you wouldn't pay for similar repairs and maintenance to those of a condo town.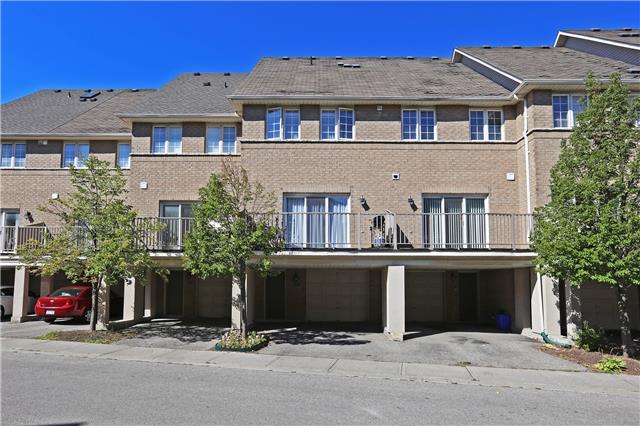 Now that we know a little more about condo townhouses, let's talk about the R Listing this week: 23 Observatory Lane #115. This is a three-story, three-bedroom unit with three bathrooms and a great deck area to help you enjoy what's left of the nice weather. You get parking in your own private garage, and you don't have to worry about shoveling the driveway in the winter. This complex is seriously hot right now – and for good reason: it's one of the few developments in the Observatory neighbourhood of Richmond Hill.
Observatory was named after the observatory it was built around – a 189 acre astronomical observatory site otherwise known as the DDO (David Dunlap Observatory). The old observatory area still stands, and since 2009 the Royal Astronomical Society of Canada has been providing outreach programs and public education through the space.
So, what do you think - is a condo town lifestyle in this historic GTA neighbourhood something you would consider?
Nicole Harrington is a Sales Representative with Realosophy in Toronto. She specializes in using data and analytics to help her clients make smarter real estate decisions, concentrating on Toronto and the GTA, and hosts her own website:SheSellsToronto.com. Email Nicole
Share This Article