Nicole Harrington in Listings of the Week
Toronto's housing market is as diverse as its people, ranging in price, size, and location. I pick a Toronto listing or trend to focus on each week and review it with a professional's eye. What makes a house a great pick - and what makes it a pass?
AFFORDABLE FREEHOLDS IN THE CITY – SO WHAT'S THE CATCH?
NEIGHBOURHOOD: Malvern, Toronto (See all homes for sale in this neighbourhood)
LIST PRICE: $499,000
AGENT: LEONARD SELVARATNAM
BROKERAGE: SUTTON GROUP-ADMIRAL REALTY INC
Our listing this week is a 3+1 bedroom end unit town home located in Malvern, Toronto. This home has a modest list price of $499,00 and boasts features that are on many buyer's "must have" list: private parking, attached garage, 3 bedrooms and modern finishes.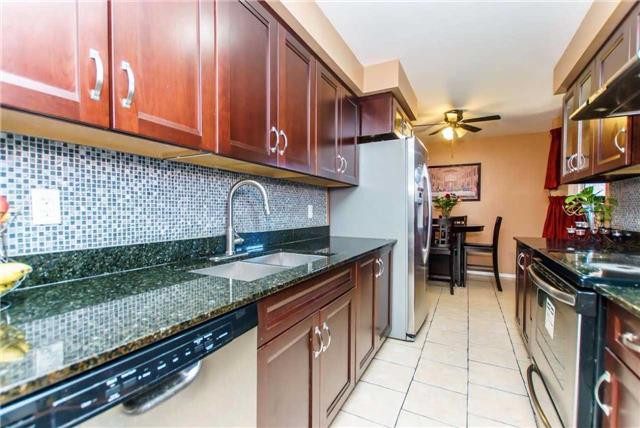 Earlier this month, I wrote a blog post highlighting affordable Toronto pockets that some first-time-home-buyers may be willing to consider in order to get into the market, garnering a lot of attention and even finding its way onto Reddit. One thing I found intriguing was the commentary on how many people would not contemplate living in some of these neighbourhoods, particularly Malvern. Some commenters also noted that anyone can crunch numbers, but that in order to really understand why houses in these areas were less expensive, more analysis needed to be done. So that's what we're doing today.
PHYSICAL CHARACTERISTICS
Without taking any preconceived notions into account, let's talk about Malvern from a purely objective position.
Malvern is an eastern Toronto neighbourhood, which falls at the junction of Markham Road and the 401 Expressway. In terms of actual accessibility to major arteries, the physical location of this neighbourhood isn't bad – there is easy access to the 401 and the 404 isn't too far off. It's about a 30KM drive to Union Station and takes approximately one hour to travel there on public transportation.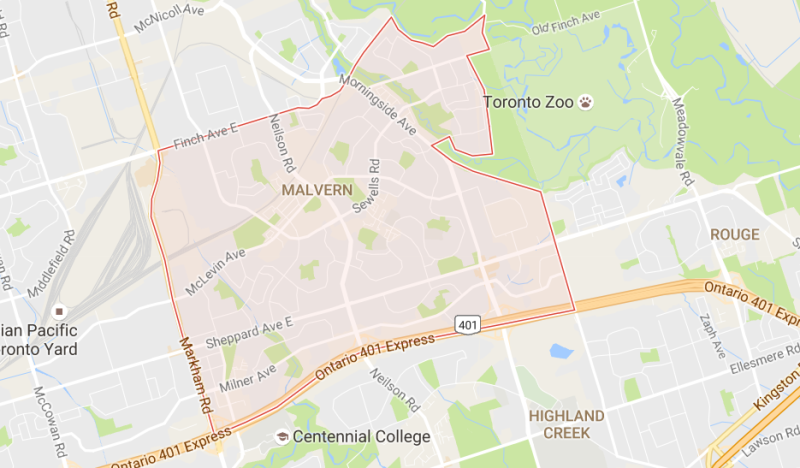 The Malvern Town Centre is located within the area and the Scarborough Town Centre is a short distance away. Although there are not too many "sit down" restaurants located within the neighbourhood there are quite a few takeout options available. Malvern has gyms, grocery stores, banks and plenty of park space. It sides onto a golf course, and the Toronto Zoo (because everybody loves the zoo).
SCHOOLS
Malvern has some good schools and while it also has some lesser performing schools, this doesn't hold back demand in other neighbourhoods (as I mentioned in a previous post).
Good schools:
Lesser performing districts:
To put this in perspective, let's look at the scores of some of the lower performing schools in desirable areas in the east end:
Sloan PS in Victoria Village, which scored a B- and D+ in English and Math
Blake Street Jr PS in The Pocket, which scored a C and D in English and Math
Norway Jr PS in The Upper Beach, which scored a B- and D- in English and Math
There are excellent schools in the above areas (and homes in these areas may sometimes be priced higher), but the lower performing school zones do not drag the neighbourhood down and home prices do not always stray too far from the neighbourhood average.
HOUSING STATS
While I'm highlighting an affordable listing this week and highlighted the neighbourhood as a top pick for homes under 500K, I am not being selective - Malvern's affordability for family style living (detached homes and larger condos) is striking.
There have been 255 homes sold in Malvern to date, with 179 of those homes selling for over $500,000 (and only one selling for over $800,000), which only goes to underline my point about Malvern having affordable housing stock. Out of these homes, 126 of them were detached freeholds.
As for condos, there has been 279 sales since January 1, 2016 with 217 of those condos having more than two bedrooms and 102 having three or more. What does this tell me? That many of these condos were built with larger units for family style living.
DEMOGRAPHICS
Let's talk demographics – who lives in Malvern?
According to Realosophy.com: "Malvern is an East Toronto neighbourhood notable for its manufacturing workers. It has a higher than average population of immigrants, particularly those from Jamaica, Guyana and Sri Lanka, and Taglog and Tamil speakers. Residents are younger than the city average."
The average household income in Malvern is $78,000, which falls below the city average of $104,000, and 54% of its residents are born outside of Canada. The neighbourhood is slightly above the city average for number of kids and the home ownership (as opposed to renter) rate is at the city average, which is consistent with more family-oriented neighbourhoods. One thing that is notable about Malvern is the number of affordable housing buildings there are in the neighbourhood - there are currently 20, which is above the city average of 5.19.
CRIME
The part you've been waiting for – the stereotype that comes along with many Scarborough neighbourhoods is that they are prone to crime so we're going to take a look at some statistics from Toronto Police Services.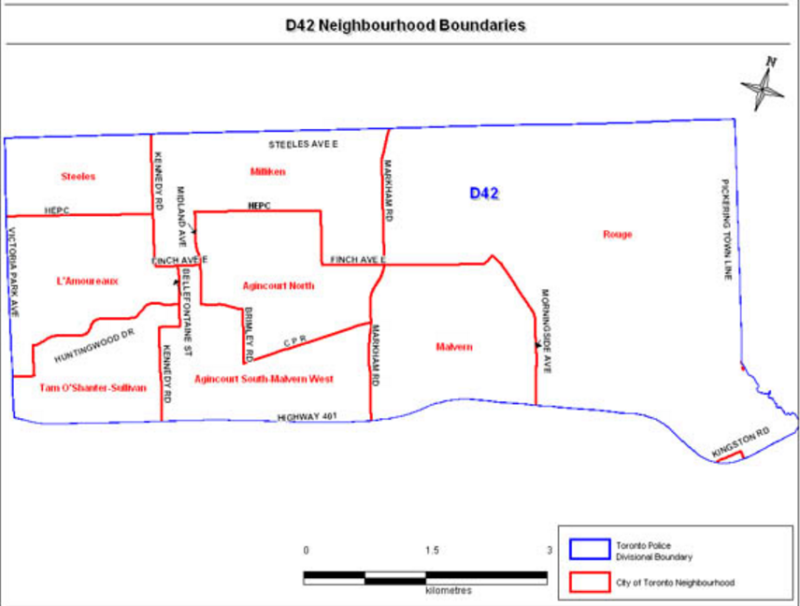 Malvern falls within the 42 Division for Toronto Police, who publish crime statistics on their site:

In order to get a better understanding of these numbers, it will help to look at the city of Toronto overall:

In the City of Toronto there has been 53 murders during the year of 2016, making 42 Division account for just over 3% of all murder reports. To put this in perspective, Division 55 which manages neighbourhoods like Riverside and The Beach accounts for almost 6% of reported murders in the City of Toronto.
Could Malvern be a good choice for fist-time buyers? Every neighbourhood is going to have its own demographic makeup and its own caveats – it really all boils down to if you can see yourself living there. No area is without its own issues and if you can live with them, you may be able to get yourself into a Toronto home on a modest budget.
Nicole Harrington is a Sales Representative with Realosophy in Toronto. She specializes in using data and analytics to help her clients make smarter real estate decisions, concentrating on Toronto and the GTA, and hosts her own website: SheSellsToronto.com. Email Nicole
Share This Article