The average rent for a condo across the Toronto area is down, while units for rent climb.
The GTA condo rental market has completely changed directions in a single month, going from hot in late March to ice cold in late April.
As a result, the average price for a rental condo in Toronto and the Greater Toronto Area (GTA) is down by roughly 3.5% in April.

We saw a significant drop in the number of condos rented out (leased) beginning in late March as a result of the Coronavirus (COVID-19) crisis. While we have seen a slight improvement in the past couple of weeks, the number of condos being leased out is not enough to keep up with rising inventory.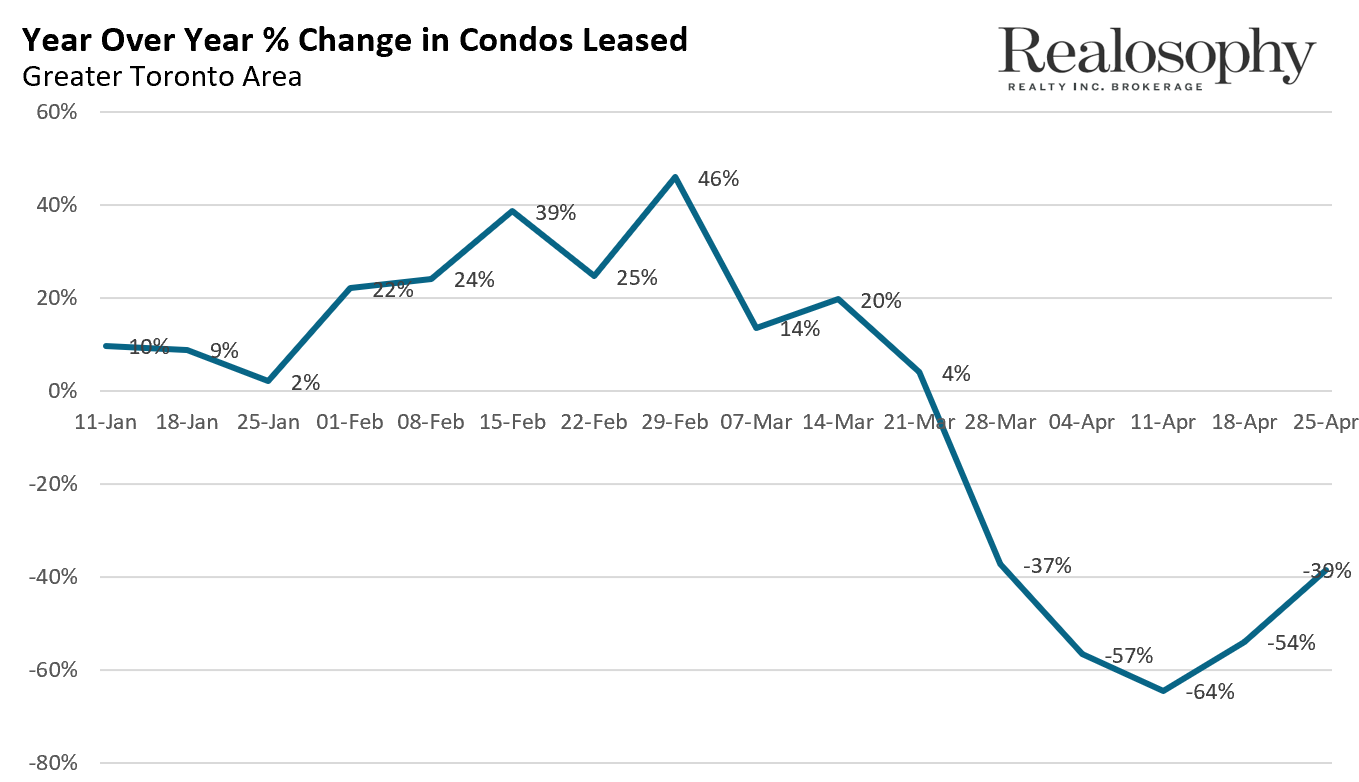 At the start of the COVID-19 state of emergency in Ontario mid-March, new condo rental listings did not decline as much as the number of units being leased did - and last week, six weeks into the crisis, we saw a 26% increase in condo rental listings as investors scrambled to lease their units.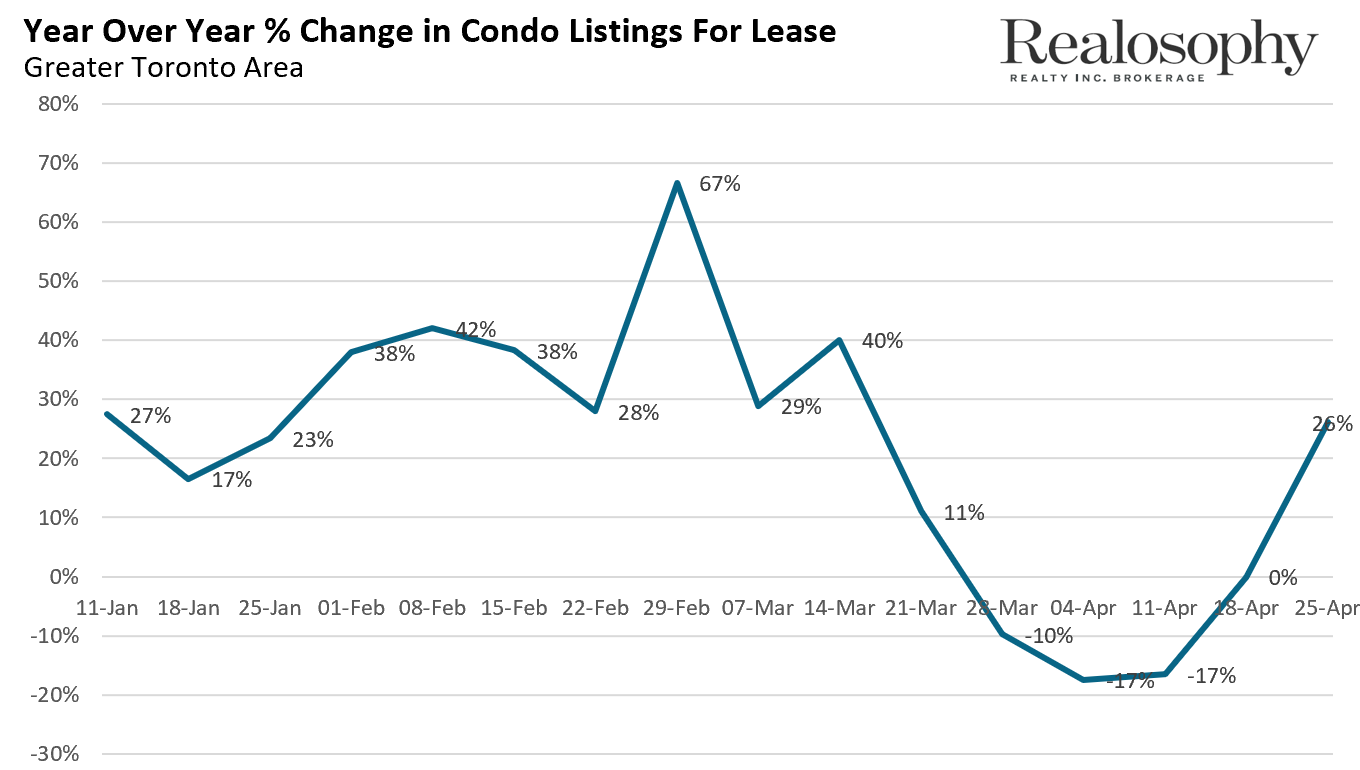 The decline in condos leased combined with the surge in listings has pushed the condo rental inventory from 1.5 Months of Inventory (MOI) at the end of March to nearly 4 months at the end of April.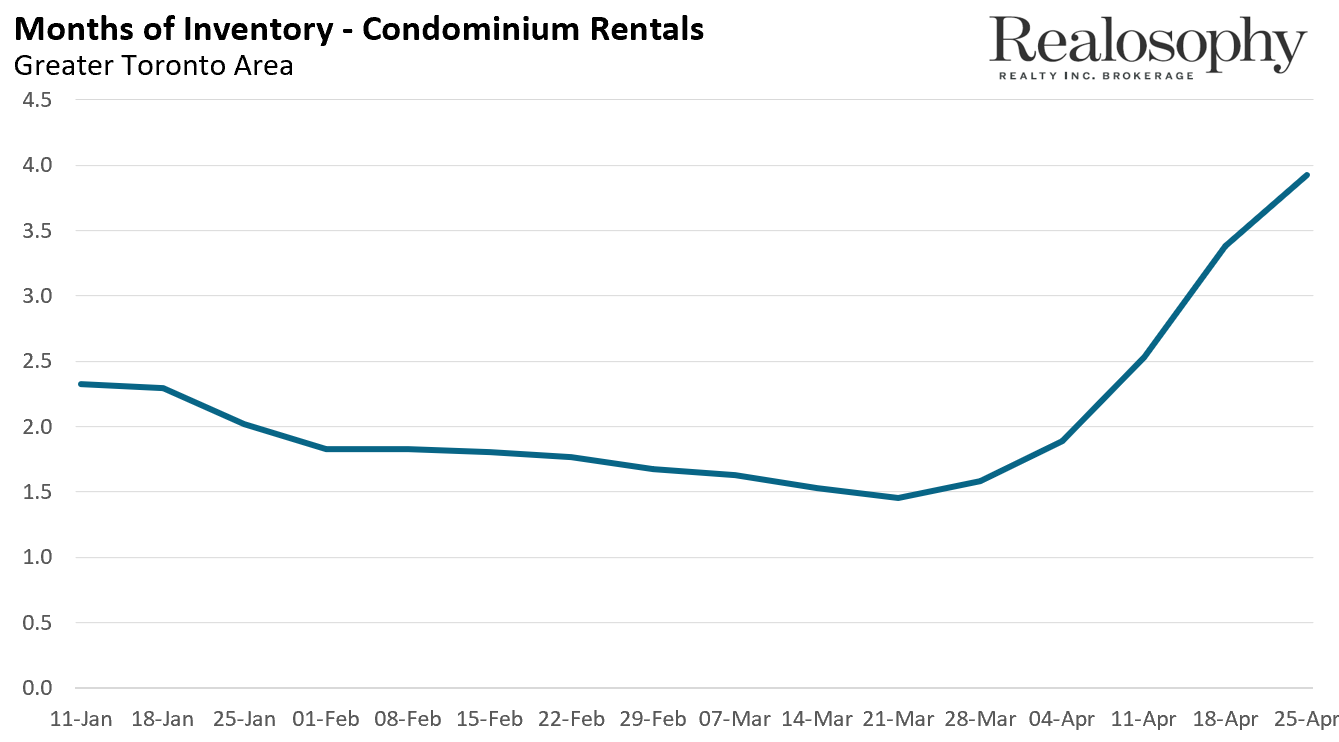 As a reminder, MOI is a measure of how balanced the market is. When MOI is below 4 months, the number of units available for rent is tight and rents are usually rising, favouring landlords.
So why are rents trending down?
The steep decline in demand for rental units has left many investors scrambling to rent their condo unit as soon as possible because every month a unit sits empty, it costs them thousands of dollars. At the end of the day, getting slightly less rent than needed is better than getting no rent at all.
But with real estate, we know that location matters.
And here, the story gets more interesting. As it turns out the most coveted rental location - downtown Toronto - is harder hit than other areas in the GTA when it comes to fetching less rent.
In the City of Toronto, the Toronto Real Estate Board (TREB) district of C1 (south of Bloor, Yonge to Dufferin), which accounts for just under half of all active condo rental listings in the city, currently has 6 months of rental inventory and has seen average rents drop by 4.6% in April.
It is worth noting that downtown Toronto was the most popular location for Airbnb rentals and as demand for short-term rentals has collapsed in response to the Coronavirus crisis, the number of landlords now seeking longer-term renters may have climbed, leading to an above average surge in inventory and decline in rent prices downtown.
As always, we should be cautious about reading into such short-term data trends. But for many condo investors needing to rent out their units, even short-term blips may prove to be financially disastrous, introducing more volatility into a real estate market impacted by the Coronavirus crisis.
Stay tuned.
John Pasalis is President of Realosophy Realty, a Toronto real estate brokerage which uses data analysis to advise residential real estate buyers, sellers and investors.
A specialist in real estate data analysis, John's research focuses on unlocking micro trends in the Greater Toronto Area real estate market. His research has been utilized by the Bank of Canada, the Canadian Mortgage and Housing Corporation (CMHC) and the International Monetary Fund (IMF).
Follow John on Twitter @johnpasalis
Share This Article