How Canada's immigration rate affects home prices
This story is featured in our monthly Move Smartly Toronto Area Market Report - Read full report here
This chart from the National Bank of Canada shows that Canada had the fastest growing population in 2021 when compared to the rest of the G7.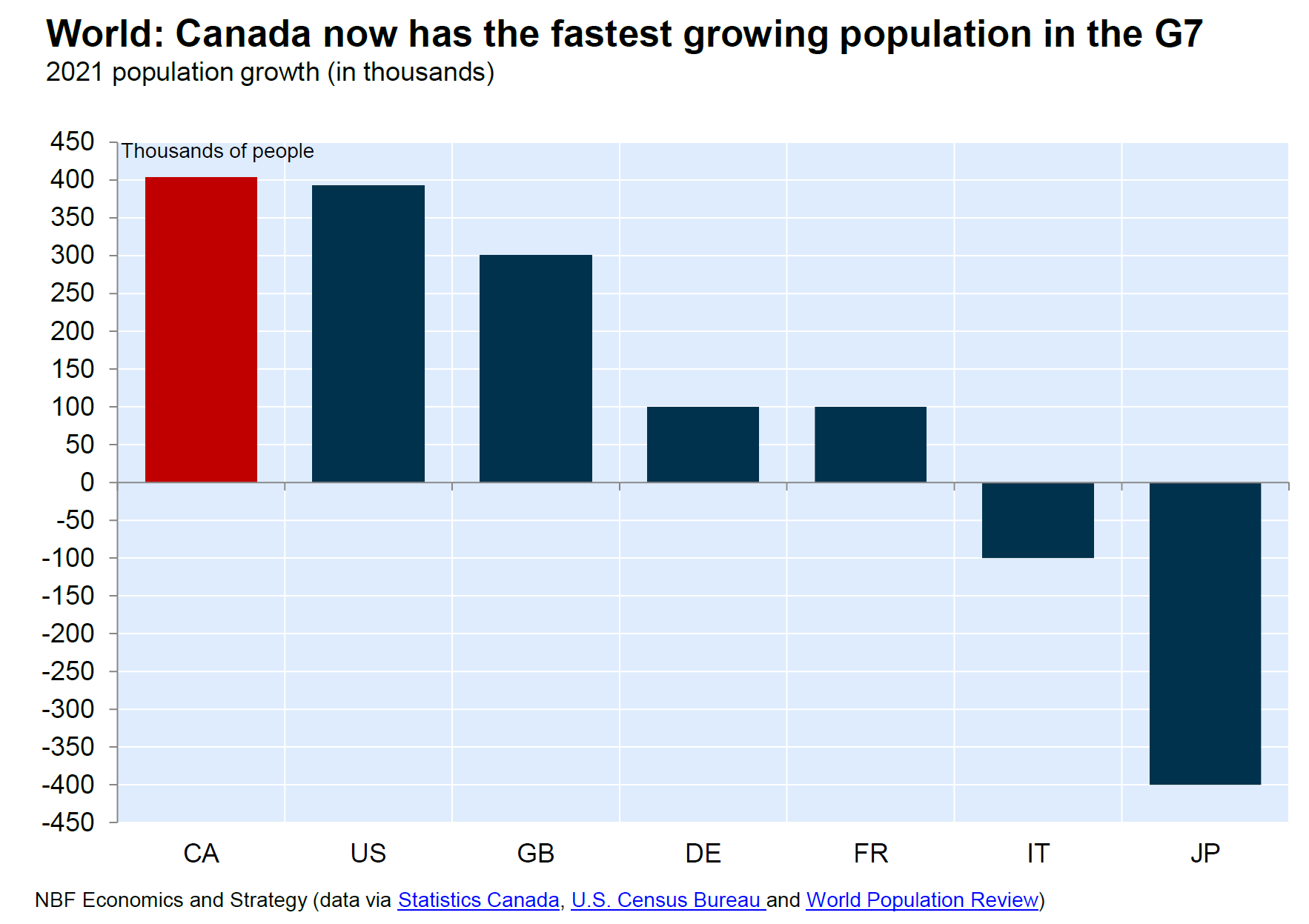 But looking at how fast a country's population is growing in absolute numbers ignores the fact that some countries are much larger than others. Canada and the US both saw their population grow by roughly 400,000 people, but when we consider that the US is roughly 9X the size of Canada we see that Canada's population growth rate far exceeds the US.
When we consider the population growth rate across the G7, Canada's population growth has been outpacing the rest of the G7 over the past twenty years, but has really pulled away from every other country since 2016.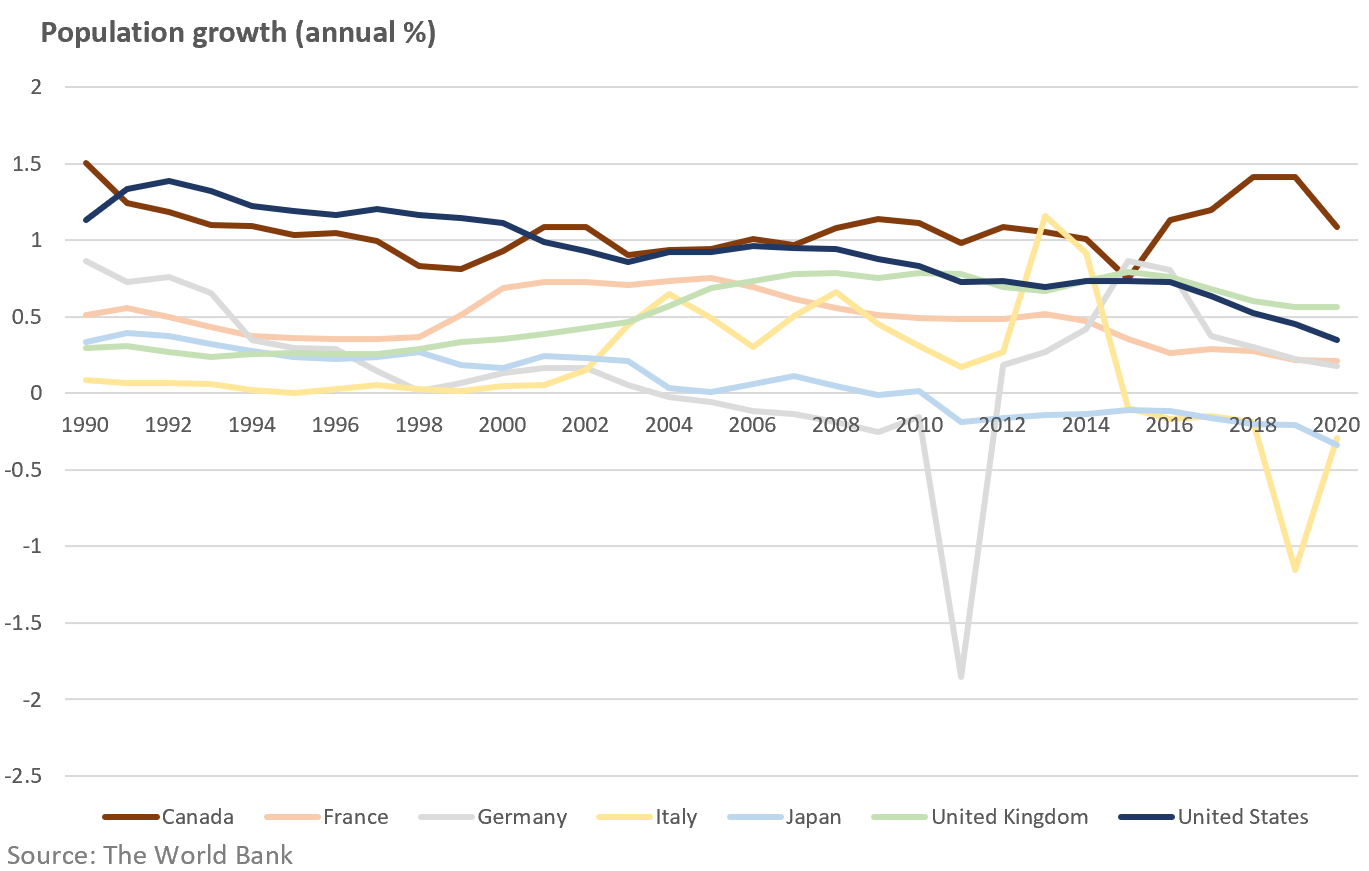 And it's this boom in Canada's population that has been a big factor driving up home prices.
The Bank of Montreal analyzed the relationship between population growth and home prices in 18 developed countries and found that countries with the fastest growing populations are also seeing the biggest rise in home prices.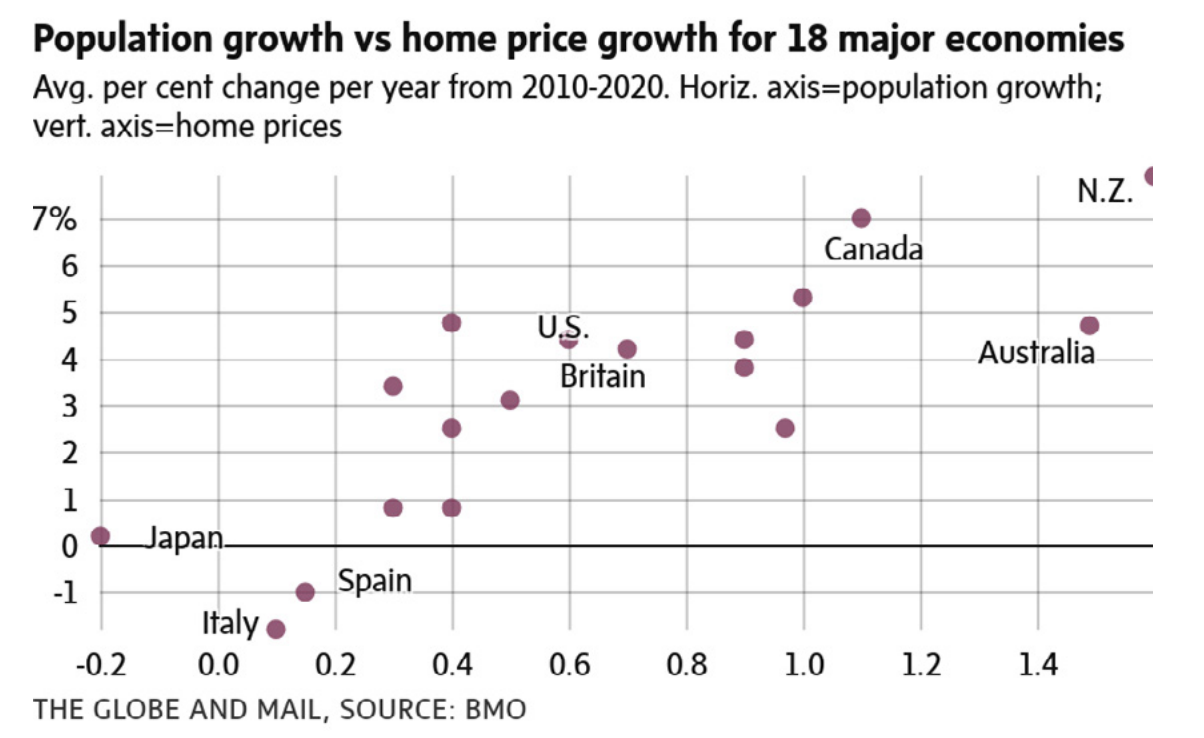 To see why home prices rise more rapidly in countries where population growth is booming we can compare Canada's historical population growth against our annual new house completions.
The Liberal government under Justin Trudeau has significantly increased Canada's immigration targets which is why Canada's population has increased significantly since 2015. As we can see from the chart below, it's relatively easy for our federal government to increase immigration targets to get Canada's population growing from 350,000 people per year to over 500,000 virtually overnight.
What's not so easy, is getting our new home construction industry to instantly respond to this surge in demand for housing by building the roughly 60,000 homes per year that would be needed to meet this additional demand for housing.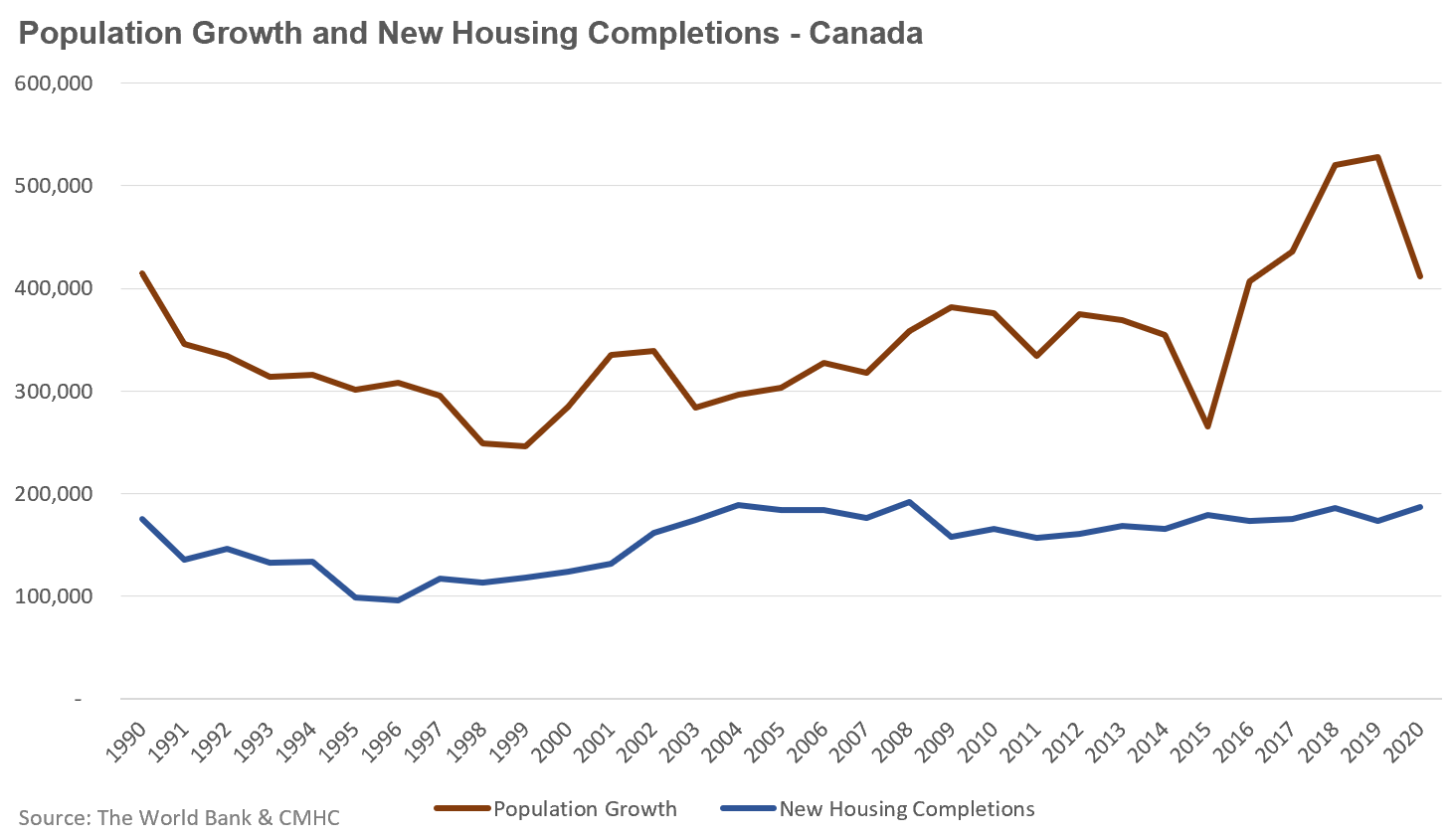 Canada's new housing completions have been relatively constant since the early 2000s and clearly could not respond fast enough to the Liberal's population growth targets so the end result is higher home prices.
Many planners and economists seem to believe that the only reason our housing construction hasn't kept pace with our population growth is because our provinces and municipalities are deliberately preventing more homes from being built through restrictive zoning and bureaucratic red tape and so on.
They argue that if these barriers were removed, our new home construction industry could easily build 60,000 more homes per year (a 35% increase above our ten year average) to accommodate the additional demand for housing thanks to the federal Liberal's elevated immigration targets.
This unfortunately is an overly optimistic assumption about how quickly new housing can respond to sudden increases in demand. While changes allowing more density and more types of housing are necessary, this alone doesn't result in more homes actually being built.
At least not in the short term.
Federal policy makers should know that the new home construction industry can't increase their output by 35% overnight and that, per the research, one of the expected consequences of a rapidly rising population in any country is higher home prices.
While the Liberal government might argue that our economy needs this population boom to offset our aging population, our economy also needs affordable homes for these younger generations.
Top Image Credit: Getty/iStock
John Pasalis is President of Realosophy Realty, a Toronto real estate brokerage which uses data analysis to advise residential real estate buyers, sellers and investors.
A specialist in real estate data analysis, John's research focuses on unlocking micro trends in the Greater Toronto Area real estate market. His research has been utilized by the Bank of Canada, the Canadian Mortgage and Housing Corporation (CMHC) and the International Monetary Fund (IMF).
Follow John on Twitter @johnpasalis

Email John
Share This Article