The market is now more competitive than it was four weeks ago.
In Week 9 of our weekly look at the market's numbers during the Coronavirus (COVID-19) crisis, I'm reviewing the latest real estate sales data for the week ending April 25th. (Here's a reminder of why I'm tracking numbers weekly right now.)
Click on the video below for this week's update - a brief written summary follows below it.
You can also access the same video via YouTube, Facebook and Instagram. And if you are into stats, check out my Twitter for more charts on this week's numbers.
Send me your questions or comments via any of the above channels or email me at askjohn@movesmartly.com
And as always, if you find this info helpful, please "like" or "follow" what you see, it's much appreciated!
We are in the ninth week since the Ontario government declared a statement of emergency in response to the coronavirus crisis and the housing market has taken an unexpected turn. Between March and early April the market cooled down significantly as both sales and listings fell. Despite this cool down house prices remained relatively balanced.

But over the past four weeks the market has actually become more competitive today than it was four weeks ago. Anyone who follows my weekly posts and videos knows that we saw the early signs of this 3-4 weeks ago but at the time I wasn't sure if this trend would continue. But four weeks later, I think it's fair to call it a trend - at least a short term one.

The market is more competitive for two reasons. Firstly, when we look at how sales have changed over the past four weeks, sales have increased every week since the week ending April 11th and last week's sales were up 63% compared to a month ago.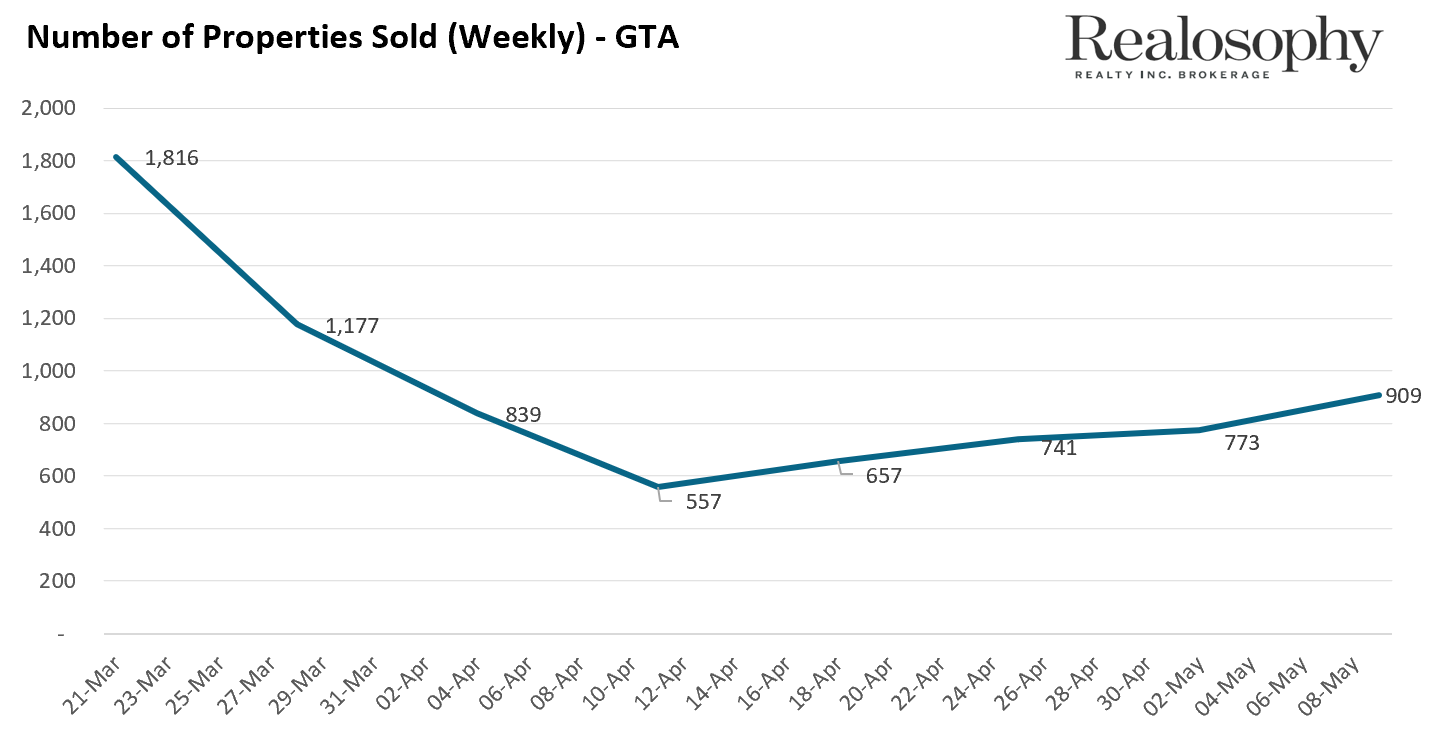 Now when we look at the total number of homes for sale on the market, this has gradually declined since April 11th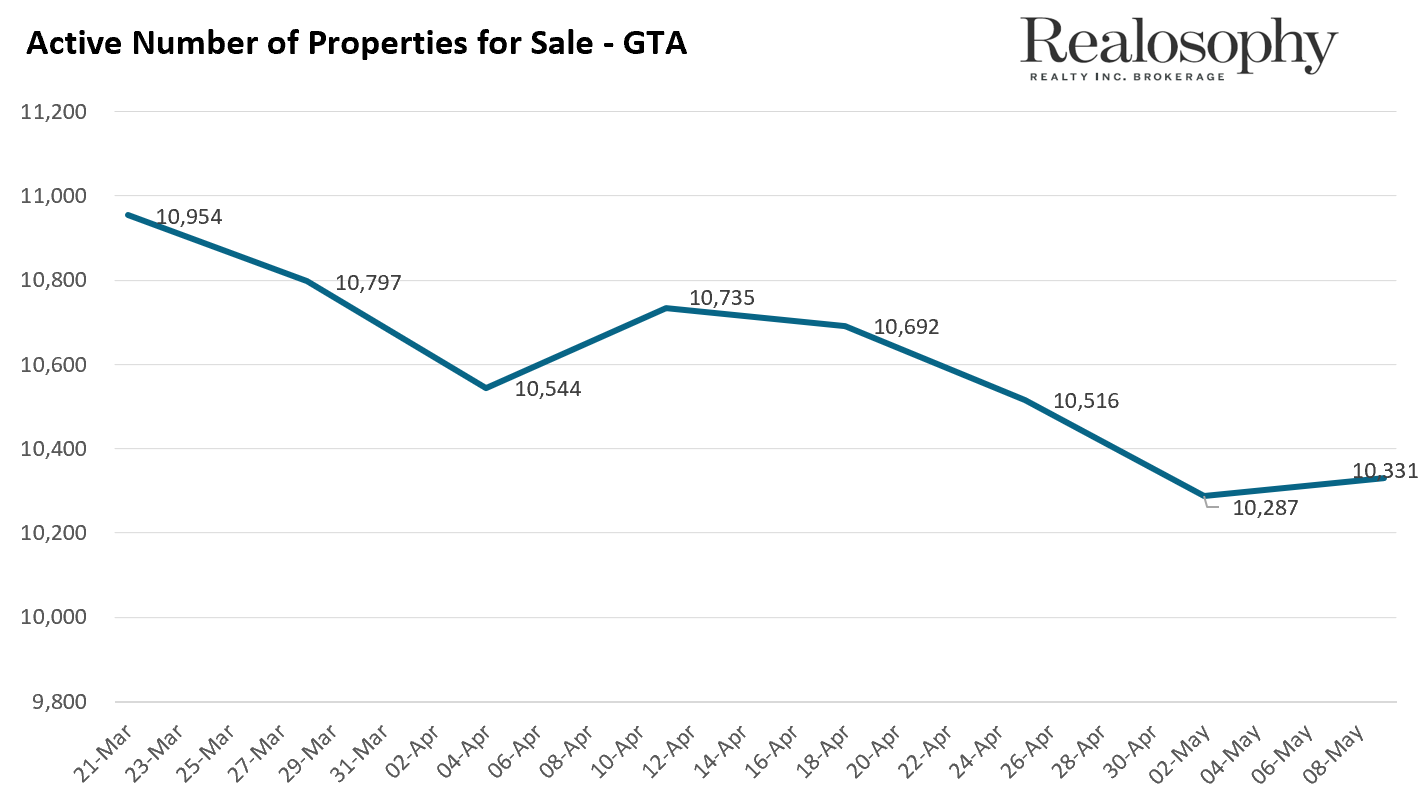 This effectively means that today there are more buyers looking for fewer homes and this has made the market more competitive.

What does that look like on the ground? It depends on the area you live or are considering buying in.

In many urban neighbourhoods, multiple offers on homes were common back in February but this trend cooled down in April because demand declined and sellers were anxious to wait even one week to sell their home - not knowing if the news about the virus would get worse. Today, we are seeing a return to sellers more confidently setting an offer night for their home with the expectation that they'll receive multiple offers on it.

In some neighbourhoods in the 905 region, what you might expect to see is that homes are selling for slightly faster than they were a month ago.

But once again, it's important to remember that what we are seeing for the Toronto area as a whole may not translate directly into the type of home you're looking at buying or selling. Luxury homes for example are performing very differently from small condos and downtown homes are performing very differently than neighbourhoods in the outer GTA regions.

The particular neighbourhood you are buying or selling in for example may very well be oversupplied right now so whether you're buying or selling it's critical to look at the underlying trends in the neighbourhoods you're considering .
The other important thing to keep in mind is that these trends give us clues into the dynamics of the market today, they can't help us predict the future. A big increase in new listings over the next month could very well reverse the trends we have been seeing the past four weeks.
Have more specific questions about buying and selling a home? Email me directly at AskJohn@MoveSmartly.com
Stay well and I'll be back with the latest numbers next week.
John Pasalis is President of Realosophy Realty, a Toronto real estate brokerage which uses data analysis to advise residential real estate buyers, sellers and investors.
A specialist in real estate data analysis, John's research focuses on unlocking micro trends in the Greater Toronto Area real estate market. His research has been utilized by the Bank of Canada, the Canadian Mortgage and Housing Corporation (CMHC) and the International Monetary Fund (IMF).
Follow John on Twitter @johnpasalis
Share This Article