Why only reporting upbeat and positive information is the domain of old school real estate brokerages.
As Featured in the Move Smartly Report: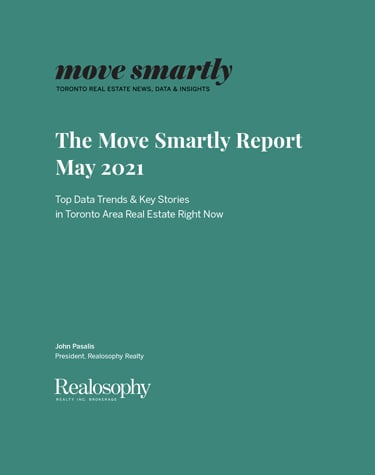 In this video (click above), I take you through our deep data dive from this month's Move Smartly report, where we take a closer look at just what is going on in the numbers.
Story text below - see full report by clicking on report cover to the left.
One of Realosophy's clients asked me an interesting question last month:

Most home buyers worry about buying a home during a bubble because they fear that home prices are going to crash. So why, as the owner of a real estate brokerage, do you raise the alarm about a housing bubble?

Coincidentally, the same week, a friend who works at one of Toronto's bigger real estate brokerages messaged me to say that their owners emailed every agent in their company encouraging them not to use the term "bubble" when speaking with clients. The owners argued that simply using that term may scare off buyers (and presumably, reduce the brokerage's sales volume). Their brokers and agents were encouraged to tell their clients that there is no bubble, there's just "not enough supply," leading to rocketing home prices.

Given this concern, which is shared by many real estate brokerages, why do we talk to our clients differently?

An example of this is when I talked about bubble-like conditions appearing in the Toronto area back in December, research that proved to be correct as policy makers and major banks have all since raised the alarm about our overheated housing market.

The first reason is due to our differing perspectives on the importance of giving all residential real estate clients access to as much information as possible so they can make informed decisions. When Canada's Competition Bureau and the then Toronto Real Estate Board (TREB), now the Toronto Regional Real Estate Board, (TRREB) were in a legal battle to make sold MLS data more publicly available a few years back, I, as founder and head of Realosophy Realty, was one of few people in my industry to testify against TRREB because I believed it was important for consumers to have as much information as could be responsibly shared online when they were making perhaps the biggest financial decisions of their lives. The old school real estate brokerages were fighting to restrict data — they preferred a world where consumers are less informed and more dependent on real estate agents and brokers to get the information they needed about current home prices and more.

The second reason is due to my personal and our firm's collective commitment to rigorous research into housing markets, including my own academic research. I believe that professional analysis and advice about the housing market can be provided to consumers, but this requires experts to be objective and transparent in sharing all information, including potential red flags in the market so that the public can evaluate such information and make informed decisions. Only reporting upbeat and positive information is the domain of old school, traditional real estate brokerages — not true professionals who seek to provide valued, expert advice.

Lastly, our client's question is also rooted in a deep misunderstanding that most people, including many working in the industry, have of housing markets and housing bubbles more specifically. For most people the term "housing bubble" implies "sudden housing crash," which is not the case.

Research shows that housing bubbles and the high house prices they create can go on for a sustained period: crashes — and price declines — are rarely sudden.

In these conditions, we need to be extra careful to look for signs that the momentum of a market, or particular segments of a market, is changing, so that late stage entrants into the market are not the victims of short-term reversals. It's this concern that keeps us laser focused on spotting turning points in the market — the way we did during Toronto's last bubble in 2017, when uninformed late stage buyers and sellers in the suburbs of Toronto, particularly in York Region, were caught out in the short-term once the market turned, with some unable to complete their sales and losing their deposits or more. Most home owners can withstand such short-term trends if they are buying and selling for the longer-term.

Another reason for all of us to remain aware of our housing market conditions is because of the impact it has on our overall economy. There are conditions in which housing markets can result in wider knock-on economic effects, as we saw happen in the US subprime mortgage crisis of 2008.

Given the technological age we are living in, today's consumers have never been more highly informed. We find that our clients value having the most up to date research into Toronto's housing market, and our insights and advice into making sense of the numbers, rather than being endlessly told that home prices will keep going up "because there's not enough supply." Fortunately today's home buyers and sellers have plenty of options when it comes to the type of real estate advice they receive and I'm grateful that my instinct that such information is wanted and appreciated by consumers has been correct.
Top Image Credit: Getty/iStock
The Move Smartly monthly report is powered Realosophy Realty Inc. Brokerage, an innovative residential real estate brokerage in Toronto. A leader in real estate analytics, Realosophy educates consumers at Realosophy.com and MoveSmartly.com and helps clients make better decisions when buying and selling a home.
Share This Article