Jesse in Neighbourhood Explorer, Neighbourhoods
Ed. Note. Neighbourhood Explorer is a regular feature in which our intrepid adventurer presents an up close-and-personal tour of a Toronto neighbourhood.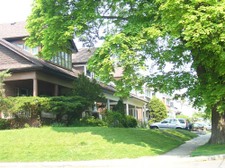 Friends of mine regularly tout Yonge and Eglinton as 'the place to live' (see Realosophy's North Toronto neighbourhood profile for local school and housing stats). The area has long been referred to as 'Young and Eligible' owing to its reputation as a mecca for single executives, recreationally as well as domestically. On my first visit, I was mildly intimidated by the feel of bigness in the area, architecturally and emotionally. During subsequent visits, fascination replaced intimidation as I began to wander down the tree-lined streets that weave throughout the area. I pleasantly discovered and relished in the unexpected small town experience within the communities that line larger-than-life Yonge Street.
North Toronto's northern border roughly lies on Strathgowan Avenue, which is just south of Lawrence Avenue, off of Yonge Street. Beginning here, and heading down Yonge Street, it is easy to get caught up in the summer air that is full of blossoming flowers and barbeque scents. On a deliciously hot day, Sheldrake Boulevard offers refuge under giant maple and oak trees which line the impeccably manicured lawns and gardens of this little enclave. Sheldrake soon becomes a fork and continues on the right, whilst the left becomes Stibbard Avenue. Stibbard is amazingly quiet; the only sounds are those of birds nesting in the high tree tops and neighbours engaged in driveway chat. Stibbard leads across Mount Pleasant Road and becomes Dalewood Road, which loops around and brings you once again to Sheldrake Boulevard. This forms part of North Toronto's eastern border and is the entrance to Sherwood Park which is, apart from being a very large and painstakingly maintained green space, a recognized off-leash area for dogs of all sizes and breeds. A small parking lot connects Sheldrake to Sherwood Avenue, a street full of ample gardens and conservative houses. Many Sherwood residents display Canadian flags tastefully above their front porches which are accented by planters and hanging baskets filled with red and white geraniums. A very pleasant coordination to take note of as you make your way back to Yonge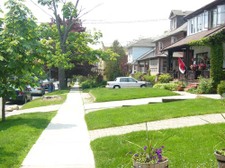 .
Continuing down Yonge Street, summer side walk sales intermingle with wrought iron patio fences that surround a multicultural array of eateries. A variety of small parks along the way add rest stops and beautiful scenery to the walk down Yonge. Snider Parkette boasts a playground and ample shady spots as well as sunny hills; St. Clements Parkette is smaller, but filled with flower covered arbours and quaint benches.
Roehampton Avenue is worth venturing down as it is home to two of Toronto's oldest high schools. North Toronto Collegiate Institute, built in 1912, has been renovated over the years to the impressive stature it is today. A little further down Roehampton, on the east side of Mount Pleasant, is Northern Secondary School. This gothic style school was established in 1930 and is a favourite site for Toronto film makers. Following Mount Pleasant one block south to the intersection at Eglinton Avenue, you can't help but be drawn back to Yonge Street.
The four corners of Yonge and Eglinton are awe-inspiring. A large, windowed second storey gym flanks a multiplex movie theatre that is soon dwarfed by the entirety of the northwest corner that is the Yonge and Eglinton Centre. Leading up to this intersection are an array of specialty boutiques, pubs, restaurants and coffee shops to accommodate everyone's taste.
Walking up the west side of Yonge, the Toronto Public Library Northern District Branch looms over Orchardview Boulevard. Strolling further along Orchardview, traditionally designed houses lead the way down a steep hill and further into the neighbourhood. Orchardview ends at Edith Drive as the grounds of North Toronto Arena and Community Centre takeover. Year round, this arena hosts events for the North Toronto Skating Club, Hockey Club, and the Second Mile Club, a charitable foundation. Watch out for freedom-loving flowers and bushes: the sidewalks are at the mercy of green-thumbed HomeOwners whose bleeding hearts and lilac bushes simply cannot be fenced in. Edith ends at Roselawn Avenue alongside Eglinton Park's many baseball diamonds, tennis courts and soccer fields which blend into a great multi-purpose green space. Rosewell Avenue continues where Edith Drive ends, up to Briar Hill Avenue where it becomes one of North Toronto's western borders. Briar Hill has a great hilly terrain that is a welcome accent to the flat streets of the surrounding neighbourhoods. Homes here have impressive exteriors, making it an attractive area for HomeBuyers. Turning left on Briar Hill will bring you to Avenue Road, the western most border of North Toronto. Marshall McLuhan Catholic Secondary School is a commanding sight on the way back to Eglinton as it appears to be a modern wonder when contrasted against a background of older and more established homes.
From the most northern point of Strathgowan Avenue, the neighbourhood of North Toronto stretches out, like a staircase, to the widest section along Eglinton. From the eastern border of Bayview Avenue to western Avenue Road, North Toronto is far more dynamic than the 'Yonge and Eligible' of yesterday. First time HomeOwners are moving in alongside elderly residents who have lived in the area for fifty years or more. For young and old alike, the convenience of downtown living coupled with quaint communal feeling indeed makes North Toronto 'the place to live'.
Jesse Fleming is a freelance writer specializing in Toronto neighbourhoods.
Share This Article