Jesse in Neighbourhood Explorer, Neighbourhoods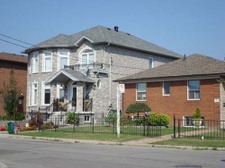 Almost at the foot of the Allen Road Expressway lies a quiet collection of houses just south of Lawrence - the neighbourhood of Glen Park (see Realosophy's Glen Park neighbourhood profile for local school and housing stats). Had I not moved into the adjacent neighbourhood, I would never have known it to exist. When looking for my first home, I neglected to do some background research about the neighbourhood in which I desired to live. As the moving truck came and went and my overstuffed boxes became broken-down stacks for recycling, I felt that karma was going to rear its cosmic head in the neighbourhood department. Were all my door-holding good deeds going to pay off or was my pre-school people biting phase finally going to catch up with me? Luckily, my adopted neighbourhood of Fairbank turned out to be a hidden marvel, along with its sister area, Glen Park, which is located two streets north of my front door. Nestled amongst busy traffic routes and plazas, Glen Park is remarkably quiet and retains the slower-paced neighbourhood streets that are usually found in suburban communities.
Lawrence West and Glencairn subway stations are located almost centrally in the neighbourhood. Thanks to five dependable bus routes that intertwine, travelling without a car is absolutely possible. The Lawrence Avenue exit off of Allen Road makes itself known well before it is actually seen. Bumper-to-bumper traffic is visible during the five o'clock rush hour from as far away as the bridge that extends over Highway 401, making underground and surface route transit seem easy as pie, and equally tempting.
Although Italian families make up the bulk of residents throughout the neighbourhood, it's the Chinese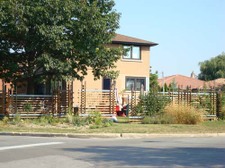 and Portuguese populations that have opened up restaurants and bakeries along Dufferin Street between Lawrence Avenue West and Briar Hill Avenue. Small Italian pizzerias and grocery shops are on Dufferin as well, but these are easily missed because of their minimal signage which, in my opinion, usually means that the locals already know that this is a place worth stopping for. Tastes of authentic cuisine can be had along Glen Park's eastern border, Bathurst Street, reflective of the Jewish population within the neighbourhood. Take note that many of these fantastic establishments along Bathurst close on Saturdays to observe the Jewish Sabbath, but plenty of eateries in the area do remain open.
Bungalows form the backbone of Glen Park. However, on each street, and in all directions, renovation projects are underway. Remodelling season always aligns with the warmer months, generally April through September. You should not be surprised to find eager Glen Parkians tearing down roofs and rebuilding entire front walls in the middle of winter, so that their updated home will be ready for garden-party season. Deeper into the neighbourhood, approaching Lawrence, ranch-styled bungalows and back-spit homes ease into the style scheme as easily as do new two-storey, all-brick homes, which make an appearance, almost undetected, where bungalows used to sit. Open backyards and chain-link fencing allow dainty grape trellises and staked vegetable gardens to be seen from the quiet, slow streets they adjoin.
Spread across major streets in all directions and minutes from downtown, Glen Park caters to all. Ten schools, including two high schools and a Hebrew day school, are spread throughout residential pockets. Glen Long and Viewmount Community Centres are set far enough apart to allow an entire community access, yet close enough to allow ambitious children to brag about swimming in two pools within the same afternoon.
Glen Park is one of five neighbourhoods that make up Eglinton West Village. Each area contributes special and diverse characteristics to a unitary whole while elaborating on each of their unique attributes. Glen Park is the suburban slice within the menagerie.
Jesse Fleming is a freelance writer specializing in Toronto neighbourhoods.
Share This Article