Jesse in Neighbourhood Explorer, Neighbourhoods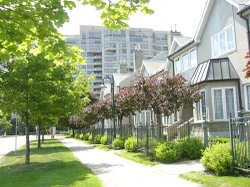 Although I frequently visit Tam O'Shanter-Sullivan , I have never taken the time to really explore the area (see Realosophy's Tam O'Shanter-Sullivan neighbourhood profile for local school and housing stats). Admittedly, my limited knowledge of what the community has to offer, beyond ample housing, has hindered trips to the area and confined visits to a four-block area within the central part of the neighbourhood. One drizzly afternoon, curiosity got the best of me and, with bus tokens in hand, I set out to discover more of the neighbourhood.
Highway 401 acts as the southern border of Tam O'Shanter-Sullivan. The appearance of quick access is a tad deceiving in this case - despite the highway's close proximity, backlogs of traffic along on- and off-ramps are frequent events. Many car-bound Torontonians waiting to merge onto the highway gaze longingly at the red and white buses chugging merrily along as they receive the right of way. The Warden #68, Victoria Park #24, Birchmount #17, and Kennedy Road #43 routes of the TTC all provide service north of the 401, intersecting with the Sheppard Avenue #85 and Huntingwood #169 at their respective junctions.
Nestled in the northwest corner of Tam O'Shanter is a golf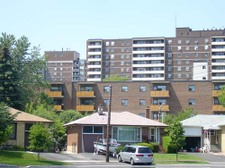 course of the same name. Kennedy Road offers access to this public, 18-hole course located south of Huntingwood Drive. Heavily-treed lots line Kennedy, leading towards the golf course, creating private spaces for homes that sit below street level, sunken into the refuge of their retreats. Overlooking the manicured greens that make up this moderately difficult golf course is Tam O'Shanter Elementary School; along with Stephen Leacock High School, it is one of eight schools scattered throughout the neighbourhood. This fantastic community planning gives children from the entire neighbourhood an opportunity to walk to class.
Houses have been erected throughout Tam O'Shanter-Sullivan to make the most of their diverse surroundings. The relatively flat area in between Sheppard Avenue and Huntingwood Drive, west of Warden Avenue, allows for colonial homes and ranch-style bungalows with facades of brick, siding and clapboard to spread out on large properties commonly separated by driftwood fences and large shady trees. Other areas within the neighbourhood utilize all-brick and brick and siding back-splits and side-splits and short, square bungalows as dominant housing styles that follow the lay of the land. Generally, side-split and back-split homes are popular in more hilly areas - most common south of Sheppard Avenue - as they can merge into gradients with ease and functionality. Stout and tidy bay-windowed bungalows are found at the tops and bottoms of streets, breaking up the repetitiveness of the aforementioned styles. Creatively eclectic styles of front yard decoration are on display across the neighbourhood, adding to its distinctiveness.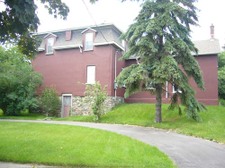 New homes are being dappled throughout Tam O'Shanter-Sullivan with care so as to avoid disturbing the flow and vibe of existing homes. Streets such as Acara Court and Highhill Drive are exclusively new all-brick developments that branch off of established streets; Bonis Avenue is home to new high-rise and townhouse condominiums located across from Agincourt Mall. Apartment buildings have also popped up in the last decade - most commonly along Sheppard Avenue. Birchmount and Sheppard houses a complex of mustard-coloured low-rise buildings and Bay Mills Road has a collection of white high-rise apartments where it intersects with Sheppard.
During my day in Tam O'Shanter-Sullivan, I was exposed to a community that is more multi-dimensional than I had imagined. On paper, the dominant ethnicity is Chinese, followed by Indian, Pakistani and Sri Lankan, but in reality no one group is visually dominant. I stumbled upon Wishing Well Park, Vradenburg Park, Inglewood Heights Park and Stephen Leacock Park; each one was a discovery that tantalized me. I came across a beautiful stone and wood farmhouse on Allanford Road that, although perched upon on a small hill, was inconspicuous. Other surprised passersby slowed in front of the magnificent historic home to get a better look.
As I returned home on the Warden #68 bus, I was already planning on returning to the lesser known areas within Tam O'Shanter-Sullivan. Kite flying tops my next to-do list, as the parks dotted throughout this neighbourhood would make perfect hosts on a blustery day.
Jesse Fleming is a freelance writer specializing in Toronto neighbourhoods.
Share This Article