Jesse in Neighbourhoods, Neighbourhood Explorer
York University's Keele campus is a daunting collection of all that is academia. Student housing complexes tower over low-rise, classroom-filled buildings. York Lanes Shopping Center lies on the eastern outskirts and points the way to the immense, five-floor Scott Library. York University opened its doors on this campus in 1965 and the building styles, earthy interior and exterior colours reflect the trends of that decade. Additional buildings have been added over the past forty years, expanding the campus to reflect ever-increasing student enrollment. The amalgamation of these buildings provides an architectural timeline that flows throughout the grounds. My first year at York was a cycle getting lost, re-orienting myself and running to my next class, only to exit out of a different door and thus beginning the cycle once more. I carried a campus map with me at all times.
A few years ago, a portion of the southern campus was sold to Tribute Communities and development was underway. Large semidetached homes sprung up and seemed to create a little community amongst themselves. During my second year at York, I decided to explore this little enclave since I was no longer getting lost on a daily basis.

'The Village at York' is the moniker given to this collection semidetached and fully detached homes that line the handful of streets north of the Keele Street-Finch Avenue West junction. In what Tribute has tagged a 'Traditional Urban Neighbourhood', residences are reminiscent of houses in Toronto's downtown core. Rear garages along laneways and tall, narrow designs are the standout similarities. Balconies protrude from various planes of elevation - many of these homes are three stories - and there are numerous windows which allow for copious amounts of natural light to flow inside. Decorated in muted earthy and light stone colours, the homes are appealing to the eye and exude an air of comfort.
Offering housing only steps from the University, naturally students and faculty call this area home. Despite the student population, it is a relatively calm, toga-free community; in many cases, students rent entire floors from HomeOwners who have room to spare. The multi-room design of these homes cater to families, singles, couples and anyone else who would enjoy the convenience of commuting into downtown and western Toronto. Highway 400 is minutes away for easy travel north of the city.
Living close to a post-secondary campus is not with out its benefits. York's Tait Mackenzie Center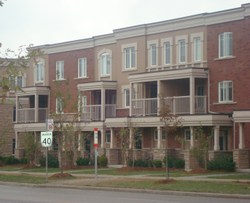 houses a state of the art gym, squash courts and an Olympic-sized swimming pool, and is steps from 'The Village'. Yearly membership is required but the convenience is worth the price of admission. Transit is another benefit of near-campus life. The Keele Street 41 shuttles passengers from Keele subway station, north to Steeles Avenue West and back to the subway all day long. A direct York University route, the York University 106, travels between the school and Downsview subway station; this is the most efficient route to take if heading south. Plans for a subway line to connect York University to the Spadina line have become somewhat of an urban legend. York Region's Viva bus line also stops at the university before heading north to Vaughn, Richmond Hill, Newmarket and East Gwillimbury.
'The Village at York' is a community that many would over look because of its proximity to York University. This has allowed the community to quietly grow and lay down roots under the guise of student housing. An active Village at York Association is a sounding board for residents' concerns and questions about the goings-on within the community. These clean and tidy looking houses have remained that way due to the diligence of those who live there, be it HomeOwners or renters. This is is an under-estimated, growing community that offers the perks of city life at the pace of suburbia.
Jesse Fleming is a freelance writer based in Toronto. Email Jesse
Subscribe to the Move Smartly blog by email
Top photo courtesy of the Village at York Association.
Second photo taken by J.Fleming.
Share This Article