Urmi in Toronto Neighbourhoods, Urban Issues
I particularly enjoyed reading Jesse's take on the history and future promise of the Distillery District this week, since I've been wondering about this neighbourhood as well. I, like Jesse, am excited to see a piece of Toronto's history preserved rather than merely lamented. But, at the risk of sounding impatient, I have some misgivings about the Distillery's developmental trajectory as it currently stands.
Now, it's not the 'condos going up on artifacts' thing that bothers me. I am not one to oppose building on history in some misguided attempt to keep things 'sacred', which in the sociocultural realm of North America, all too often means keeping things dead and preserved in underutilized museums. No, I believe that finding new reasons to visit old things makes a whole lot of sense. So revitalizing this beautifully historic area is a no-brainer.
However, I do wonder if the District will be home to the right mix of residential, commercial and social establishments to make it sufficiently lively. Developers have gone to great (and commendable) lengths to make the arts and art studios a principle draw of the area. But too much drawing makes Jack a dull boy. As dedicated Jacobins (not to be confused with their equally militant French counterparts) know all too well - a neighbourhood that is not frequented at most hours of the day and night, day in and day out, is a neighbourhood in danger of becoming unsafe and unpopular. But given that I have visited the District on many a weekend now, either to take in a play, eat or drink, I'll allow that as more office spaces are taken up and condos are completed, the 'mix' may evolve into something with more persistent magnetism (after all, Chekhov can pull you into the old neighbourhood only so many times).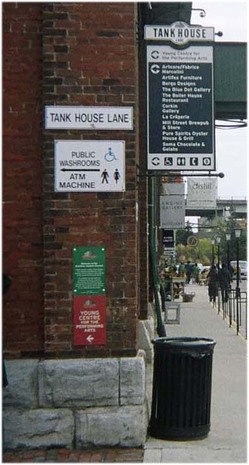 But even if the District evolves, will it ever drop that rather dismaying veneer of 'themed amusement park' it has so unfortunately taken on? Take for example the ubiquitous signs that dot the place (see left). While a bit of useful sign posting, perhaps for the benefit of frazzled theatre-goers making a last minute dash before the curtains open is in order, these signs are clearly out-of-control. One of the primary reasons we live in bustling urban spaces is for the sense of adventure it affords us, which is somehow undermined by the notion of clearly planned and regulated pit stops.
To make matters worse, I have noticed that the District is plagued by an all-too-familiar trend in Toronto - the 'vague nod to Europe' cafe or restaurant. Just take a look at the write-ups for eateries in the area and award yourself two points for every mention of the beautiful continent you find. Recently, Richard Florida wrote about us Torontonians lacking in self-esteem - and seemed to suggest that Buffalo was somehow the answer (note: not in the way you'd normally think). I suggest that creating authentically Toronto-European gathering spots might go along way instead - our immigration history has sustained the creation of authentic old-but-new places such as The Prague on Queen St. So why not spread this energy to some of our newer neighbourhoods? Better yet, why not update the evolution of the British Isles (and Irish) culture which gave rise to the District in the first place?
It is important to remember, in these heady days of neighbourhood marketing and real estate appreciation in Toronto, that some rides eventually stop. (A recent report from New York Magazine describing the standstill that has come to the once rapidly gentrifying Brooklyn neighbourhood of Red Hook is a great read in this respect.) Clearly, it is far too early to understand where Toronto newer pockets are headed in five or ten years' time. But to get a jump-start on judging long-term fun prospects in the Distillery, I'll leave you with I can only guess is a rare sight in the old country - a warning about playing on cobblestone.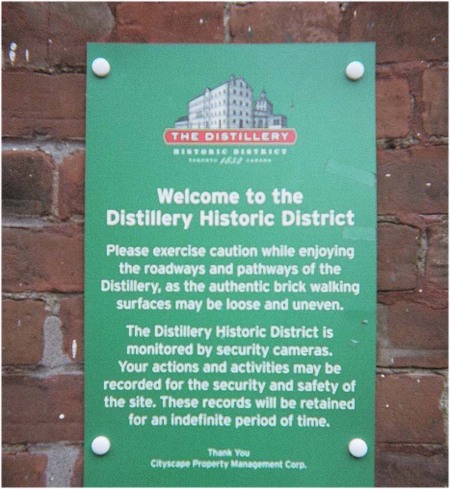 Urmi Desai is an economic analyst and a freelance writer specializing in urban issues. She is editor of the Move Smartly blog. Email Urmi

Share This Article